5 Free Things to Do in Lahaina, Maui
Art, culture, history and entertainment in the beloved Maui town that won't cost you a thing.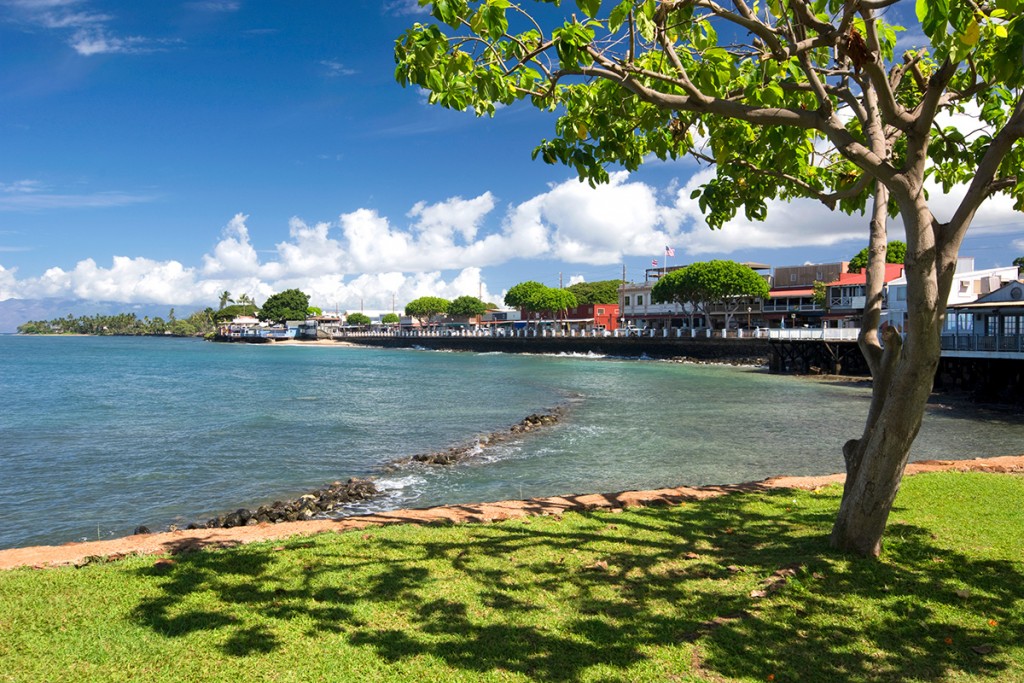 Traveling can be expensive, we get it. But in Lahaina, one of the most popular towns in the Hawaiian Islands, you can spend an entire day seeing amazing history, art and natural beauty without spending a dime. Add these free activities to your list and hold on to your dollars to splurge at a nice restaurant for dinner.
1.  See historic Lahaina.
Today, Lahaina is a bustling hub of tourist activity. But did you know that in ancient times, when Mauiloa was the island's high chieftain, Lahaina was Maui's capital city and, under King Kamehameha III from 1820 to 1845, it was the royal capital of the entire Kingdom of Hawaii? Bustling Front Street, now lined with stores and restaurants, dates back to the 1820s, and for much of the 1800s Lahaina was a hot spot of the global whaling industry.
Take your own historic tour around Lahaina; admission is free at these spots:
Banyan Court Park with its famous banyan tree (the largest in the U.S.), planted by William Owen Smith in 1873, and the Lahaina Heritage Museum behind it. 671 Front St., museum is open daily from 9 a.m. to 5 p.m. with free guided tours on Tuesday, Wednesday and Thursday at 10 a.m., 11 a.m. and noon.
Old Lahaina Fort ruins, on the southwestern edge of Banyan Court Park. In 1831, Hoapili, the royal governor of Maui, built the Old Lahaina Fort to protect the town from riotous whalers. In 1854, it was demolished, but later the state Parks Department reconstructed the old fort's coral walls and added a commemorative sign. Each day at dusk, a Hawaiian sentinel would beat a drum from these walls to alert sailors to return to their ships.
Old Lahaina Prison, where rowdy sailors were often stuck in irons for short periods when they got out of hand. 187 Prison St., open daily from 10 a.m. to 4 p.m.
Plantation Museum, on the upper level of The Wharf Cinema Center, features heirlooms, appliances, tools and sports gear from pineapple and sugar plantation camps and family homes in Lahaina, as well as a documentary film, "The Last Harvest," about the final days of Pioneer Mill Co., one of Hawaii's first sugar mills. It closed in 1999. 658 Front St., open daily from 9 a.m. to 6 p.m.
Hale Pai Printing Museum, where the first Hawaiian language newspaper was printed in 1834. See examples of student printing, like an original 1838 edition of the classic "Moolelo Hawaii" (The history of Hawaii) by David Malo and samples of the Hawaiian Kingdom's first paper currency. Lahainaluna High School Campus, 980 Lahainaluna Road, open Monday-Wednesday, 10 a.m. to 4 p.m.
Pioneer Mill Co. Smokestack & Locomotives Exhibit. When Pioneer Mill Co. closed in 1999, the Lahaina mill was left to crumble. Lahaina's community joined forces to save the mill's iconic smokestack as a historic landmark. Today you can see it, along with an exhibit featuring antique mill and cane field equipment and restored sugar train locomotives. 275 Lahainaluna Road, open daily from dawn to dusk.
For more information on these historic spots, visit lahainarestoration.org/planyourvisit.
2. Go whale watching.
This seaside town is known as one of the go-to destinations for those looking to whale watch. The waters off Lahaina are frequented by humpback whales during Hawaii's winter season from November through May, and you don't even have to book a tour to see them – just bring your binoculars and set up camp along the Front Street beach walk.
3. See the art galleries on Front Street.
Many talented artists, crafters, sculptors and photographers make Maui home, and display their stunning work in galleries all along Lahaina's Front Street. A few of our recommendations for an art stroll: Christopher Egan Gallery (844 Front St.), Martin Lawrence Galleries (790 Front St.), Lahaina Printsellers (764 Front St.), LIK Fine Art Gallery (712 Front St.), Wyland Galleries (711 Front St.) and Maui Hands Lahaina (612 Front St.).
4. Go to the beach.
You're on Maui where the beaches are amazing, and Lahaina beaches are no exception. If you're looking for something close to town, try Puuona Beach (aka Baby Beach) or Lahaina Beach. A short drive to the north is famous Kaanapali Beach and Black Rock, while just to the south, you've got Launiupoko Beach Park, a picturesque spot with a picnic area, ample parking and a natural swimming pool enclosed by lava rock.
5. Join the huge Halloween block party on Front Street.
Each year, Front Street is blocked off and costumed partygoers come out for Lahaina's Halloween party, one of the largest in the state. Some of the attractions are a keiki (kids) parade led by the Lahainaluna High School Marching Band and a costume contest. And many Front Street venues have their own separate parties with live music, entertainment and costume contests. Front Street, Thursday, Oct. 31, 2019, from 4 to 10 p.m., visitlahaina.com.