Annual Kaumakapili Church Luau is as authentic as Hawaii luau gets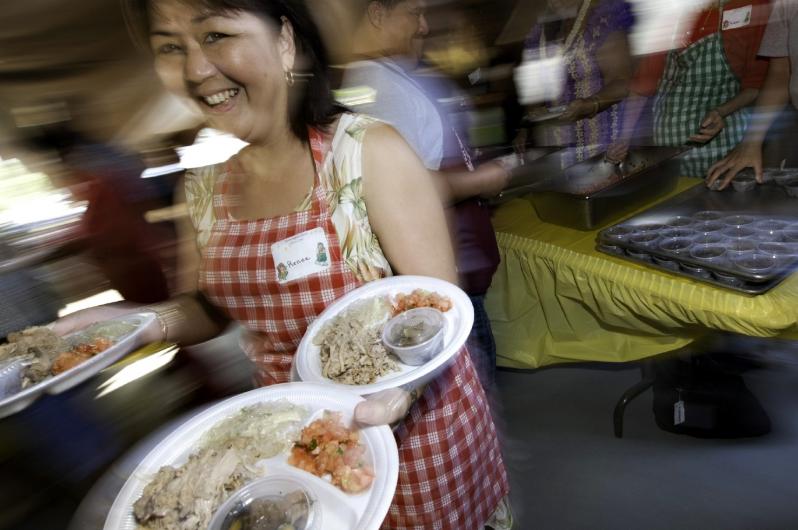 Say you want to put on a luau. Not the usual commercial luau fare—no teriyaki chicken thighs, battered mahimahi, macaroni salad—but authentic Hawaiian food, real kalua pig, poke and that quintessential part of every Hawaiian meal, opihi.
Say you want to feed 3,000 people. To make it easy, 2,500 of those meals can be takeout. Still, could you pull that off? Using only volunteers?
Kaumakapili Church— only 175 members, many of them elderly—has been pulling this off annually on Oahu, for 38 years (and will do so again this Saturday, July 17).
"We get a lot of help," says Kellie Maunakea, co-chair of the (2009) luau. "What we do isn't just about the food. If you really want to understand our lū'au, you have to see the process."
That's why I am at the church at 8:30 a.m. on Saturday, a week before (last year's) luau. I'm early. "The pigs are late," says Maunakea.
Not all the pigs. Enough have arrived that when I walk down the stairs of Hale Kamika, the church's parish hall, the smell of kālua pork knocks me nearly senseless with hunger.
Pigs, thoroughly cooked, keep arriving with every pickup driven by the congregation's young men, who heft them inside in long, heavy deboning pans.
Years ago, the pigs would have been cooked in imu (underground ovens) right here, on the church property. No longer. The parish hall was built on top of the church's imu ground.
Today, the 15 pigs have been cooked at Kamehameha Schools' sheltered imu facility. Kaumakapili is the only outside group to use it.
The two institutions are, in a way, family. Kaumakapili Church is 170 years old, built originally on land donated by a high chief and trusted confidant of Kamehameha III, Abner Paki, and his wife, Princess Laura Konia.
They in turn were the parents of Princess Bernice Pauahi Bishop, whose trust still supports Kamehameha Schools. During the monarchy, Kaumakapili Church became an important gathering place for the Hawaiian community.
There's plenty of history here—and, at the moment, plenty of pig, more than a ton.
The pigs have spent 12 hours in the imu, meat falling off the bone. But, wearing disposable gloves, 50 or 60 volunteers go through it carefully, breaking it apart, removing every trace of banana leaf, skin, fat, bone.
The pork, down to uniform pieces, goes into long, flat plastic bags to be frozen. It will be defrosted in stages during the day of the luau, so that there's always hot kālua pig.
"We used to have a family, the Kupahus, who did the pigs on the day of the luau," says Kellie. "They'd start at 3 p.m. the day before and dig up the pigs at 3 a.m., clean them and bring them down hot. That was cutting it too close."
The heart of Kaumakapili Church is extended Hawaiian families, like Kellie Maunakea's. Her brothers Trevor and Buddy are on the board, and are mainstays of the pig operation. Her father, Henry, is president of the congregation.
"I'm trying to stay in the background," laughs Henry. "My daughter's in charge here."
Kellie, a manager at Macy's, is 37. Her friend and co-chair Mele Stender is equally young.
"A lot of the older people are getting too old for this," says Henry. "We need to bring in the younger ones."
It's an operation that runs on tradition, and it's going through a generational change. That can be a problem.
The information on how to make the luau happen is stored in people's memories. "I've been trying to organize things, get things written down," says Kellie.
Someone needs to know, for instance, to start six or seven months early, getting permits, ordering hard-to-find items, like 10 gallons of opihi, flown in from the Big Island, more of the much-prized little limpet than you might expect exists in the state.
The recipes, too, have been passed down from generation to generation. Aike Grace has been in charge of the chicken long rice for only two or three years, a job passed down from Uncle David Kaneao.
Like the pig, preparing the long rice is a multiday process: cooking the chicken, deboning it, clarifying the broth and chilling it at just the right moment. On the day of the luau, the crew will cook batch after batch, with a long wooden paddle in five-gallon square pans, so there is always warm and fresh.
Aika offers me a test taste. It's remarkable, plenty of chicken, a nice tinge of ginger, fresh cut green onion. "These noodles, I don't like this kind, they are soaking too much of the broth," he says.
"Yes, but they're absorbing the flavors," I say.
Aika shrugs. "This is the Kaumakapili way," he says. "I like it soupier with less chicken and more ginger. But there's a tradition here. Before I go farther, I get Uncle David to taste them. If he says they're right, then they're right."
That's how you have to do it, says Kellie. "If you are going to chair this luau, you need to know that Auntie So-and-So is this way and how Uncle So-and-So can be."
The key is to change slowly. To try things and see if the elders approve.
"How we do it is the whole point," she says. "It's not the money. This luau used to raise all our operating funds for the year, but it doesn't anymore. It's about patience and understanding and learning to work together. This is church."
When I come back six days later, the next Friday evening, I see how things proceed with patience and understanding, but get done anyway.
On this Friday before the luau, work is supposed to go on till 9 or 10 p.m. On Friday, everyone chops—limu (seaweed) for the poke, pineapple wedges, tomatoes for the lomilomi salmon. (Of course, that's not all that's going on. Another crew of volunteers is baking cakes and making the coconut pudding called haupia. Aika's crew is precooking noodles for the long rice.)
When I arrive at 6 p.m., everyone seems relaxed. The chopping's all done! Hours early.
Someone has loaned the chopping crew a $2,500 commercial food processor. They took it because he was a friend, but doubted they'd use it. A year or so earlier, some had brought a manual device that allowed you to dice tomatoes. When whoever was manning the device got too tired to push hard, the tomatoes got mashed instead of cut. Bad.
But this time, a test batch proved to even the skeptical elders that the food-processing machine worked. Since I'd come to see the crews at work, I thought I might as well leave.
One of my new aunties, Claudette, took my arm. "You're going to eat with us, aren't you?" she asked. She'd known me all of perhaps 10 minutes.
Part of putting on the luau is feeding the volunteers. Dinner that night is, ironically, Mexican food, prepared by one of the younger parishioners with catering experience.
At my table, there's buzz among the elders about the new machine. "It didn't make the tomatoes mushy, did it?" someone asks. "No, they're perfect." Nods of approval.
Around us, folks are beginning to get the upstairs at the parish hall ready for the next night's lū'au—plywood tables on sawhorses, carts of folding chairs pulled out from under the stage.
In the kitchen, Anna Lakalo, her daughter Kai and her granddaughter Pu'u make cornbread for tomorrow's breakfast, soup and sandwiches for tomorrow's lunch. Nobody working will go hungry.
The next morning dawns bright and early, lū'au day. I arrive to find 100 people working.
One is local TV reporter Mahealani Richardson. "I always bring friends and work for a couple hours," she says. Her specialty is dishing up long rice, because, "It smells so good." "People you never see except at the lū'au show up," says Kellie. "People's friends, friends of the church."
Kaumakapili is not a rich church, but it has a lot of friends. It distributes food and clothing to the homeless in the neighborhood. Its parish hall gives home to many organizations, including one of the largest weekly Alcoholics Anonymous meetings in the state. In return, 20 AA members show up to work the luau.
At 10 a.m., a line of women walk in, in Kaumakapili T-shirts and blue pants that say WCCC. These are women inmates from the Women's Community Correctional Center in Kailua, here to do community service. All through the day, people talk about how hard these women work.
As anticipation begins to build, the kahu, Rev. Richard Kamanu, steps to the center of the room. He leads a prayer, noting that the church and God's love are open to anyone, no matter what their life situation. The value of the luau, he says, is summed up in the injunction from the first epistle of John to love one another: "Aloha kekahi i kekahi." That is the luau's theme and its point.
It's not about the food.
Except suddenly it is about the food. It's almost 10:30 a.m., and even though the takeout isn't supposed to start until 11, cars are lining up. Every takeout ticket has sold out. By 5 p.m., this group has to put out 2,500 meals.
The takeout meals aren't just plates. Everything comes packaged individually, first in its own cup or bag, then in a box.
A patient group of volunteers has assembled 2,500 white cake boxes, stamping them with the church name and the injunction to please refrigerate if you're not going to eat right away.
Everyone lines up around long tables. At the first station—this is my job for a while, not requiring much ability—you open the box and place a Styrofoam cup of poi inside. (Fifteen members of the Kihewa family have come at 4 a.m., diluted the poi and filled each container by hand, with a little flip of the wrist.)
In addition to the poi—some of the mildest and best I've tasted—the box moves on to the next station, where it gets a cup of chicken long rice, scooped fresh into a container, still hot from Uncle Aika's crew.
Then kalua pig, again scooped fresh into a Styrofoam cup.
There are actually two assembly lines. In a back room, a table of ladies is mixing lomilomi salmon, the non-mushy tomatoes, green but not round onions, and a remarkable quantity of salt salmon. Others dish it into plastic containers using slotted spoons. "No water," a sign on the table reminds everyone.
Another table is loading a smaller plastic cup with swordfish-limu poke and opihi.
Young girls bring the cups by the trayful into the main room. Both poke and lomi go into each box. Then a pineapple wedge in a plastic bag. On top goes a plate, patiently assembled by yet another team of ladies early that morning. The plate contains a slice of baked sweet potato, dense haupia and a square of yellow cake that doesn't look like much, but turns out rich and delicious.
It's a lot of food for $15. When the boxes are full, runners, mainly 11- and 12-year-old boys, roll them on carts to Mel Spencer III in the back.
Spencer has inherited this job from his father. "My dad's not even here today," he laughs. "He used to drag me along when I was a kid and give me the worst weekends of my life."
Now, Spencer insists, he's got an easy job. He sells takeout tickets in advance, and then on luau day, he hands takeout boxes through the downstairs windows of the parish hall. Outside volunteers give them to people who drive up to redeem their tickets.
Spencer's supposed to pace the operation, so that when people drive up, there will be food—but it will still be hot. He's worried that he's taken some big orders. One customer ordered 67 boxes to feed everyone on a job site.
Unfortunately, the pickup for 67 boxes shows up just after someone who's bought 20 boxes, and just before someone who's ordered 40. "Wiped out," he says.
Things slow to a crawl. Traffic backs up to Vineyard Boulevard and even back to the Palama Street offramp. It takes more than an hour to catch up. The Lakalo family, in charge of feeding the volunteers, passes out dishes of bread pudding and ice cream to cheer up the workers, who are working without air conditioning.
Finally by 5 p.m., the pickup is over. But not the day.
Upstairs all afternoon a group of volunteers has been arranging flowers, setting tables.
I run into one of my new friends, Lorna Motas. I remember her story: She came to this luau two years ago with friends. "I thought the people here were so wonderful, I joined the church," she said.
Motas worked all day. Now she ties on a palaka apron to wait tables for the sit-down. "This isn't work," she insists. "This is relaxation."
There's a flurry in the church kitchen. The lomi salmon has run short, and with the food processor returned to its owner, there's chopping to do by hand. Uncle Aika's crew is making yet more chicken long rice.
The 500 guests for the sit-down luau arrive, colorful in aloha wear. They walk through a buffet line and then find a seat at one of the communal tables that stretch the length of the dining room.
At $25, the sit-down meal seems a bargain—even before you realize it's all you can eat. The waitresses are always there to refill your plate, hand you a new container of poi.
Some friends join me at the sit-down. "This is so cool," says one. "I wonder if it would taste as good if it wasn't for all this." She gestures to take in the welcoming atmosphere, the tables of people, the stage full of musicians and dancers.
Setting plays a part, says Kellie Maunakea. "You can get food like this a lot of places. But in ours, you taste more than the ingredients, it's the hearts and laughter."
Whatever the reason, it's great food. I set a personal record for consuming poi and kalua pig.
Full and happy, the guests depart. After cleanup, it's time for church. We gather in the sanctuary for a brief service.
Kellie gets up in front of the small congregation and says, "It's been a good day." They sold out, people liked the food, but there were two things that were more important than that: tradition and fellowship.
Kahu Kamanu offers a prayer. He thanks the Lord not for the money, not even for helping them get through a long day. "Thank you," he prays, "for all the new people the luau has brought into our lives."