How does a resort luau represent traditional Hawaii, anyway?
A visit to a resort luau has a local attendee searching beyond the mai tais and grass skirts for its true meaning.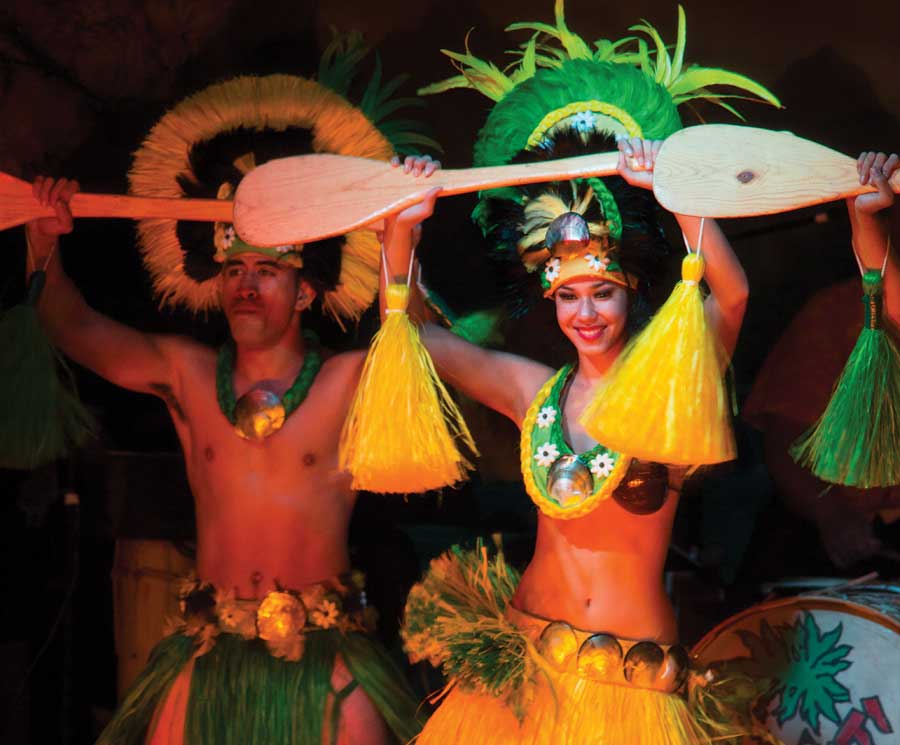 The Hawaiian luau—it's a custom I've participated in my entire life: the baby luau celebrating my niece's first birthday, the graduation luau rewarding my friend's hard work and the 75th birthday luau my family recently threw for my dad. These outdoor parties were traditionally called paina (dinner party) or ahaaina (feast) by Native Hawaiians. Luau, the name for the taro leaves used in some dishes, was a term misconstrued to mean "feast" back in the 19th century by newspaper reporters of the time, and it stuck.
Not unlike parties or reunions on the mainland, these events are meant to bring family and friends together, over ono food and plenty of it. With my family, that means there are Hawaiian and Chinese dishes and every kind of seafood; local '70s music from artists like Cecilio & Kapono blaring over loud speakers; a cooler full of Heinekens; keiki running after each other; and uncles and aunties singing karaoke late into the night. Contrary to what you may think a Hawaiian luau should be, there are no elaborate performances, no mai tais, Blue Hawaiis or piña coladas, and no one's giving me a lei unless I'm the one being honored.
So as I sit and wait for the Hyatt Regency Maui Resort and Spa's "Drums of the Pacific" luau to begin, I take a big sip from my large mai tai, sing along softly to the recorded Hawaiian music by Israel Kamakawiwoole playing in the background, wear my newly acquired flower lei proudly, and try my best to forget about those differences. This is how most visitors to the Islands are introduced to the Hawaiian luau, after all.
I don't know any of the hundreds of people sitting in the rows of tables at the outdoor theater with me, except for my son in the chair next to me. He volunteered to come along and is enjoying his virgin drink, a Shirley Temple, while I learn that the young couple to my left are honeymooners, the East Coast couple across from me is celebrating an anniversary and the family to my right is on vacation from California. And, though I cringe at the thought of hearing the lyrics "Yes, we're going to a hukilau" one more time—a popular American song from the '40s—a party is a party, and my now-empty drink is telling me it's time to eat.
The buffet, set right outside the theater, is very easy to get through. It's large and includes the usual suspects: kalua pork, huli-huli chicken, grilled fish, lomi salmon, poi, ahi poke, salad, fruit and noodles. (Don't be scared of the taro rolls; they're supposed to be purple and taste just like any other bread. Also, try some poi—I promise the more you eat it, the more your taste buds will become accustomed to it.) I like to put my kalua pig in the poi and eat them together, just like some people might eat a piece of country fried steak and gravy with a scoop of their mashed potatoes. Poi is made by pounding kalo (taro), a tuber like the potato, only sweeter.
Kids can choose between this main selection or a keiki buffet of pasta and chicken—an addition I like since I know they can be picky eaters—and it looks as though they are enjoying their buffet as much as the adults are the bar. I stop by the dessert table before heading back to my table, never one to turn down haupia (coconut cream pudding) when it's offered, and throw a brownie on the side. The meal is satisfying and everyone at my table seems happy with the food on their plates, though I frown when I notice no one took the poi except me.
Prior to 1778 when Capt. James Cook arrived in the Islands, poi was the main staple for Hawaiians—sometimes, the whole meal—with additions of ulu (breadfruit), limu (seaweed), fish and uala (sweet potato). Many of today's Hawaiian plates are made up of foods invented in the 19th and 20th centuries, such as pipikaula (beef jerky), chicken long rice and lomi salmon. The kalo is a very important part of the Hawaiian creation story: the stillborn first child of Wakea, the Sky Father, was buried and grew into the first kalo plant. Wakea's second child, a healthy baby boy named Haloa, became the first Hawaiian person—the younger brother to kalo—cementing the Hawaiians' connection to the Earth and this vital plant. The story goes back to the beginning of time, but, right now, the 11 dancers of "Drums of the Pacific" are gearing up to tell the story of how the Polynesians traveled across the sea from Tahiti to Hawaii.
They're performing an otea, a style of traditional Tahitian dance. The musicians on stage are beating their drums quickly; and men and women dressed in large decorated headpieces, coconut bikini tops with green and yellow faux-grass skirts are lined up in the middle of the audience. The women are carrying lit torches and are led to the stage by a male dancer in front of them, while men from behind move the imaginary canoe through the crowd with the paddles they are carrying. It's a grand entrance and fun spectacle to watch, so be careful not to get stuck waiting to purchase your souvenir photo when it begins, right after dinner.
What continues is a long and impressive program of dance performances representing the different Polynesian Islands, including the Tuamotus and French Polynesia, Rarotonga, Tonga, Hawai'i, New Zealand and Samoa. All well rehearsed, the dancers appear to be having fun, but my favorites are the kahiko (traditional Hawaiian dance), a Maori haka and a Samoan three-person fire-knife dance finale (the best performance of the night). It makes you wonder how it's even possible to spin the fire knives so fast and with such precision, without missing a beat and without the knives flying toward the audience—a thought I'm sure has crossed more minds than mine.
It was an exciting end to a long night, and the luau delivered great-tasting food and fun entertainment as promised. It even climbed in the ranks of my long list of visitor luau I've attended in the Islands. But I can't help but hope that, one day, someone will radically change the idea of what a luau is (maybe even call it a paina), take away the 1940s kitsch and show me something as "authentic" as the countless luau brochures always say.