How to Spend a Day in Lāhainā, Maui with $40
There's a lot to do in this historic whaling village on the Valley Isle—even on a budget.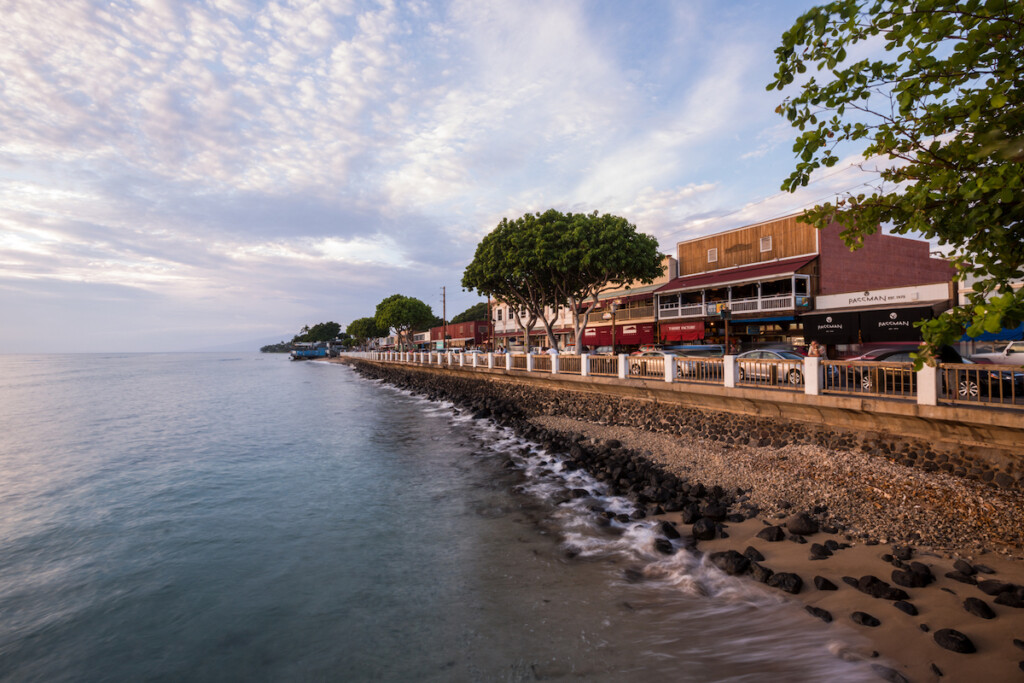 Once the capital of the Hawaiian Kingdom in the early 19th century, Lāhainā on Maui's west side is now a bustling hub of activity, with art galleries, shops and restaurants, much of it centered around Front Street. And you don't need a lot of money to experience all this historic town has to offer.
7:30 a.m. Grab a cold-brewed coffee at Belle Surf Café ($4—$6)
View this post on Instagram
Start your day with coffee from Belle Surf Café (640 Front St.). Get your caffeine to go or lounge in the charming café's outdoor seating area. If you're looking to splurge—meaning spending more than your allotted $40—the shop also serves bagels, loaded toasts and smoothies.
9 a.m. Visit Lāhainā's historic sites (free)
On the National Register of Historic Places, Lāhainā boasts several historic stops right on Front Street. Here, you'll glimpse into the town's historic past, from Hale Paʻahao—the prison where rowdy sailors were often stuck in irons—to the Hale Pai Printing Museum—where the first Hawaiian language newspaper was printed in 1834. Check out the Lāhainā Historic Trail, a self-guided walking tour with 28 stops in Lāhainā. And it's free!
10 a.m. Stop at the historic banyan tree (free)
You can't go to Lāhainā without visiting the famous banyan tree. Banyan Court Park features one of largest banyan trees in the U.S., imported from India and planted by William Owen Smith in 1873. It sprawls across an entire city block and stands more than 60 feet high. It's a great place to rest, under its sweeping branches; if you're visiting with your family, kids love to climb on it. This park hosts events and art exhibits, too, including Art in the Park, which is held every second and fourth weekend of the month.
11 a.m. Lunch at Pāʻia Fishmarket Lahaina ($12)
View this post on Instagram
The first Pāʻia Fishmarket opened in 1989 and has since opened a location in Lāhainā (632 Front St.). The popular spot is known for its fresh catch and tacos; lunch plates ($12) feature one taco (fish or chicken, shrimp $1 more) with coleslaw and your choice of Cajun rice, home potatoes or french fries.
Noon: Hit Launiupoko Beach Park (free)
Maui beaches are spectacular—and there are a few right in Lāhainā that are worth visiting. Launiupoko Beach is a picturesque spot right off Honoapiʻilani Highway (State Route No. 30). There's ample parking, a picnic area, fun-size waves and a natural swimming pool enclosed by lava rock perfect for keiki.
2 p.m. Stop for shave ice ($5.99)
View this post on Instagram
There's nothing better than eating shave ice after a hot day at the beach. Ululani's Hawaiian Shave Ice has been a popular stop for visitors and residents since it opened its first location in Lāhainā (790 Front St.) in 2008. The shop boasts speciality, housemade syrups and gourmet toppings, including vegan haupia cream, toasted coconut and fresh mochi. Choose from over 55 flavors—mango, coconut, pineapple, sour lemon, lychee. The most popular size is the Ulu at $7.25, but the keiki size ($5.99) is good enough.
3 p.m. Look for humpback whales (free)
During the winter months—November through May, with the peak season running from January to March—you'll likely see koholā, or North Pacific humpback whales, off Lāhainā. These magnificent mammals migrate to the warmer waters in Hawaiʻi to mate, give birth and frolic. Lāhainā is one of the best places in the world to see these whales—and you don't need to charter a whale-watching tour. The whales are visible from shore.
5 p.m. Happy hour at Down the Hatch ($15—$18)
View this post on Instagram
Located right on Front Street, Down the Hatch (658 Front St.) is a popular spot, especially for late-night eats. (The kitchen serves food until 11:30 p.m. and the bar is open until 1 a.m.) Happy hour is your best bet, and it runs from 2 to 5 p.m. daily. Get 15% off select appetizers, including crispy coconut shrimp and deep-fried calamari, and discounts on draft beers and cocktails. There's live music and boozy shave ice (adults only), too.
7 p.m. Catch sunset and visit art galleries (free)
Just about anywhere in Lāhainā offers a great view of the sunset. Some of our favorite places, though, is Lāhainā Harbor, Baby Beach (at the intersection of Front and Kenui streets) and anywhere on Front Street. After, head to the various galleries on Front Street and browse the artwork of Maui's talented artists, crafters and photographers. A few we recommend include Christopher Egan Gallery (844 Front St.), Martin Lawrence Galleries (790 Front St.), Lahaina Printsellers (764 Front St.), LIK Fine Art Gallery (712 Front St.), Wyland Galleries (711 Front St.) and Maui Hands Lahaina (612 Front St.).
Other Hawaiʻi in $40 Stories: