Tales from a Waikiki "on-the-beach" luau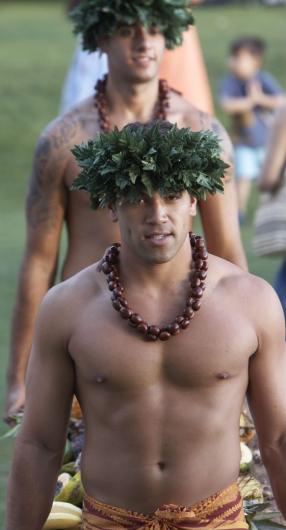 Many people think luau on Waikiki Beach are a dime a dozen.
Trust us, they're not.
Most Waikiki beachfront resorts don't have room for a proper luau. If you want a luau on the beach on Oahu, you usually have to take a tour bus out of town.
So I was intrigued by the Hilton Hawaiian Village's promise that its "Waikiki Luau on the Lagoon" would deliver an actual toes-in-the-sand luau experience. But it did, with rib-sticking luau food, a sweet sunset alongside the resort's Duke Kahanamoku Lagoon and a tour-of-the-South-Pacific hula show as a grand finale.
After a long day at work, it was nice to get a lei greeting but even nicer to get a decent mai tai. A quartet of musicians offered a soothing sunset soundtrack of traditional Hawaiian and hapa-haole tunes.
I was too late for the coconut husking and pineapple tossing, but just in time for the hukilau. It wasn't a real hukilau, but it was still pretty cool. Dancers emulating fishermen arrived in a canoe from across the lagoon at sunset, enlisting guests to pull in their netted "catch" (no real fish) with the hukilau dance. I watched—my toes buried in the sand.
We next gathered at the luau ground's imu—a Hawaiian underground oven—to remove a whole pig that had been roasting since noon. Kalua pig—a luau staple that's essentially a Hawaiian version of pulled pork—tastes best smoked in a real imu, pre-seasoned with little more than sea salt. It was the tastiest kalua pig I'd had in ages. Tender and moist.
The menu also included modern, if not traditional, luau favorites such as huli huli chicken, poi, lomi lomi salmon, mahimahi with macadamia nuts and haupia.
An after dinner show called "E Paina Kakou" (rough Hawaiian translation: "Let's Party") offered up the usual array of Polynesian dance—done far better than most luau—including a very skilled Samoan fire-knife dance finale.
The Hilton Hawaiian Village's beach luau happens every Sunday and Wednesday evening, beginning at 5:15 p.m. Admission at $95 for adults and $45 for children is roughly in line with usual luau prices, and reasonable considering its convenient location if you're staying in Waikiki (or live in Honolulu, like I do). Click here for more details.