The Simple Perfection of Poke
Created in the Islands, this raw fish dish is a favorite for a reason.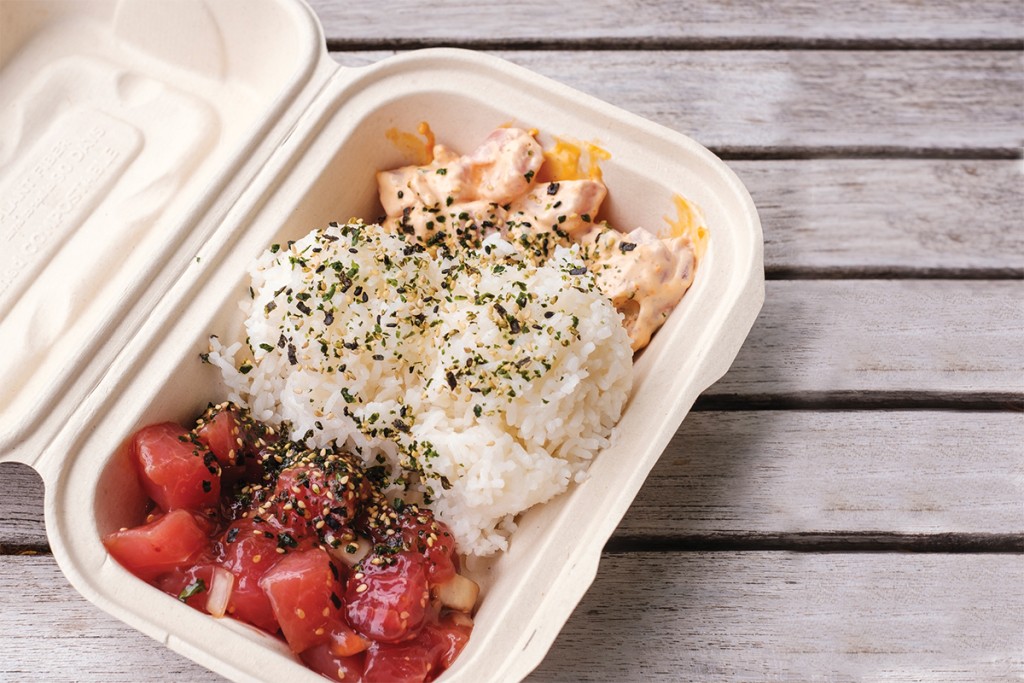 There's beauty in the simplicity of the poke bowl. Rice—white or brown—is topped with cubed 'ahi, tako or other bite-sized chunks of seafood. (But most of the time, it's 'ahi). Often the rice is layered with a thin sprinkle of furikake, a Japanese seasoning made of sesame seed and seaweed. And voila, the poke bowl. It can be eaten on the beach, at your hale (home) or even in your car if you just can't wait. The dish was born in the Islands, a product of our culinary mixing pot. Ancient Hawaiians feasted on freshly caught fish—which was sliced or diced into cubed pieces, the definition of the word poke in 'ōlelo Hawai'i (Hawaiian language)—mixed with seaweed, crushed 'inamona and kukui nut for centuries before Western contact. And as emigrants from China and Japan began calling the Islands home, the variety of poke began to expand and evolve. 
The local favorite has found plenty of homes abroad, from London to San Francisco, but you might not recognize it. Away from Hawai'i, it takes on a new, unfamiliar look, paired with unusual additions like quinoa, chicken, zucchini noodles, cauliflower, corn and more. While we can't stop other cultures and locales from putting their own spin on the poke bowl, there's really nothing like ordering one here in the Islands. The rice is cooked just right, the portions are perfect and the fish is so, so fresh. While many locals say Foodland and Tamura's have the best bowls for your buck, others swear by the poke at smaller outlets, such as Kahuku Superette on O'ahu and Ishihara Market on Kaua'i. Both have fierce followers.  
But whether you get yours at Tamura's or Foodland, or you like the shoyu 'ahi better than the oyster sauce 'ahi, the simple bowl of rice and cubed fish is a big part of Hawai'i's local culture. Just please don't put corn on it. 
This story was originally published in our 2022 Spring issue. Buy a copy here.