The sun rises on HAWAII Today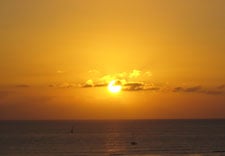 Hauoli Makahiki Hou! E komo mai!
Or in English … Happy New Year and welcome to HAWAII Magazine's brand new hawaiimagazine.com Web site!
We're happy you're here. We're happy we're here for you.
HAWAII has always taken its responsibilities as a magazine for folks who love our Islands — but don't necessarily live here — very seriously. Every produced-right-here-in-Hawaii issue delivers a vacation's worth of colorful, well-written and informative slices of all the stuff that makes our collection of islands one of the most amazing places on the planet.
The scenic beauty. The music. The food. The culture. The people. The islands and towns we call home. Their stories are our stories. And we enjoy delivering them to your mailbox six times a year.
The new Hawaiimagazine.com and its regularly updated HAWAII Today home page feed aims to cook up a similar luau-style spread — delivered a bit quicker and in more bite-size portions.
Visit us regularly and you'll get …
• Hawaii updates and commentary you won't find in the magazine.
• The latest tips for Hawaii travelers.
• Hawaii fun facts and trivia.
• Hawaii music reviews and concert announcements.
• Gift, dining, retail and after-hours suggestions
• Best reader photos.
• Contests and giveaways.
• Stuff we haven't thought up as ideal for the Web site just yet, but likely will
Stay with us today and you'll find out just enough about Hawaiimagazine.com's new web editor — that would be me, Derek Paiva — to still keep the guy a semi-fascinating enigma. Still later, we'll let you know how you can help us make the Web site and HAWAII Today as much a reflection of your Hawaii as ours.