The Wild, Exciting and Heroic Tale of Captain Haleiwa
The curious case of a property developer, a rundown theater and a man clad in pink.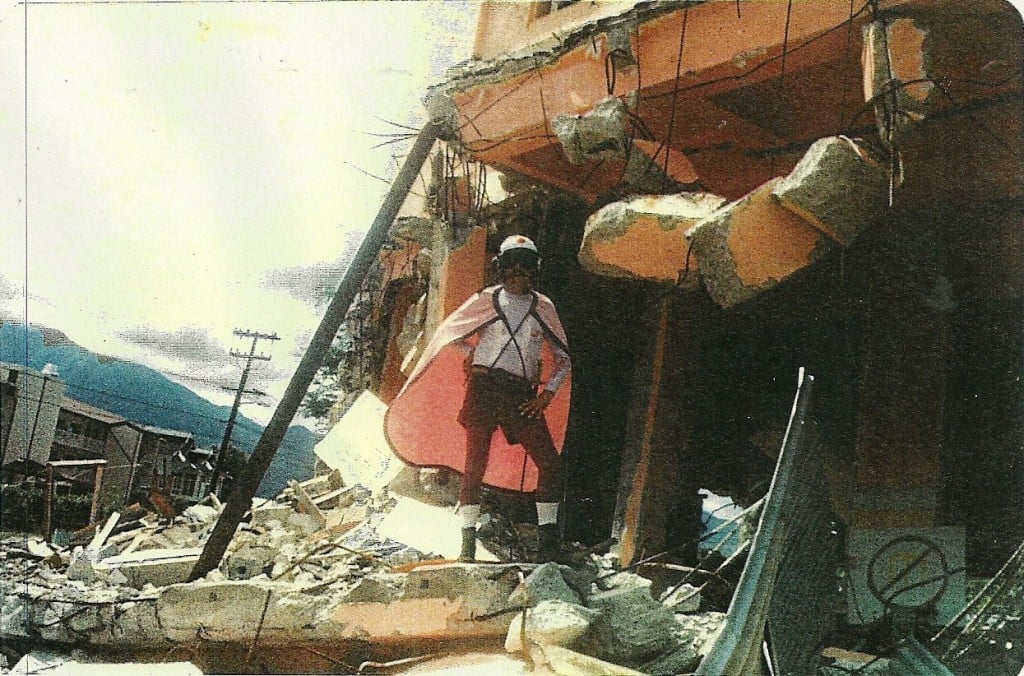 EDITOR'S NOTE: This story also appears in our September/October issue of HAWAII Magazine, however had to be cut down due to space limitations. This is the uncut, full-length version.
In today's society, superheroes are a big deal. The Avengers, X-Men, The Incredibles. They're everywhere. But in the late early '80s, the then-sleepy surftown of Haleiwa had a real-life superhero. He wore pink tights, a purple cape, a flight helmet, combat boots and a sabre. His name was Captain Haleiwa and, for a brief moment in history, he fought the man and won. Kind of.
"Right here, that's what it was all about," says Captain Haleiwa, who, like any good caped crusader, wished for his identity to remain anonymous. What he's referring to is your average McDonald's, across the street from where we're sitting.
Back in the '70s, this was the site of the beloved Haleiwa Theater. Built in 1933, it was a beautiful building, made of solid concrete and built in a tasteful art-deco fashion. Unfortunately, by then, much of the theater's interior was in disrepair and it was rarely used.
Enter Martin Lee, a property developer who bought the property with business partner Bruce Stanley. Lee arrived as a savior of sorts and, with the help of the community, repainted the theater in hopes of restoring it to its once great glory. Captain Haleiwa, at the time just your average un-costumed citizen with a love of architecture, helped manage the theater and put on films that would appeal to both residents and visitors. The theater began making money again, even hosting a concert that was "old-school crazy," says Captain Haleiwa. Then came the wrecking balls.
According to Captain Haleiwa and verified by news reports, Lee had made an agreement with the fast-food chain. McDonalds would pay him $450,000, and in return they would get the property. The agreement, though, was the land had to be cleared. That meant Lee had to tear down Haleiwa Theater. Concerned citizens asked Lee for a building permit, which was required to demolish the theater, and as it turns out, he didn't have one. After a few tense moments the construction stopped. "The building was holding up pretty good, but there was already some serious damage," says Captain Haleiwa.
In an effort to raise funds to repair the theater, Captain Haleiwa donned his iconic outfit for the first time in a public skit where he fought against the Hamburglar, the fast-food chain's hamburger thief. Noticing that the media had taken interest in his performance, he began wearing the suit in public and at court sessions while Lee was still pursuing a building permit. "I'd show up in my suit and the media would just love it," says Captain Haleiwa, "I'd check my sword at the front door of the federal building." The masked vigilante and his small team of supporters were working on saving the theater, calling city, county and federal governing agencies in hopes of preserving the historic movie house.
After months of legal hang-ups and courtroom drama, Lee had had enough. On Thursday, Nov. 10, 1983, Lee restarted the demolition even without a building permit and instead went in front of a small panel of citizens, who voted for the razing. But this time, Captain Haleiwa was ready. In protest, he climbed to the top of the theater, pouring motor oil on the ladder he climbed so no one could follow him. With him perched on the top of the building, demolition was forced to halt. The crusader held up golden arches made of bamboo, mocking McDonalds, while throwing rotten Egg McMuffins down on the construction crew. According to a story that ran in the North Shore News, the hometown superhero attracted a crowd of more than 200 spectators, three TV news stations, two fire engines, five carloads of police officers and even a police helicopter. "I like to think I helped put Haleiwa on the map," says Captain Haleiwa, with a chuckle.
He was forcibly removed from the theater roof and taken to the Wahiawa Police Station, booked for trespassing. After paying a $200 bail, he returned to the scene of the demolition only to find rubble. After the theater was destroyed, public awareness of historic building conservation in Haleiwa was raised, much in part thanks to Captain Haleiwa himself, A year later, in 1984, the city designated Haleiwa a state historic, cultural and scenic district . This means that all new buildings built here must adhere to a design plan that reflects the architecture of Haleiwa during its sugar plantation days.
"I was crazy," says Captain Haleiwa, reminiscing on his last stand atop Haleiwa Theater, "but I had a plan."
Captain Haleiwa still lives in Haleiwa, though he doesn't wear the costume anymore. And although he may have lost the battle all those years ago, he did so in the most entertaining, flamboyant way possible, and ultimately his influence can still be seen today. Just look at the newly built stores at Haleiwa Store Lots, which all feature that classic, plantation-style architecture that Captain Haleiwa fought so hard to preserve.
So, really, we all won.