Top Things to do in Lahaina, Maui
From whale watching adventures to authentic Hawaiʻi lūʻau, there's no shortage of things to do in Lahaina.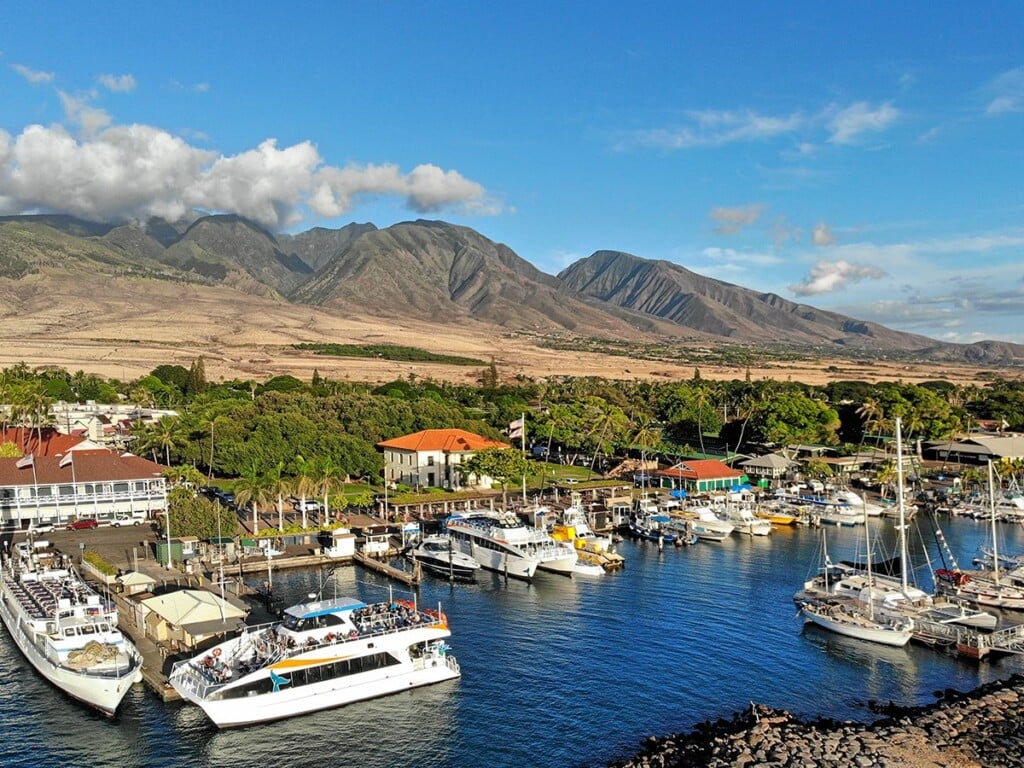 Akin to Waikīkī on Oʻahu's south shore, Lahaina, Maui, is a visitor's paradise in Hawaiʻi. Geared towards locals and travelers, Lahaina has a plethora of things to do in its small but busy district. From whale watching tours to visiting a historic banyan tree plaza and even checking out one of Hawaiʻi's best lūʻau, there's no shortage of things to do in Lahaina, but for visitors looking to make a list or itinerary, here are a few activities, places to eat and more that we recommend.
The Lahaina Banyan Court
Located right off of Front Street, the Lahaina Banyan Court is one of the town's best attractions, and is home to one of the largest and oldest banyan trees in Hawaiʻi. Planted in 1873 to commemorate the 50th anniversary of the first American Protestant mission in Lahaina, this banyan tree has grown to stand over 50 feet tall, and benches and seating areas have been built around the tree so visitors and residents can enjoy the ample shade provided by the elderly banyan.
671 Front St, Lahaina.
Whale Watching
Lahaina is known for its whale watching activities, as hundreds of North Pacific Humpback whales make their way to the warm waters fronting Lahaina from November through May. (They do this to nurse their young and to enjoy the warm waters of Hawaiʻi.) While visitors will have endless options to choose from when it comes to whale watching tours—we recommend the Pacific Whale Foundation's eco-friendly adventure—you can just as easily see whales, albeit less up-close, from the shores of Lahaina. Sprays, tail slaps and fins are common sights, especially during peak whale watching months.
For more information on whale watching tours with the Pacific Whale Foundation, visit pacificwhale.org.
READ MORE: Our Tips for Whale-Watching in Hawaiʻi
Royal Lahaina Myths of Maui Lūʻau
View this post on Instagram
One of Maui's longest running lūʻau, the Royal Lahaina Myths of Maui Lūʻau is located on a stunning waterfront property fronting Kaʻanapali Beach—one of Maui's best beaches. Not only will you be getting a prime view of the Maui sunset, you can feast on a buffet of traditional Hawaiian fare and sip on tropical cocktails as you enjoy fire-knife dancers and hula performers put on the show of a lifetime.
READ MORE: The Best Lūʻau in Hawaiʻi, According to our Editors
Lunch at Fleetwood's on Front Street
If you're looking for a truly stunning place to get lunch, Fleetwood's on Front Street has great bites to eat and a view to dine for. Opened by Mick Fleetwood—of Fleetwood Mac fame—in 2012, this beachside bistro offers an array of surf 'n' turf cuisine, from filling BLTs with added ʻahi to a luxurious lobster Benedict. If you're looking to eat at the rooftop lounge—where the best views are—be sure to reserve your table ahead of time.
For more information and to make reservations, visit fleetwoodsonfrontst.com.
Grab a Boozy Shave Ice
If you're 21 and up, you can enjoy an alcohol-infused shave ice from Breakwall Shave Ice Co. Not only will this frozen treat keep you cool under Maui's hot sun, it'll help get you loosened up with the addition of hard liquors to the classic island-fare. Don't worry, if you've got kiddos who are also looking to get in on the fun, you can get them alcohol-free shave ice—which is just a normal shave ice—as well from Breakwall Shave Ice Co.
658 Front St #104, Lahaina, (808) 661-4900, dthmaui.com.
Shop Front Street
Front Street is truly a shoppers paradise. With dozens, if not hundreds, of stores lining the ever-bustling Front Street, you can truly spend an entire afternoon buying unique jewelry and apparel and getting the perfect souvenirs for your friends and family back home. From major brands like Volcom and Billabong to low-key local retailers like Moonbow Tropics and Karina's Boutique, there are more than enough options for you to choose from on your thrifty excursion.
Take a Dip at the Beach
A sweet little spot of coastline just south of the public parking lot fronting Lahaina is Kamehameha Iki Park. Part park, part beach, this cozy little shoreline is perfect for visitors looking to get wet before or after visiting Lahaina. It's not a big beach, however, so if size of coastline is what you're after, you're better off stopping at Launiupoko Beach Park—located further south from Lahaina.
525 Front St, Lahaina.
Catch the Sunset
Probably the top thing to do in Lahaina for visitors and residents is to stop and catch the sunset. Lahaina, and it's waterfront views, are the perfect place to catch a sunset in Hawaiʻi. Whether you're at Baby Beach watching the sun gently fall below the horizon, or on Front Street observing at the calm waters of Lahaina Harbor turn into a magnificent shade of fiery orange from the sun's daily ritual, you won't be left wanting.