10 fun water activities to do at Kaanapali Beach, Maui
Here are our favorite Kaanapali water activities for planning your next vacation.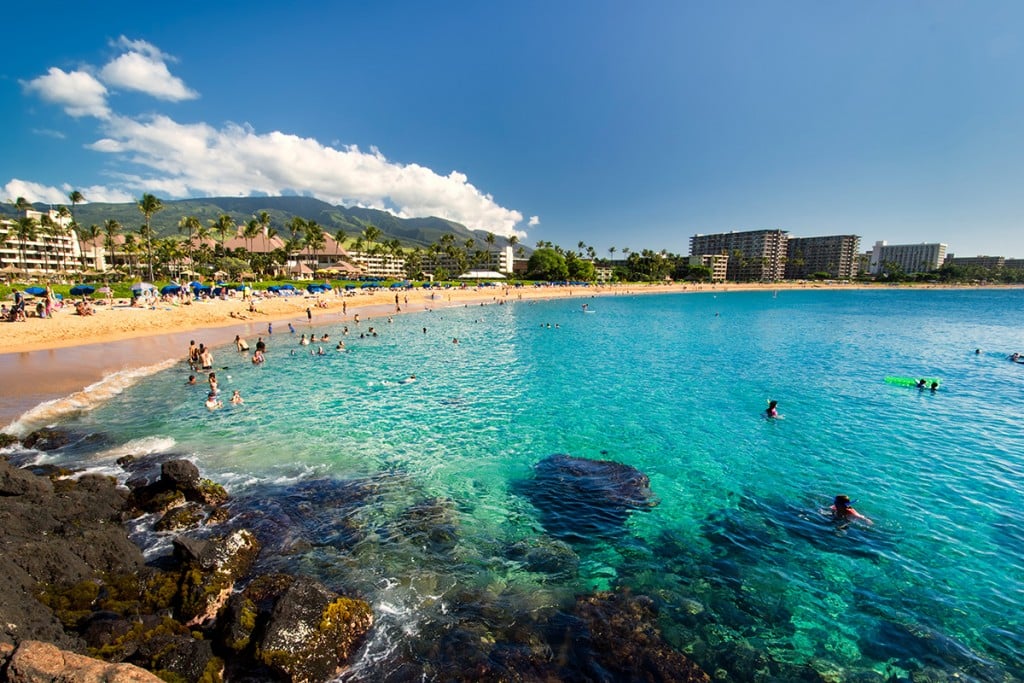 There are a lot of different things to love about Kaanapali Resort on Maui: The championship golf, the world-class dining, the shopping, tennis and swimming pools. However, none can compare to the area's main attraction, Kaanapali Beach.
There are so many different water activities at Kaanapali Beach that you could easily stay here over a week and have new experiences each day. Whether that's under, over, or on top of the water is completely up to you, but here are our favorite Kaanapali water activities for planning your next vacation.
1. Scuba dive
The area around Puu Kekaa, also called "Black Rock," is arguably one of Maui's best shore dives for its marine life and ease of access. While it isn't deep (which makes it great for beginners), divers will find everything from turtles to tako (octopus) within 30 feet of the surface. Thanks to the tank that's strapped to your back, you can seek out menpachi, or soldierfish, that hide beneath ledges and caves, and watch as parrotfish nibble on corals that sit at the base of the cliff. If you really want to up the excitement, consider diving at night.
2. Snuba
If scuba diving looks too intimidating—but you still want to breathe underwater—snuba is a mix between snorkeling and scuba where all that's required to navigate the depths is a regulator strapped to a harness. The air tank floats on a raft at the surface, and you're able to breathe via a 10-foot long tube that delivers air from above. A professional instructor is right there next to you, and you can spend up to 20 minutes underwater on a search for turtles and fish.
3. Snorkeling
If you'd prefer to simply stay on the surface, Kaanapali Beach has multiple snorkeling areas for experiencing the colorful shallows. You can snorkel right in front of the Sheraton resort and swim around Puu Kekaa, and on days with no surf, you can scour the reef in front of the Marriott and Hyatt.
4. Cliff jumping at Puu Kekaa (aka Black Rock)
While Puu Kekaa is known for its snorkeling, there's a lot of history and legend surrounding this iconic, volcanic rock. There was once a heiau (traditional Hawaiian place of worship) at the top, and Hawaiians believe it's a sacred spot where souls depart this world for the next. Only chiefs with exceptional mana (spiritual power) could leap from this spot and return unscathed, and it was Kahekili, King of Maui, who popularized the sport of lele kawa, or cliff jumping, from this spot.
Today you'll see dozens of people jumping and then splashing in the waters below, and there's a cliff diving ceremony before sunset each night that honors the legend and past.
5. Outrigger canoe tour at Kaanapali Beach Hotel
When ancient Hawaiians traveled between Islands, they paddled in outrigger canoes, which traditionally hold up to six people who stroke together as a team. Aside from providing an amazing workout and a way to experience the ocean, the outrigger canoe tour with Kaanapali Beach Hotel is a morning that's packed with history and culture.
6. Kayak
For a slower-paced, more casual paddle, you can hop on a guided kayak tour that begins in front of The Westin hotel and goes north toward Puu Kekaa. Keep an eye out for seabirds on the cliffs and watch as turtles surface for air within a couple feet of your boat.
7. Surf
Thanks to its westerly-facing direction Kaanapali Beach has waves for surfing on almost every day of the year. The surf break is in front of the Kaanapali Alii, and you can either take a morning lesson or rent a board on your own. The swells in summer can occasionally be large, but on most days the waves are beginner-friendly for learning to stand up and ride.
8. SUP
To experience the sensation of standing on water, try SUP, or stand-up paddleboarding, from any of the beachfront operators. You can paddle the length of the entire beach, lie down and tan on the board, and watch for turtles and fish as they flit and swim right under your feet. In winter, it's even possible to spot whales, although you need to keep at least a 100-yard distance and you don't want to go too far from shore.
9. Parasail
While all other watersports on Kaanapali Beach are available all year round, two of the activities—parasailing and whale watching—are only seasonally available. From May 16–Dec. 14, you can see the beach from hundreds of feet up as you fly through the air in a parasail. (The parasail boats close down for the winter so as to not interfere with the whales.)
10. Whale watch
From Dec. 15–May 15 is the season for watching whales, whether you decide to watch them from shore or via a tour boat company. Maui is one of the prime spots in the world to view them, so you shouldn't pass up the amazing experience.