10 Hawaiʻi Gift Ideas for Travelers
Give these Hawaiʻi-inspired travel gifts this Christmas to those on your list who love visiting the Islands.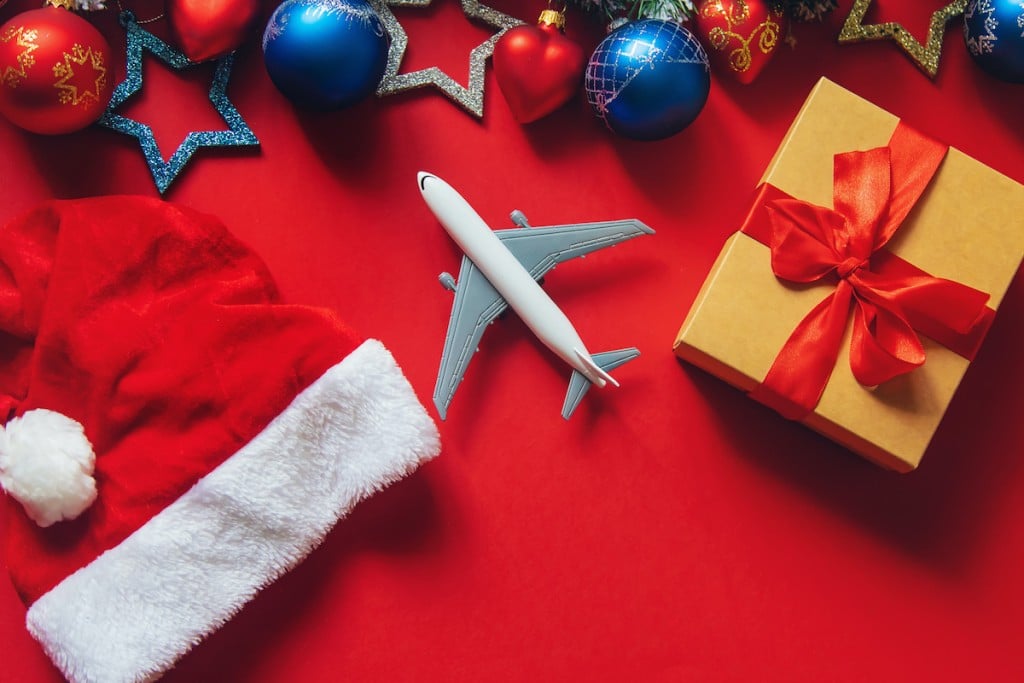 Since most of us aren't traveling this holiday season, here are 10 gifts to get you in the mood to plan your next visit to the Islands.
1. Passport Wallet, Jana Lam
Local designer Jana Lam recently launched a travel collection, which included this fashionable passport sleeve. (It even has a slip for cash.) The fabric is a light denim that's printed, then coated to be stain- and weather-resistent. The design—bird of paradise—has an effortless tropical vibe. It's perfect for any jetsetter with a love for the Islands.
$30, janalam.com
2. Large Beach Bag, Sig on Smith x HAYN x ILA Swim
A collab among three Hawaiʻi designers—Sig on Smith, HAYN and ILA Swim—this large mesh bag is perfect for your next beach adventure. It features mesh outer pockets and a snap closure with a gorgeous monstera print. And you can get it wet!
$105, sigzanedesigns.com
3. Face Mask, Jams World
Make a statement with a face mask by Jams World, known for its bold and bright designs that are iconically Hawaiʻi. The Honolulu-based company makes men's and women's masks with its signature rayon fabrics.
$20, jamsworld.com
4. Traveler's Notebook, Mono Hawaiʻi
This simple, passport-size notebook features an elegant cow leather cover made in Thailand with paper made in Japan. It comes in several different colors—and it can double as a passport holder.
$44, monohawaii.com
5. Mini Hip Pack, Aloha Collection
A collab between Aloha Collection and Samudra, this hip pack design is inspired by the spirit of Hawaiiʻi Island. It's ultralight with enough room for your smartphone, credit cards and passport—really all you need! You can roam the Islands hands-free.
$40, alohacollection.com
6. Camille Tank and Milo Pant, Allison Izu
Part of the local designer's #workfromhome collection, this tank-and-pants combo is really the perfect outfit for traveling. Both are comfy, made with super-soft material that won't wrinkle, no matter how long your flight. The slim-fitting tank is longer than a typical camisole with wider straps for extra comfort. The pants boast a wider, yoga-style waistband with side-seam pockets. You might want to stay in this outfit all day.
$42 for the tank, $148 for the pants, allisonizu.com
7. Yellow Pineapple Reusable Tote, Fighting Eel
Fighting Eel boasts several different reusable nylon totes—all washable—with unique designs, including these yellow pineapples, perfect for a day at the beach or farmers market. Spend another $20 and get a matching face mask.
$20, fightingeel.com
8. Natural Hand Sanitizer Gel, Lanikai Bath and Body
The thicker gels stay put in your palm and aloe vera smoothes the skin without stickiness. Plus, the Kailua- and Kāneʻohe-made sanitizers are available in eight scents, all offering the same light, natural touch Lanikai Bath and Body is known for.
$4.75 each, lanikaibathandbody.com
9. Yuzu Lemon Peel Gummy Bears, Sticky Fingers Gummies
Lemon peel gummies are all the rage right now in Hawaiʻi. These yuzu-flavored ones make a great airplane snack—soft, sticky, slightly sour and totally portable. Kids will love them, too.
$5 for 6 ounces, @sticky_fingers_gummies
10. Luggage Tags, HAWAIʻI Magazine
Shameless plug: We're selling our own luggage tags, designed by HAWAIʻI Magazine art director Kayla Rivera. Choose from two designs: Aloha and Have Aloha Will Travel (shown). These fun tags will set your luggage apart from all the rest on the reclaim carousel. They're durable, easy to read and unique.
$4.99 each, hawaiimagazine.com/shop
Read More