"10 Hawaii Places You Haven't Been To Yet" extra: Polihua Beach, Lanai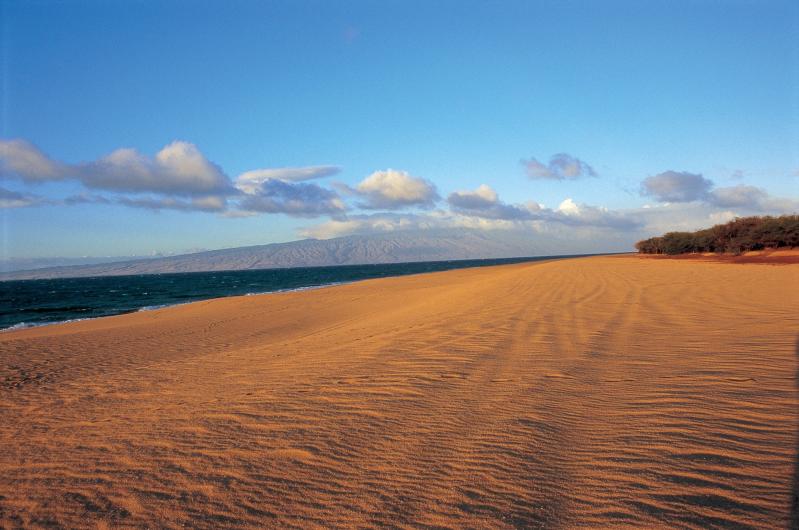 In the May/June 2011 issue of HAWAII Magazine, we're taking readers, in words and photos, to a handful of Hawaii natural wonders it's likely they haven't had a chance to see up close and personal.
Hawaii abounds with so much unparalleled scenic beauty that there are dozens of breathtaking places throughout the Islands even lifelong residents have never experienced first-hand. The cover feature "10 Hawaii Places You Haven't Been to Yet" is all about our favorite off-the-beaten-track locales we think everyone should see in their lifetimes (but likely haven't yet).
The only green sand beach in the United States? It's on our list. The windswept Molokai peninsula only accessible by air, foot or donkey? Got that on our list, too. Hawaii's only freshwater alpine lake?
HAWAII Magazine's current issue has our entire "10 Hawaii Places You Haven't Been to Yet" list, complete with write-ups on each, photos and—if you're feeling adventurous—information on getting to each. You'll find copies in bookstores and on newsstands nationwide … right now. You can also subscribe to HAWAII Magazine's print edition by clicking here.
All this month, exclusively on HawaiiMagazine.com, we're sharing two additional Hawaii places that just missed the cut for our final "10 Hawaii Places You Haven't Been to Yet" list. Below is the first of these extras: a remote white sand beach on the island of Lanai.

Polihua Beach
(Lanai)
Polihua is the kind of beach people who yearn to visit Hawai'i dream of—one-and-a-half-miles of powdery white sand under clear azure skies, all of it often completely devoid of people.
Sure, Polihua's only downside is a big one: The beach is unsafe for swimming and, well, all ocean activities due to strong offshore currents and a steep drop into open ocean just off its sandy shore. Still, the longest white sand beach on the tiny, exquisitely laid-back island of Lanai is worth a visit for its rugged remoteness, breathtaking beauty and undisturbed quietude.
An added bonus? A superb view of neighboring Molokai, nine miles away, across the Kalohi Channel.
Bring a book, some skin protection, a folding chair and a rental Jeep and you're set.
Why you haven't been there yet: Even regular Lanai visitors (and many residents) shudder at the thought of driving the seriously rough-and-tumble Polihua Trail down to the beach. Did we mention that even four-wheel-drive vehicles have a tough go on the trail?
Getting there: Take the Kanepuu Highway (actually a jeep trail) to the Polihua Trail cutoff and proceed slowly (really, there's no other way) down the steep, rocky, unpaved road.
Check out the video below: A 360-degree view of Polihua Beach from our last visit.