10 Hawaii pupu dishes that are the life of the party
No island-style potluck or family get-together is complete without these appetizers.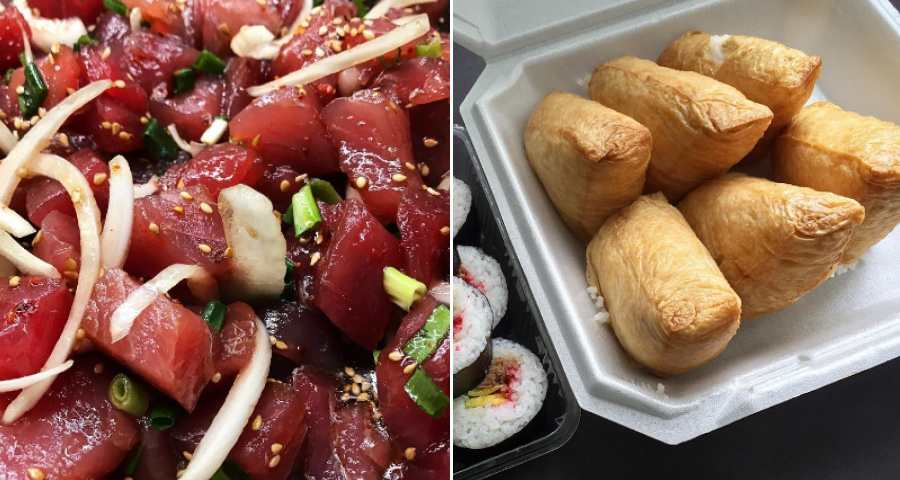 Food is a huge component of social life here in the Islands, right down to the smallest, teeny-tiniest of dishes. Pupu, or bite-sized appetizers, tap into a wide range of ethnic foods present in everyday life and locals lay them down thick during the holidays. With the swing of Christmas and New Year's Eve right around the corner, we've rounded up our favorite Hawaii-style hors dʻoeuvres that get the paina (party) started.
1. Poke
Why even just try bury this iconic local fare in the middle of this list? Poke is one of the most ubiquitous, not to mention versatile, of pupu; poke can appear on a dinner table in the form of the ever-popular ahi tuna, or hee (octopus) or salmon, even tofu. Multiple people are bound to bring a container of the stuff to any group party because it's better to have too much poke rather than none at all.
2. Cone sushi
Also known as inari (or inari zushi), this is a quick and simple local favorite. In inari, the "cone" wrapper that describes this sushi variety, is age, a fried bean curd. This, in combination with the white rice drizzed with vinegar, is an addicting combination.
3. Boiled peanuts
The Hawaii version of this classic snack, believed to have Chinese roots, is a great low-maintenance option for those of us who can't cook. It involves soaking raw peanuts, simmering them in a boiling pot of salty water (use Hawaiian sea salt) with star anise. They go great with all the football games your family ends up watching for hours over the holidays.
4. Sashimi
Want an easy in with strangers at the company holiday party? Bring sashimi. Finely trimmed, raw or marinated sashimi is one of Hawaii's popular pupu, especially for New Year's Eve, so plan accordingly—fish is going to go fast!
5. Pipikaula
Most easily described as "Hawaiian beef jerky," this salted and dried beef delicacy can't be beat. It's spicy, without being leather dry, and can be flavored in so many different ways (just ask Helena's). Sweet and salty chili pipikaula is a winner.
6. Smoked tako
No matter what marinade and seasonings you choose—kim chee, misoyaki, onion, limu (seafood)—cut your tako, or octopus, up into modest bite-sized pieces and you've got one of the most delicious and dynamic pupu on your hands.
7. Char siu
This requires some portion control, but roasted Chinese pork makes for some great snacking.
8. Pulehu steak, pupu-style
Same thing applies to this steak entree—it's a pupu if you cut it into small enough pieces! Pulehu is the Hawaiian word for "to broil," and refers to a meat that's rubbed first with a seasoning mix, usually Hawaiian salt.
9. Filipino lumpia egg rolls
This version of egg rolls, prepared Filipino-style, is filled with mined meats and vegetables. A popular favorite, found at all Filipino festivals, restaurants and Hawaii parties.
10. Edamame
Can't go wrong with a bowl of soy beans. Just serve them with a sweet and sour dipping sauce or with some simple shoyu and you're good to grind.