10 of the best Hawaii Christmas songs
Baby, it's cold outside, but these Hawaiian holiday tunes will keep you warm and merry.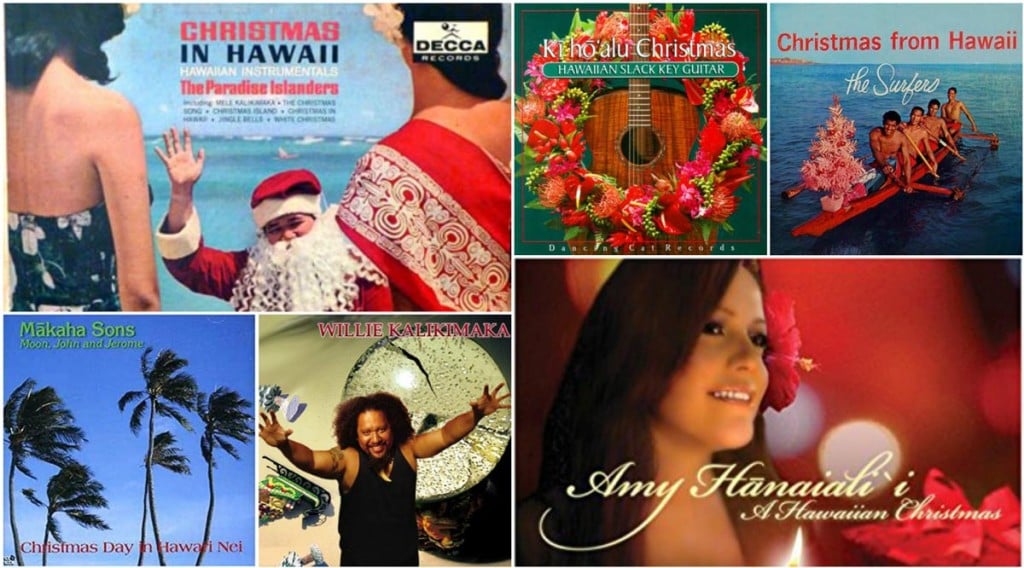 "Here Comes Santa in His Red Canoe" by the Surfers
Here's a mele kalikimaka question: If Santa's part of a crew of paddlers, which position does he take? Steersman? Stroker? Is Santa a middle, power guy? Unfortunately, "Here Comes Santa in His Red Canoe" doesn't give us any answers, but the 1959 rock-a-hula tune does give us plenty to groove to.
"Silent Night" by Amy Hanaialii Gilliom
There's something about Gilliom's 2007 rendition of "Silent Night" that will give you chicken skin. The song is already a winner, but the combination of her sturdy vocals and the verses she sings in Hawaiian bring out the most beautiful aspects of the song.
"Kana Kaloka/Here Comes Santa Claus" by Na Leo Pilimehana
In this 1999 medley, Na Leo fuses the popular "Here Comes Santa Claus" with renaissance woman Mary Kawena Pukui's Hawaiian language Christmas song "Kana Kaloka," or Santa Claus. Na Leo makes the medley sound singular, and on this recording the group's instruments are turned down to let their voices and harmonies take center stage.
"O Holy Night" by Willie K
This rendition of what might be the most epic Christmas song ever comes from a 1999 album entitled "Willie Kalikimaka." The album title, alone, is enough to win Willie K a spot on this list, nevermind it's one of the best versions of the song you'll hear. Like Gilliom, Willie K sings in both English and Hawaiian, belting out the chorus with the devotion of a Sunday choir singer.
"Medley: Winter Wonderland/ Hawaiian Santa" by The Makaha Sons
The sweet vocal harmonies, walking bass line and guitar vamp of this 1997 song will get your feet tapping. It also feels like you're getting a holiday swap meet deal—two Christmas tunes for one! In this medley, the Sons manage to wedge a song about a surfing, hula-dancing, malo-wearing, Hawaiian Santa into a holiday standard about snow—a fun contrast.
"Nu oli" by Kealii Reichel
Another of the old hymns turned Christmas tune, "Nu Oli" is the Hawaiian language version of the 1873 hymn "Glad Tidings," a song that celebrates the news of Christ's birth. "Nu oli" roughly translates to "joyful news." In this 2006 a cappella version, Reichel—accompanied by what sounds like a choir of angels on high—works his vocal magic, cutting through the glittering commercialism of the season.
"Silver Bells" by The Paradise Islanders
An ukulele vamping, bells striking and steel guitars dueling in this 1961 instrumental rendition of "Silver Bells" makes it fresh and breezy. The song's lyrics describe a wintry Christmas in an urban setting, but in the hands of composer and steel guitar legend Sam Koki, and his Paradise Islanders, it turns into a tropical song that sways like a palm tree in trade winds.
"My Hawaiian Christmas" by The Honolulu Boys Choir
Don't let the sweet voices and choirboy act of The Honolulu Boys Choir throw you off. This 1985 single, released by the Royal Hawaiian Shopping Center, is a pop song gem. Even better than the melody are the lyrics that conjure playful images of Christmastime in Hawaii—"A man made of sand instead of snow, maile replaces mistletoe, sugar and spice, turkey and rice, I love my Hawaiian Christmas."
"Mele Kalikimaka" by Cyril Pahinui
Master slack-key guitarist Cyril Pahinui injects something less glossy and more soulful into this 1949 hapa-haole song made popular by a man with a sound for a name, Bing Crosby. Pahinui's soft voice alongside some fantastic slack-key guitar make this song one you wouldn't mind listening to all year-round.
"Numbah One Day of Christmas" by Ed Kenney
Ask someone from Hawaii to sing the original version of "The Twelve Days of Christmas" and you're likely to get blank stares. Ask them to sing the Pidgin English version and you're guaranteed to get a, "Five big fat pigs! four flower lei, three dry squid, two coconut and one myna bird in one papaya tree." The Hawaii Christmas standard feels timeless, though it was originally released as the B-side of the "My Hawaiian Christmas" single, mentioned above.