10 Things You Can Only Do in the Summer in Hawaiʻi
Hawaiʻi and summer go together like cookies and milk.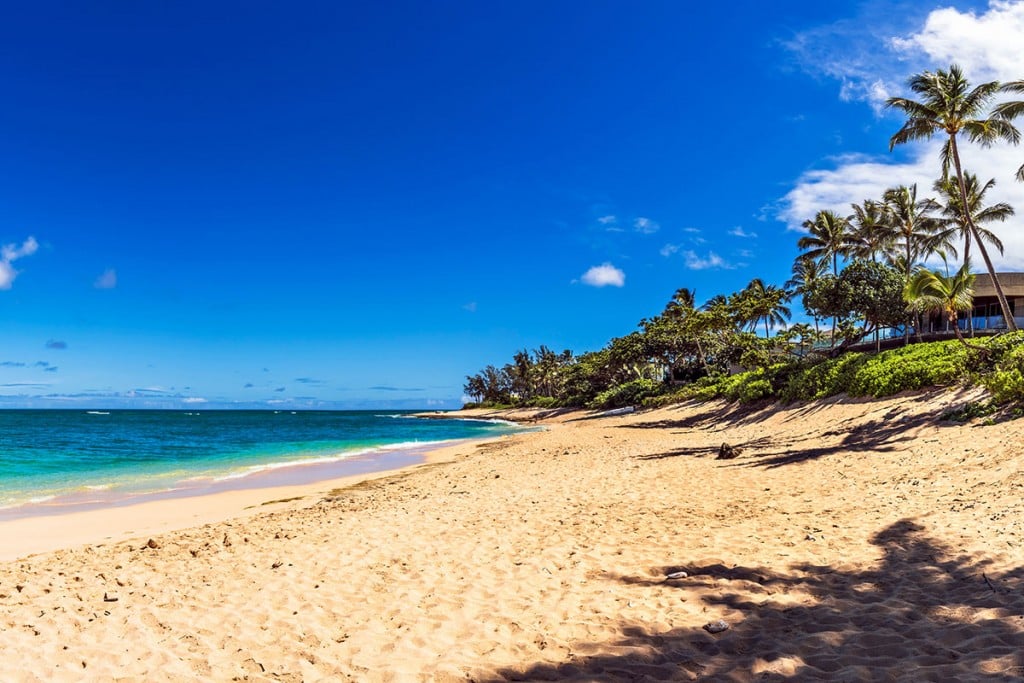 It's easy to forget that it's not summer year-round in Hawaiʻi. With our unwavering tropical weather, Instagram-ready beaches and lack of snow, seasons such as fall and spring are simply terms used to label school semesters. There are however, subtle differences between the summer and winter seasons and we've compiled a list of activities you can only do during Hawaiʻi's summer months from May through October.
1. Enjoy the North Shore
It's true that you can enjoy the northern shores of all Islands during the winter, however that likely includes surfboards and pumping waves. What we mean by "enjoy" is splashing in the shorebreak, busting out the floatie and, for the lack of a better term, cruising. With a break in North Pacific storm activity during summer months, Hawaiʻi's north facing beaches flatten out, letting you have the peace of mind that no monster set wave is going to come by and get you featured on @kookslams.
2. Learn to surf in Waikīkī
The great part about Hawaiʻi is that there are waves at all times of the year. As the previously mentioned North Pacific goes silent, the South Pacific gets fired up. This means south facing beaches like Waikīkī get a little action, which is a perfect time for beginners to pick up a soft top longboard and charge. Waikīkī rarely produces waves with the same size and intensity of its northern counterparts, so first-timers won't run the risk of getting into an uncomfortable situation.
3. Get your Bon on
Thank the Japanese plantation workers for bringing the Bon season with them, as bon dance events are held on all major Islands. For those unaware, a bon dance is a style of folk dance used to show gratitude toward ancestral spirits, however Buddhist missions in Hawaiʻi welcome all comers regardless of religious beliefs. Dancers rotate around a yagura (tower), where a group of taiko instrumentalists accompany the songs. Anyone can join in on this tornado of claps, steps and shouts, and it only takes a few rotations to learn the moves for each song.
4. Celebrate the arts
Every July, Haleʻiwa on Oʻahu's North Shore hosts the Haleiwa Arts Festival, a colorful gathering of local professional, amateur, student and keiki (children) artists and the perfect place to get a unique, handmade piece of art. Held in Haleʻiwa Beach Park, it's a great cultural and artistic experience where you'll find visual and performing arts like music, dance and theater; chalk art events; children's petroglyph art displays; workshops and more.
5. Hail to the King (Kamehameha)
On June 11th, the Hawaiian Islands pay their respects to King Kamehameha I, founder and first ruler of the Kingdom of Hawaiʻi. Started by his grandson, King Kamehameha V, Kamehameha Day is celebrated on all Islands with lei-draping ceremonies, floral parades and a hoʻolauleʻa (celebration). According to legend, King Kamehameha moved the Naha Stone, a rectangular lava stone slab that weighs roughly 5,000 to 7,000 pounds, at the age of 14.
6. Hike with less risk of rain
Rain can quickly turn a leisurely hike into a more perilous version of a Slip 'N Slide. Fortunately, if you decide to take a hike in the summer months, it's far less likely the weather will rain on your parade. A study done by the National Oceanic and Atmospheric Administration shows that on average from 1971 to 2000, Honolulu received a meagerly 0.43 inches of rain in June, and a whopping 2.85 inches of rain in December. Sure, it sucks that you might not see a waterfall, but you know what also sucks? Slipping off a mountain.
7. Go back to the past
The Hawaiian Islands are a cultural smorgasbord due to a large influx of international sugar-mill plantation workers arriving on the Islands in the 19th century. It's thanks to these early immigrants that we have malasadas and manapua. To celebrate our cultural diversity and the history surrounding it, Kōloa Plantation Days is held every July on the sunny south shores of Kauaʻi. The 10-day event celebrates the culture that took hold during the plantation days and works together with CMJ Stables to put on a two-day rodeo.
8. Jump off Waimea Rock
Jumping off of the prominent rock in Waimea Bay is scary enough, but during the winter season the shorebreak at Waimea can get uncomfortably big. Fortunately, the summertime flatness takes away that additional level of fear, leaving you with the normal level of fear involved in jumping off of a giant rock. Just remember, in the air, everybody can hear you scream.
9. Movie night under the stars
Hawaiʻi has often been put under the spotlight of Hollywood. Sometimes you get cult classics such as "North Shore" and other times you get a box-office flop like "Aloha." At the Maui Film Festival, an annual summer event on the Valley Isle, critically acclaimed Hollywood films are put on for display under the starlit sky. This weeklong festival includes three venues to watch films, a myriad of guest panelists and tasting events with participating hotels and resorts.
10. Get the most out of your day
Since the Hawaiian Islands are so close to the equator, our days don't grow considerably longer in the summer. However, our orbital rotation does provide a few extra hours of sunlight. The longest day of the year, which occurs anywhere between June 20th to June 23rd, has a little over 13 hours of sunlight. Our shortest day? Just below 11 hours. That just means more time for you to get the most out of your summer days.