12 free apps you need to download before visiting Hawaii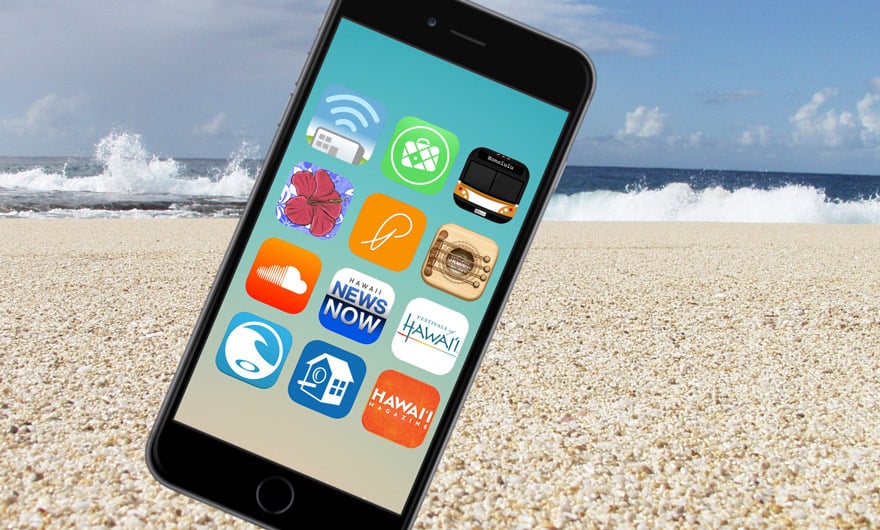 We live in an age of travel now where everyone has turned in their hard-copy maps for digital apps. Not that we would recommend you spend every waking minute looking down at a screen when you're surrounded by the real life beauty that's Hawaii's landscape, here are some apps that will aid you in your exploration, not distract you from it.
1. Wi-Fi Finder
The first thing you're going to need when your plane touches down on the aina (land) is WiFi, without which connecting to the rest of the apps on this list may prove fruitless. Wi-Fi Finder sorts all of that out for you in a map or list form instantly, serving you with all the Wi-Fi hotspots nearest your location. You can also filter these hotspots by venue type and save Favorites to revisit throughout your trip.
2. Surf Report
This streamlined app tells you everything you need to know about the conditions of pretty much any beach on your island: weather forecast, the temperature of the water, wind conditions, a tide chart spanning the entire day, and the last time all this information was updated. Best to use right as you're starting your morning, so you can better schedule various activities that may revolve around a beach day.
3. Maps.me
Assuming you already have Google Maps and Waze, which are necessities no matter what you're doing wherever you are in the world, Maps.me is crucial when you need to navigate terrain that may be out of cellular range. Completely offline, you won't need to rely on an internet connection to figure out where you're going. Perfect for hiking or at a remote beach where you're most likely to get unreliable reception.
4. Transit HNL
If you're using public transportation to get around urban Honolulu, the Transit HNL app fares better than the state's official one because it's less clunky and tracks when your bus will be arriving in real time. You can also save the most frequently used bus stops near your hotel or place of lodging to get you wherever you need to go around the island quicker. It's also one of the more current Oahu transit apps, recently updated at the end of this summer.
5. Hawaii News Now
Want to stay up-to-date on breaking news across the state? This app has you covered on the latest in local politics, flood/wind advisories, traffic and road closures, as well as breaking national and world reports. There's also the ability to live stream video broadcasts throughout the day.
6. Hawaiian Words – Translation and Dictionary
This easy-to-use translator lets you type in virtually any English word and within seconds you have your Hawaiian equivalent with an audio guide on its proper pronunciation. Or if you're the inquisitive type who wants to know more about those street names you're walking, the trails you're hiking, or the neighborhoods you're dining in, you can reverse search Hawaiian words to learn their meaning.
7. HomeAway
Originally, we were set to suggest the app Dwellable Vacation Rentals—a slick resource for sorting through the exhaustive list of potential vacation rentals across Hawaii—but as of this past week the app was acquired by (former) competitor HomeAway. Dwellable was a traveler's favorite for its ability to filter down your options by travel dates, neighborhoods, price per night, and number of bedrooms, followed by a seamless navigation of swiping left (no) or right (yes) to properties that interested you. Now that this modern interface has been swept up by HomeAway it definitely makes this app one to watch as the two move forward on further enabling visitors on booking their stays entirely through one's mobile device.
8. Pau Hana Time
In the 808, pau hana (literally meaning "finished work" in Hawaiian) is a state of mind. As you make your way around the local culinary scene it's a phrase you're bound to encounter at any establishment that boasts a "happy hour" menu. If you're in the mood to relax, and to do it quickly with a libation or two, this app searches all of them for you, showing you where the nearest ones are to your location, at what restaurants, during what times, and which deals are on the menu — all in a single map.
9. Aloha Got Soul
Lounging beachside? Scoping out Hawaii's urban landscape? Cruising along an isolated stretch of coastline highway with the top down? Then you're going to need some music to amplify that specific mood. Download Soundcloud to stream Aloha Got Soul's account and soak in the sounds of 1970s and '80s records from artists like Cecilio and Kapono, Kalapana, Nohelani Cypriano and more—a blend of Hawaiian music, soul, funk, world, and more that holds a mirror to the celebrated diversity of Hawaii music today.
10. Ukulele Companion
Or if you prefer to make your own Hawaiian music: Whether you're just picking the ukulele up for the first time or a seasoned player, the Ukulele Companion app has recently been rebuilt to complement all levels. For starters, it'll help you stay on key with its ukulele tuner, illustrates fingerings for for 1,900+ chords and features more than 150 scales. There's also a metronome for you to play along with with options for adjusting the time signature and a variety of drum tracks. Just Google the sheet music for that local band you heard on the radio and you can basically use this app to recreate it at your convenience. You'll be Jake Shimabukuro in no time.
11. Festivals of Hawaii
Want to see which festivals are happening during the duration of your stay? This app lines all your options up, further categorized by theme: Hawaiian, arts and culture, cuisine, sport, and more. If your participation is more spur of the moment, the app is synced to your location displaying events that could easily be within walking distance of you.
12. HAWAII Magazine
Because of course. Produced on Oahu, our magazine highlights the best of Hawaii, highlighting its people, culture, arts, food, outdoor activities, and everything else you'll need to know to make the most of your visit. All the same content in our vibrant magazine, except this one can fit in the pocket of your board shorts.