12 Things You Need to Know About Driving in Hawaii
We don't honk, there's always roadwork and your GPS definitely can't pronounce Halemaumau Street.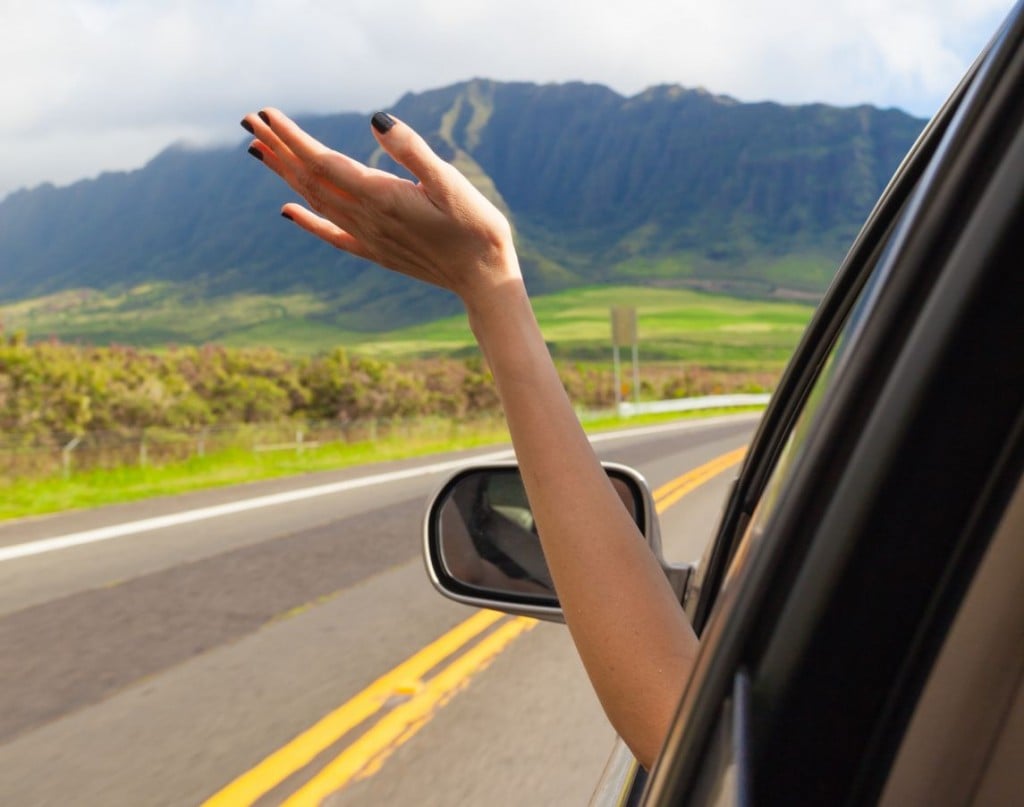 When driving in Hawaii, you will undoubtedly feel a wide range of emotions. Sometimes bliss and contentment, some days fear—and at other times pure, unadulterated rage. So before deciding to rent a car here in the Islands, or if you're a resident planning on buying a vehicle, it's important that you know these 12 things before hitting Hawaii's roads.
1. Driving in Hawaii can be flipping gorgeous.
It's no surprise that driving in paradise can offer incredible views. The Interstate H-3 on Oahu is worth the drive just to see the bird's-eye view of the east side and the Road to Hana on Maui, as seemingly perilous as it may be, provides drivers with epic views of Maui's eastern coastline. Even the average commuter who drives from Oahu's Honolulu to the North Shore, and vice-versa, will see an entire guidebook worth of stunning vistas.
2. Driving in Hawaii can be too gorgeous.
Unfortunately, when the sunset is popping off or you're getting close to visitor attractions—think Laniakea Beach on Oahu—traffic can dip well below the speed limit. We all want to take in as much of Hawaii's natural beauty as you can, but please don't go 15 mph in a 35-mph zone.
3. Hitting a pothole means possibly losing a tire.
4. The longer you live here, the farther things get.
You've probably heard it before: Hawaii residents lamenting about driving for 45 minutes or, heaven forbid, an hour. And while that stretch of time may not seem like much to some, it's a marathon and a half to residents. There's something about living on a small island, for a few weeks or your entire life, that messes with your sense of distance. Before you know it, driving to the Costco that's 35 minutes away is a special occasion for days where you don't have a whole lot else going on.
5. Unless it's absolutely necessary, we don't honk.

6. Your GPS will mispronounce everything.
Hawaiian words and names are hard to pronounce, and even people born in Hawaii sometimes mutter names like Puapuaanai Street under their breath so others can't hear how badly they mispronounced them. A GPS system like Siri, however, has no shame in just phonetically saying these names, which gets funnier the more complex the street name is.
7. We're not on a grid.
Unlike other states in the continental U.S., the streets in Hawaii aren't locked down to a grid, and the Islands are full of funky little backroads and side streets that meander. This might just mean that it'll take longer to get to your location, but you might also happen upon a quaint cafe on the outskirts of a small country town or find a scenic lookout that you would have missed otherwise.
8. We've got rush hour like everyone else—and sometimes worse than everyone else.
9. All you need is a few roads.
One of the best parts about driving in Hawaii is that, if you want to see the majority of an island's coastline, all you need to do is follow a few roads. On Oahu, you can cruise around the island, except for the west side, by sticking to Kamehameha Highway. Similarly, Kaumualii Highway and Kuhio Highway on Kauai will give you a great look at the Garden Isle and take you through charming towns such as Waimea and Hanalei.
10. Somehow, you'll always run into roadwork on Oahu.
You could be driving five minutes to the Foodland or just around the block, it doesn't matter, you'll always run into roadwork. OK, maybe it's not that bad, but there is a ton of roadwork occurring on Oahu, whether it's filling potholes or doing major construction, which leads to traffic and lane closures and more time to sing your favorite '90s pop songs in your car.
11. People forget how to drive at the first drop of rain.
12. Unless you're on the Big Island, driving across an entire island is, like, a two-hour journey.
Aside from the Big Island (which is true to its name), you drive coast to coast across Oahu, Kauai or Maui in a few hours. And if you do decide to embark on one of these miniature road trips, you'll probably experience quite a few things listed above!