12th annual Korean Festival this weekend on Oahu big on food, entertainment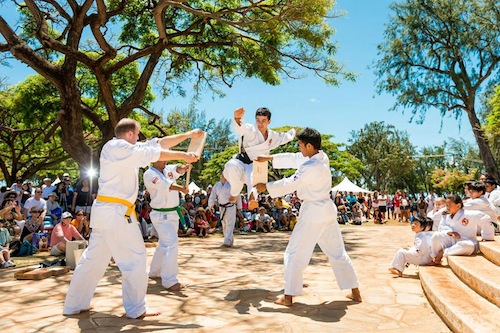 One day just wasn't enough.


So this year's 12th annual Korean Festival at Waikiki's Kapiolani Park is expanding to two days—July 12 and 13—to offer up more delicious Korean food, entertainment and a concert with a K-pop superstar Kim Tae-Woo.
The fest's Friday opening night will be highlighted by an outdoor screening of the suspense-drama "Masquerade" under the stars at Kapiolani Park. The movie will start at 7 p.m.
Saturday is the biggest day of the fest, offering a full schedule of live entertainment, dance performances, a cooking demonstration, a talent contest and the ever-popular kim chee-eating contest. But the highlight of the day is sure to be a concert by K-pop sensation Kim Tae-woo, once the lead singer for g.o.d. (short for "groove overdose"), a hugely popular boy band in the early 2000s. The concert is slated for 7 p.m. at the Kapiolani Park bandstand.
Entry to all Korean Festival events is free.
And yes, there will be food. Amazing Korean food, to be exact, at more than a dozen food booths serving everything from bibimbap (mixed rice and vegetables) to kim chee fried rice to shave ice.

2013 is the 110th anniversary of the Korean immigration to the United States. The first wave of Hawaii immigrants from Korea—mostly men—arrived here between 1903 and 1905 to work on sugar plantations as contract laborers. They brought with them their customs, traditions and foods, which have since become part of the fabric of local culture in the Islands.
Within two years of the first arrival of Korean immigrants to Hawaii, their population grew to more than 7,000.
The Hawaii Korean Chamber of Commerce hosts the Korean Festival each year to share and promote the Korean culture to the community. Proceeds from the festival support service projects and other ventures that benefit the Korean community in Hawaii, including an annual scholarship fund for outstanding, civic-minded college students.
Here are some of the 2013 Korean Festival's entertainment highlights:
• Royal Hawaiian Band, 4:10 p.m. Friday: Listen to the only band in the United States with a royal legacy. This band was founded in 1836 by King Kamehameha III with a mission to promote and foster music. Its concert kicks off the festival.
• "Masquerade," 7 p.m. Friday: Released in 2012, this period drama set in 17th century South Korea earned critical praise. Watch it under the stars at the Kapiolani Park Bandstand.
• Korean Cooking Show, 11 a.m. to 2 p.m. Saturday: This popular event will take place in the dining pavilion on the east end of the festival grounds at Kapiolani Park.
• Scholarship and Entrepreneur of the Year Awards, 12:40 p.m. Saturday: While this may not be the most exciting component of the festival, it's an important one—highlighting its mission to support and help the Korean community in Hawaii. The scholarship is given to outstanding students attending or already enrolled in college who are civic-minded.
• Choco Pie-eating Contest, 2 p.m. Saturday: Who doesn't love this little Korean snack cake consisting of two round layers of cake with marshmallow filling and covered in chocolate?
• Local Korean Culture Dance, 2:30 p.m. Saturday: Dance groups take the stage at the bandstand to perform cultural dances.
• Kim Chee-eating Contest, 3:40 p.m. Saturday: One of the most popular events at the festival, this contest showcases the talents of a cadre of cabbage lovers who will consume as much of the traditional fermented — and spicy — Korean side dish as possible. A great spectator event.
• Performance by Kim Tae-woo, 7 p.m. Saturday: The finale of the festival is this outdoor concert by one of K-pop's most popular artist.
• "Forever the Moment," 8 p.m. Saturday: Watch this 2008 fictionalized account of the South Korean women's handball team, which competed in the 2004 Summer Olympic Games.