14 absolutely stunning underwater photographs of Hawaii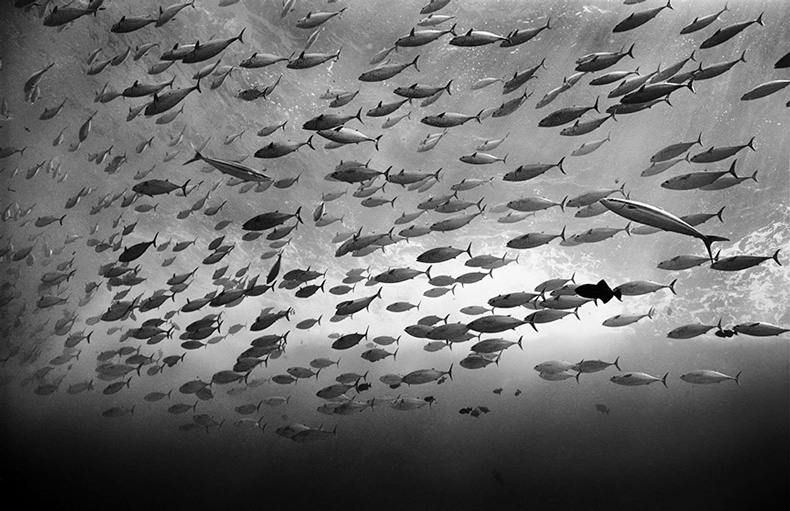 Surfing, diving, taking pictures, repeat. Such is the Wayne Levin way of life—a creative cycle of living and artmaking as constant as the ocean waves that break on Hawaii's shores.
Always drawn to the water, photographer Wayne Levin moved to Hawaii full-time in 1968 at 23 years old, officially blurring where his artwork and his life meet. However it wasn't until he purchased his first underwater camera, a Nikonos IV, in the early '80s that he began honing the formula to his most recognizable work—the transcendent and poetic underwater images of humans and animals alike that are exhibited in museums internationally and have won him Guggenheim, National Endowment, and Rockefeller fellowships.
Levin will be touring in an artists group called SOKO, South Kona Artists Collective, where they'll be having they're second annual Artists Studio Tour on February 27 and 28. He lives and works in Kealakekua on Hawaii Island.
1. Swimmers, Ironman Triathlon
2. Humpback Whale trailing Bubbles
3. Heller's Barracuda in Crescent Form
4. Kawakawa and Rainbow Runners
5. Into the Wave
6. Green Sea Turtle over Moving Sand
7. Freediver Photographing Oceanic Shark, Hawaii
8. Changing Crew, Kai Opua Canoe Club Crew, Kona, Hawaii
9. Figures in Breaking Wave
10. Akule Pinwheel
11. Guillaume Nery Freediving
12. Freediver with Oceanic Whitetip Shark
13. Kimi Werner with Dolphins #3
12. A Fish Aggregation Buoy