14 Places You Can Find the Likeness and Legacy of Duke Kahanamoku
The Duke's legacy can be found in Hawai'i and across the globe, from replica surfboards to blonde ales and even commemorative stamps.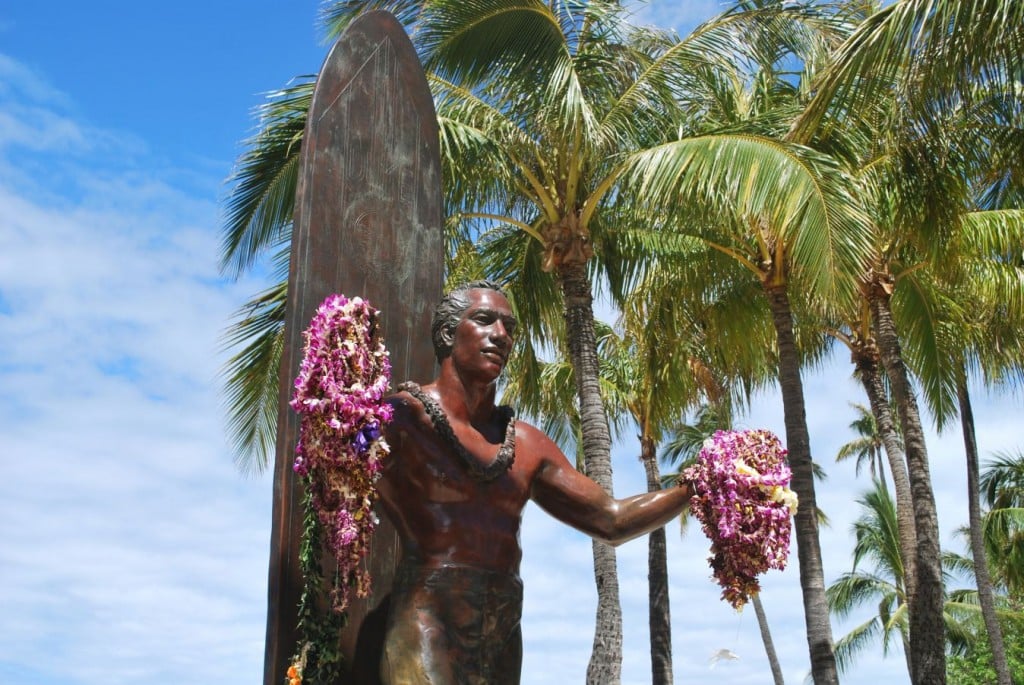 Born Aug. 24, 1890, Duke Paoa Kahinu Mokoe Hulikohola Kahanamoku became one of Hawaiʻi's most celebrated citizens during his lifetime. From winning gold medals for the U.S. Olympic swim team to serving as sheriff of Honolulu, the ever-suave Kahanamoku ended up becoming the Islands' ambassador of aloha, giving swimming and surfing exhibitions around the world. And his influence, and likeness, can be found everywhere, from his statue in Waikīkī to collectible first-class commemorative stamps. If you love the Duke—I mean, who doesn't—then check out the list below of 14 places where his legacy lives on.
1. The Waikīkī Statue
This one's almost too obvious to include, but like the statue itself, can't be ignored. Sculpted by Jan Gordon Fisher in 1994, this 9-foot-tall cast bronze statue of Kahanamoku is one of Waikīkī's most popular attractions. You'll almost always find the likeness of Kahanamoku covered in lei, and a visitor or two snapping selfies.
2. The Freshwater, Australia Statue
That's right, there's more than one statue of Kahanamoku out there. Crafted by Barry Donohoo as a showpiece for the Australian Surfers Walk of Fame, this sculpture of the Duke actually has him up and riding on a surfboard. Kahanamoku was largely credited for introducing the sport of surfing to many locales during his travels, Australia included.
3. New Zealand's Replica Surfboard
It's not just the Duke likeness that has been replicated, but his boards as well. To celebrate the 100th anniversary of Kahanamoku's visit to New Brighton in New Zealand, a replica of one of his boards was made. The board, along with an informational bronze plaque, are on display at Christchurch Beach, New Brighton.
4. Kona Brewing Co.'s Duke's Blonde Ale
As an homage to the Duke, Kona Brewing Co. released its Duke's Blonde Ale brew. The company says it's crisp, light and refreshing—and perfect as a post-surf drink. It's on tap at Duke's Waikīkī on Oʻahu.
5. Outrigger Canoe Club's History
Joining the Outrigger Canoe Club in 1917, Kahanamoku was involved with the club until his death in 1968. Historic photos of the Duke can still be found in the establishment's various club rooms.
6. On the Big Screen
Throughout his life, Kahanamoku made various appearances on the big screen, acting in such movies as "Mister Roberts," "Isle of Escape," "The Pony Express" and "Wake of the Red Witch." Unsurprisingly, Kahanamoku was often typecast in "native" roles, portraying characters like "Hawaiian Boy," "Native Chief" and "Indian Chief."
7. Duke Paoa Kahanamoku Lagoon
The small, man-made wading pool in Waikīkī, with its baby blue water, perfectly manicured golden sands and nearby palm trees, is the perfect place to spend the day.
8. The U.S. Postal Service's First-Class Commemorative Stamp
On Aug. 24, 2002, the U.S. Postal Service issued a first-class commemorative stamp to celebrate the 112th anniversary of Kahanamoku's birth. A ceremony was held at the Hilton Hawaiian Village in Waikīkī, where attendees could attach the Duke stamp to an envelope and receive a first day of issue postmark, making these first day stamps very rare collectors items.
9. Google Doodle (2015)
Kahanamoku was given a Google Doodle on Aug. 24, 2015, to celebrate his 125th birthday. Fortunately, all Google Doodles are archived, and you can see the Duke's here.
10. Waikīkī Natatorium War Memorial
Built to honor the men and women who served in World War I, the natatorium was completed in 1927, featuring a Hawaiian beaux-arts architectural style. At its opening ceremony, on Aug. 24, 1927, Kahanamoku was the first to swim in the 100-by-40-meter pool.
11. Duke's Restaurants
Another entry that's overly obvious but too iconic to ignore is the chain of Duke's Restaurants. With six locations, three in Hawaiʻi and three in California, the restaurants have upheld Kahanamoku's name with their ʻono (delicious) food and carefree, aloha casual dining environment.
12. Books, Too
Of course, when you've lived a life as exotic and interesting as the Duke's, books are bound to be written about you. Aside from myriad biographies, such as Surfer of the Century by Ellie Crowe and Waterman: The Life and Times of Duke Kahanamoku by David Davis, keiki (kids) can also learn about Kahanamoku in the kid-friendly pages of Duke Kahanamoku, written by Laurie Calkhoven and illustrated by Stevie Lewis.
13. The Swimming Hall of Fame and The Surfing Hall of Fame
Sure, these should be two separate points, but another feat accomplished by the Duke was being the first person ever to be admitted into both the Swimming Hall of Fame and the Surfing Hall of Fame.
14. Duke's OceanFest
There aren't many other events like the annual Duke's OceanFest, which represents everything the Duke stood for. The weeklong festival usually includes stand-up paddleboard races, tandem surfing contests, beach volleyball and more. This year, the festival is going digital due to COVID-19, and organizers are asking for pictures of you, catching a wave, going for a swim, spiking a ball or doing anything under the sun. Once you have the shot, tag Duke's OceanFest. More information on that can be found on the event's website.