20 things we loved about Hawaii in 2017
From Hokulea's return to Paige Alms' win, and Hawaii's appearance on the big screen to that fiery jet of lava, here are the most memorable moments of 2017.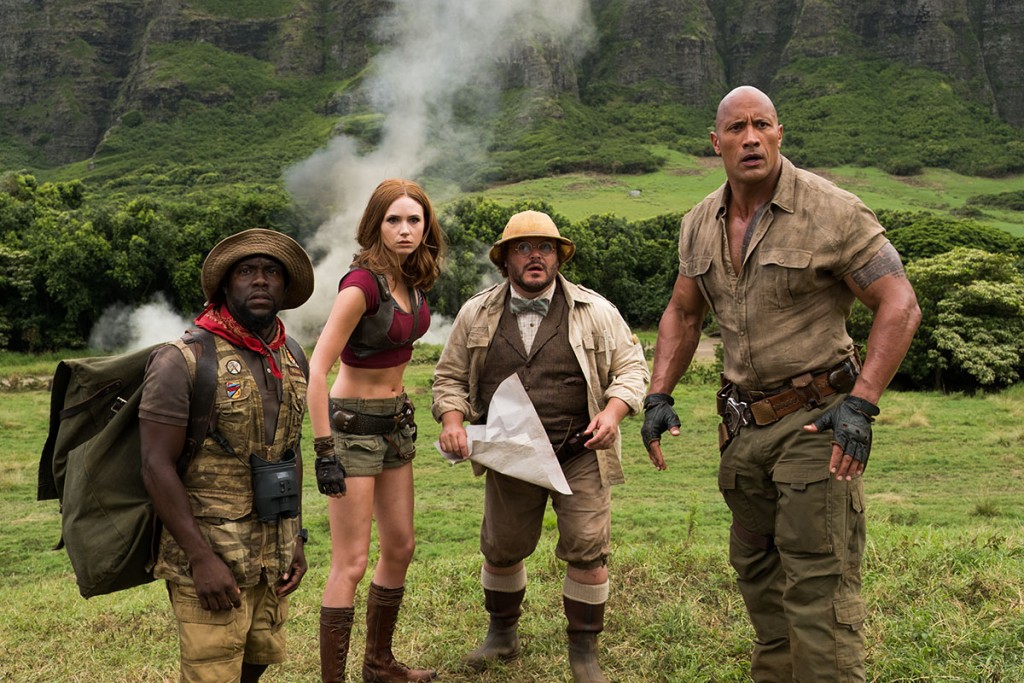 1. Iao Valley reopened
After a torrential storm caused the park to close in 2016, it finally reopened again to the public in 2017 after some extensive repairs. Though the larger loop trail that ran along the stream remains closed, visitors and locals are back in the valley, either discovering Iao's beauty and history for the first time or returning to make new memories.
2. "Moana" is getting a Hawaiian-language version
It was announced in 2017 that "Moana," the Disney animated movie starring Aulii Cravalho, will get an olelo Hawaii (Hawaiian language) version of the film. A collaboration between The Walt Disney Studios and the University of Hawaii, the film will be re-recorded with a cast of fluent olelo Hawaii speakers, but fans will be happy to know that Cravalho will reprise her role as Moana. Once completed, it will become an invaluable language tool for Hawaii's public schools.
3. John John Florence wins second-straight world title
Hawaii's-own John John Florence won the World Surf League's World Title for a second year in a row this December, right in his hometown on Oahu's North Shore, and cheers for the local boy could be heard from Hilo to Hanalei. Last year, he was the first surfer from Hawaii to win the title since Andy Irons held it in 2004, and now he's winning the title in back-to-back fashion.
4. Hokulea returned to Hawaii after completing its three-year voyage
An epic journey that started in 2014, the Polynesian Voyaging Society's three-year Malama Honua Worldwide Voyage took the Hokulea, a traditional double-hulled canoe, around the world to 150 ports in 23 nations and territories, including Auckland, Havana, Cape Town and New York. In June 2017, it came to an end when she completed her mission of bringing attention to ocean stewardship and made her way home to Hawaii. Thousands gathered to greet her and the many crewmembers at Magic Island in Honolulu, with Hawaiian flags flying proudly.
5. Speaking of Hokulea, how about that kalii ritual at the ceremony?
The kalii, or spear-throwing ceremony, has not been seen publicly for nearly 200 years, but it made an appearance at Hokulea's homecoming ceremony. A Native Hawaiian tradition done at canoe arrivals with newcomers, it was a ceremonial practice to hurl spears at the arriving chief, who would then dodge all as a show of his worthiness. At Hokulea's ceremony, the brave warrior acting on the part of the crew, Sam Kapoi, dodged or deflected all eight spears that were thrown at him and caught the last one, stabbing it into the ground.
6. Kalani Pea won a Grammy for his album, "E Walea"
It was only after winning a Grammy for best regional roots for his debut album, "E Walea," that the 34-year-old Kalani Pea decided to pursue music full time. A good decision, considering the accolades didn't stop there. He also won a Na Hoku Hanohano Award for best contemporary album earlier this year. He says, now, he wants to serve the community "with Hawaiian music composition, with education, insight and love, showing aloha aina (love of the land) through music."
7. Biki has made our lives easier—and healthier
Biki, the new Oahu bike-sharing program, has made renting bikes a breeze in Honolulu. We've seen locals ditching traffic for bike paths and visitors cruising Kalakaua Avenue on their way back from Ala Moana Shopping Center. Launched in June, there are now 100 Biki racks around town and a total of 1,000 bikes in operation.
8. Mana Maoli released its new music video, "Oiwi E"
The 2016 music video of "Hawaii Aloha" made everybody's heart sing when it was released by Mana Maoli to the world. A dozen noteworthy singers, along with more than 1,000 keiki from nearly 10 charter schools participated. Similarly, Mana Maoli's September 2017 video, "Oiwi E," brought together 1,000 students, two songs, two families, and the same heartwarming feeling that makes you want to replay and share this video countless times until they decide to release a third.
9. Watching Kaimana, the baby seal, grow up on a beach in Waikiki
All eyes, and cameras, were locked on Kaimana Beach after Rocky, a Hawaiian monk seal and regular visitor to Waikiki's shores, gave birth to her pup, nicknamed Kaimana. For more than a month, the world watched (from a distance) as Kaimana lounged on the beach with mom, swam in the water, played with a beach ball, and got stuck inside the nearby Waikiki Natatorium twice, before being relocated to a more remote location on the island.
10. Paige Alms charged her way to a second victory at Peahi (aka Jaws)
Maui girl and big-wave surfer Paige Alms has turned into a role model for girls everywhere after winning her second-straight win at the Women's Peahi Challenge event this year. Only a couple years old, the Maui event has given aspiring female big-wave surfing athletes hope that there will be more of these big-wave surf events for them in the future, like No. 11.
11. Female big-wave surfers' inaugural Waimea Bay contest
Following on the heels of Maui's big-wave Peahi Challenge, which added a women's contest two years ago, this is the first big-wave surf contest for women for the island of Oahu. Though the inaugural Queen of the Bay female big-wave surf contest didn't run because 35- to 40-foot waves didn't appear, we will be the first ones at Waimea Bay next year to watch these fierce women make history.
12. Manaola Yap presented a runway collection at New York Fashion Week
In yet another moment of history being made, Manaola Yap became the first Native Hawaiian to present an entire runway line at New York Fashion Week. The 31-year-old designer came onto the scene just a few short years ago and is already pushing the envelope for what is considered luxury Hawaiian fashion, and taking it all the way to NYC. No aloha print or muumuu here, but that isn't necessary because every single pattern and design still has a story steeped in culture.
13. The lava flowed to the ocean for most of the year
We're always grateful when Pele lets us watch her powerful spectacle, whether we have to get there 13 miles by boat or 8 miles roundtrip by foot or bike. If you didn't make it to the Big Island to see the lava hit the ocean in 2017, then you might be out of luck for awhile. There are still coastal flows to view by foot with tours, such as those with Kalapana Cultural Tours, but the ocean lava flow has halted for the time being.
14. And let's take a moment to remember that epic lava firehose
It spewed into the ocean in early February.
15. Nualolo Cliff Trail reopens above Nualolo Valley, Kauai
Kokee State Park, located at the top of Waimea Canyon on the island of Kauai, has a new accessible trail, the Nualolo Cliff Trail, at the upper rim of Nualolo Valley overlooking the Napali Coast. Though the length of this trail is 2.1 miles, it's a connecting trail between the Nualolo Trail and the Awaawapuhi Trail, which means you can rack up some mileage if you wanted to.
16. Seeing Hawaii once again on the big screen
Those majestic mountains seen in "Jumanji: Welcome to the Jungle" are none other than those of the privately owned Kualoa Ranch on Oahu, and its recognizable location had us shouting out names of other films shot in its famous valley: "Lost!" "Jurassic Park!" "50 First Dates!" We also love seeing Hawaii boy Dwayne "The Rock" Johnson's smoldering intensity heating up the box office numbers … but he wasn't the only local boy in theaters in 2017.
17. Jason Momoa swam into theaters as Aquaman
Another one of Hawaii's sons, we've been following Momoa's career from his early days as a "Baywatch Hawaii" lifeguard (yep, that happened) to Khal Drogo in "Game of Thrones" and, this year, as Aquaman in "Justice League." Though the movie didn't exactly blow audiences out of the water (we'll blame it on the other guys), we're still looking forward to the 2018 release of "Aquaman," in which our favorite King of the Sea is the star.
18. Max Holloway defended UFC Featherweight Title
Holloway beat Jose Aldo this December to retain his 145-pound title with a TKO that caused houses across Hawaii and the world to burst out in "cheehoos!"
19. Southwest Airlines announced Hawaii flights
Ticket sales begin in 2018 but the celebration started in 2017, when Southwest Airlines' CEO Gary Kelly announced the airline is planning to offer flights next year between Hawaii and the continental U.S.
20. Ka La Onohi Mai O Haehae's beautiful auana at the Merrie Monarch Festival
Receiving the top score as overall winner of the night, halau hula (hula troupe) Ka La Onohi Mai O Haehae entranced audiences with their auana (modern) dance to "Mauna Lahilahi," a mele (song) paying tribute to Jack Waterhouse's home in Leeward Oahu. Lovely hula hands, beautiful plumeria strands and gorgeous flowing dresses kept all eyes on these wahine as they danced to this mele.