2020 Holiday Gift Guide for Coffee Drinkers
It's the season of giving and Kaua'i Coffee is here to help you bring joy and share aloha with everyone on your list this holiday season.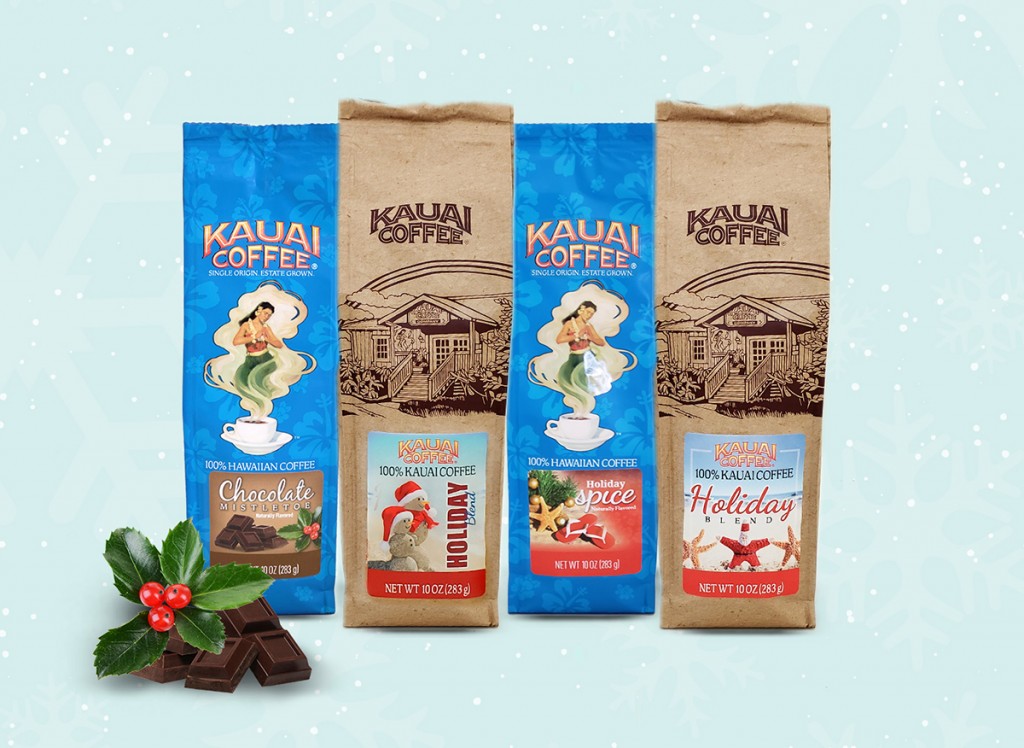 Whether you choose to surprise the coffee lovers in your life with a subscription, thank a teacher with a gift card, or make your mail person smile with a package they get to drink, not deliver, Kaua'i Coffee's holiday gift guide has 15 unique and delicious ideas for everyone.
Gift Cards for Good Cheer
No one deserves the gift of good cheer and a little caffeine more than our teachers and essential workers this year. Say mahalo to the educators, health care workers, and everyday heroes in your community with a Kaua'i Coffee gift card.
Estate Reserve Buy 5 Get one Free!
Have a big coffee kahuna on your list this year? You know, the person who begins and ends the day with a cup of their favorite brew and usually visits the barista mid-day too? Delight them with a selection of Estate Reserve Coffee and get a free bag to keep or gift when you buy five!
Kaua'i Coffee Estate Reserve is the top of the crop. Each year it is selected by the Kaua'i Coffee experts and represents the finest 100% Kaua'i Coffee. With exceptional offerings such as Mundo Novo and Peaberry, Estate Reserve makes an excellent gift for the Hawaiian coffee gourmand!
Flavored Coffee with Holiday Flair
100% Kaua'i Coffee is delicious on its own, but the holiday flavors and Estate Reserve offerings will give the coffee lovers on your list a true taste of the season. With warm spices and classic holiday combinations like peppermint and milk chocolate, these unique Hawaiian coffee offerings are sure to make their spirits merry, tropical, and bright.
Curated Kaua'i Coffee Gift Sets
Not sure what to get the coffee lover who has everything? Kaua'i Coffee curated coffee gift sets are the answer. Surprise the conscious coffee connoisseur on your list with 100% Kaua'i Coffee, reusable drinkware, tasty treats, and logo items. Are you buying for someone with a refined coffee palate? A Kaua'i Coffee sampler or variety pack is the perfect gift.
Holiday Gift Set: Forget holly, deck the halls with boughs of coffee instead! The Kaua'i Coffee Holiday set includes a 10oz. bag of Holiday Estate Reserve in Santa Starfish packaging, a burlap coffee bag stocking, and hula girl ornament.
Estate Reserve Variety Gift Set: Contains five 2oz. bags of 100% Kaua'i Coffee in medium and dark roasts. Dark roast selections include Koloa Estate and Mundo Novo varieties. Medium roast selections include Peaberry, Typica, and Yellow Catuai.
Kaua'i Coffee Classics Gift Set: Our fan-favorite Estate Roast with the iconic ocean blue Kaua'i Coffee mug, buttery macadamia nut cookies, and coffee jelly.
Kaua'i Coffee Subscriptions
Give the gift of Hawaiian Coffee all year long with a Kaua'i Coffee Subscription! It's a gift that keeps on giving even the Griswold's would enjoy! Drink sustainably grown, artisan roasted coffee from Hawai'i shipped directly to your door. With two subscription experiences to choose from, you can create a custom gift and delivery schedule to suit any taste.
Chemical Free Swiss-Water® Process Decaf
Have a health-conscious coffee consumer in the 'ohana? Surprise them with Estate Reserve Swiss Water Process Decaf. The Swiss Water process removes 99.9% of the caffeine usually found in coffee without added solvents. It's the perfect gift for any coffee lover but especially those looking to lighten caffeine intake.
Tasty Treats and Stocking Stuffers
Holiday coffee is always better when served with a sweet treat on the side. Browse our selection of tasty snacks, sauces, cookies, candy, and stocking stuffers to add a taste of Hawai'i to any holiday gift. Some favorites include:
Apparel, Art, and Accessories
Not every coffee gift has to be consumable. Kaua'i Coffee apparel, art, and accessories also make great holiday gifts for coffee lovers! From logo wear to collectible burlap coffee bags, coffee mugs, and makers, you can surprise and delight the coffee drinkers on your list with island gifts they will use and cherish long after the coffee goes down! A few favorite Kaua'i Coffee keepsakes include:
Kaua'i Coffee wishes you and your 'ohana a happy and healthy holiday season. It is a joy to share the gift of aloha and exceptional island-grown coffee with you!