22 of the most Hawaii photos to have ever occurred this year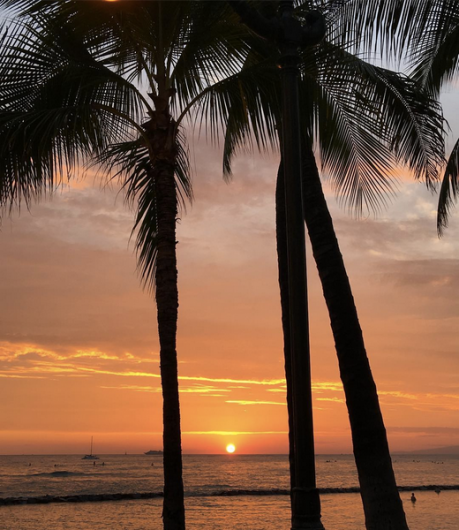 These photos from the past few months couldn't have been taken anywhere else, but Hawaii.
This giant crab just casually caught off of Molokai.

And the no big deal whatsoever look on this guy's face.
This Honolulu classroom screening the Eddie live on a school projector.

Every high school in Hawaii today #EddieWouldGo pic.twitter.com/jE2eaG6QWn

— Jean Marcos Garcia (@Jeanmarcos_4) February 25, 2016
Everyone's schedules (uh, and Internet) stood still for the surf competition.
This price for a gallon of milk in Kaunakakai right now.

These Hawaiian Airlines employees who confiscated lava rocks and black sand from passengers.
These flight attendants really rock.
These Pogs that were found while cleaning the apartment.
This dog catching a wave towards Diamond Head.

These slippers locked up behind anti-theft glass.
And this can of SPAM displayed in an anti-theft case.
Only in Hawaii – SPAM in an anti-theft display case. They keep it behind the counter next to the expensive liquor.
And all these (non anti-theft) shelves showcasing different flavors.
Basically, every store display here.
Hawaiian Rent All's cheeky marquee blown off by Oahu's especially strong winds last week.
Then, there's this giant puka (hole) at Laie on the North Shore left by our winter's record-breaking waves.
Hawaii's forces of nature on full display!
This slice of ahi poke pizza.

This lost surfboard the U.S. Coast Guard is trying to return to its owner.
If you've ever lost a board you know this is an urgent matter.
This Hawaii polling station going so green they recycled a granola box to collect the votes.
This photo of Hawaii blessing the newly relocated Nordstrom at Ala Moana.

This humpback whale breaching right in front of two stand-up paddlers off Kaanapali.
This license plate parked in the lot of a Highway Inn.

In colloquial Hawaiian pidgin, "pake" means Chinese.
And this very excited license plate about the return of an ancient Hawaiian artifact to the Islands.
'Ahu ʻula is Hawaiian for the culture's traditional feather cloaks worn by high chiefs. A significant one has just been returned with its mahiole (helmet) to Hawaii after 237 years. It's currently on display at Bishop Museum on Oahu (and you can read all about it in our upcoming May/June issue!)
This down-the-block line to get into the spring sale blowout at Reyn's in the business district of Honolulu.
Hawaii businessmen need their aloha shirts!
This tray of malasada-croissant pastries.
They're heavenly.
This awesome view that's missing … something.

#ripdeadmanscatwalk
Finally, these voggy sunsets that won't stop showing off all week long.