22nd World Fireknife Championship competition begins this week on Oahu. Watch it live online.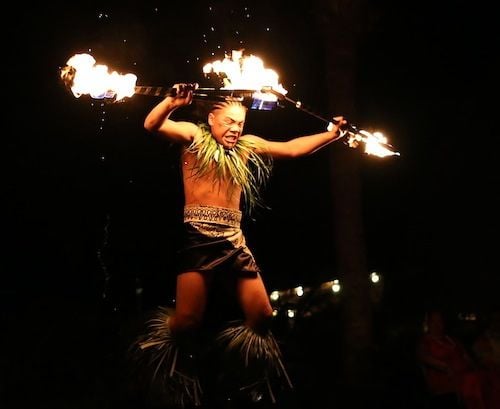 Spectacular and acrobatic displays of flame-fueled, sharp-edged Samoan dancing will be staged this week on Oahu at the Polynesian Cultural Center's 22nd annual World Fireknife Championship in Laie. And you can watch all four nights of competition live online.
This four-day competition gets under way with preliminary performances starting at 7:45 p.m. on Wed., May 7, at Hale Aloha on the Polynesian Cultural Center's (PCC) grounds.
Competitors range from six year olds competing in junior divisions and teams competing in group choreography contests to veteran fireknife masters vying for the coveted title of World Fireknife Champion.
Semi-finals, duet and junior competitions are set for Thurs., May 8, again at Hale Aloha at PCC. On Fri., May 9, and Sat., May 10, advancing fireknife dancers will faceoff in final competition during intermission of the Ha: Breath of Life evening show in the PCC's Pacific Theater.
Competition begins at 7:45 p.m. (Hawaii time) on May 7 and 8, and 7:30 p.m. on May 9 and 10.
Can't be in Laie to feel the heat of the completion live? The PCC is planning to stream all four nights of competition live online. Click here on competition nights to watch the contests online.
The title of 2011 World Fireknife Champion will be announced at the conclusion of the Saturday show, followed by a victory ceremony to honor the new champion.
Aaliyah Ava, Chandae Ava and Jeralee Galeai, second place winners in group competition, 2013 World Fireknife Championships. Photo: Polynesian Cultural Center.
The fireknife dance's origins are tied to the Samoan "ailao" (warrior's knife dance) performed with the flaming "nifo oti" (tooth of death). The dance was displayed before battle to frighten the enemy and afterwards to celebrate victory.
The modern fireknife performance involves high-speed spinning of a sharp knife, with both ends set ablaze. The fire is real-deal, and dancers—precise and agile in their rapid movements — sometimes intentionally make contact with the flames.
The World Fireknife Championship is the highlight event of the Polynesian Cultural Center's We Are Samoa Festival.
Another spotlight event of the fest is the High School Samoan Cultural Arts Festival Day on Sat., May 10, from 9 a.m. to 2 p.m. at the Polynesian Cultural Center's Pacific Theater. The day will feature high school students from across the state demonstrating their knowledge of Samoan culture by competing in a series of traditional practices including basket-weaving, coconut-husking, fire-making, costuming and more.