3 ways to malama aina across Hawaii for voluntourists
If you're looking to give back on your next vacation.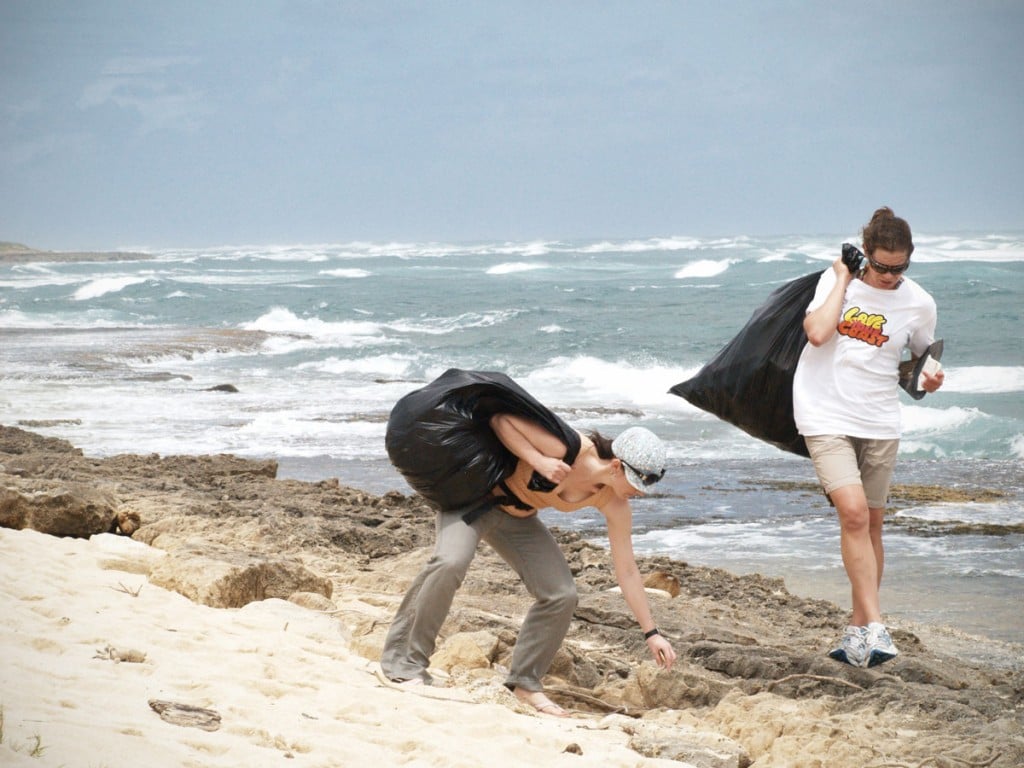 Malama aina, or "to care for the land," is central to Hawaii's lifestyle. Here's a few activities and organizations that will help you help the Islands remain as beautiful as when you arrived.
1. Learn about and maintain Molokai's beautiful land preserves
On the tiny island of Molokai, there are no resorts or traffic lights—just acres upon acres of nature unscathed, including three land preserves being restored and protected by the nonprofit Molokai Land Trust: Mokio, Kawaikapu and Mo'omomi. In total, 2,835 acres fall under the land trust's stewardship, of which it owns more than two-thirds, and visitors are welcome to lend a helping hand.
"If we weren't out there doing the work and having help from volunteers and visitors, some of these remaining natural resources would be overwhelmed and destroyed through invasive species," says executive director Butch Haase, who's been working to protect these lands for the past 20 years. "Plant and animal species would move in, invade and degrade the last remaining natural resources. That would mean we would lose the genetics of those plants, insects and birds that are endemic and specific to Molokai."
The largest component of the land trust's acreage is the shorefront 1,718-acre Mokio Preserve, the former cattle pasture gifted to the land trust by the now defunct Molokai Ranch. It includes 5 miles of rugged coast, the island's largest shearwater nesting colony and Hawai'i's largest dune restoration project. The 196-acre forested Kawaikapu Preserve is the site of an extensive dryland taro complex and a historic food forest, covered mostly by non-native flora that the land trust is working to convert into native forest cover.
The panoramic views on these trips are spectacular and the workdays afford visitors a chance to build meaningful relationships with local residents, but this volunteer opportunity isn't for everyone. The lands are remote and rugged, often with hot, dry conditions, and volunteers are expected to be out all day, helping to pull weeds, plant trees or build fences.
"These are very isolated locations," 
says Haase. "We're talking up to two hours of commuting time on an unpaved road. But there is amazing and unique scenery that you're not going to get anywhere else." He adds that these jobs are not age restrictive; rather, they're dependent upon stamina and physical ability. "Most of our community volunteers and some of our regular off-island visitors are in their 60s and 70s," he says.
The land trust has also been contracted by conservation organization The Nature Conservancy to remove kiawe, perform weed control and manage predator trapping at Moomomi Preserve, one of Hawaii's last remaining strongholds for native coastal plants and animals.
Volunteers are advised to bring lunch, water, sun protection, sturdy footwear and layered clothing. The land trust provides volunteers with hand tools, work gloves and extra water, as well as recommendations for what to wear and what to bring.
Contact Haase with your availability at butch@molokailandtrust.org in advance of your visit to the island, molokailandtrust.org.
2. Keep it The Garden Isle at a bontanical garden on Kauai
In Kauai's Lawai Valley, a cliff-framed sweep of land settled by the early Polynesian voyagers, McBryde Garden hosts the largest assemblage of native Hawaiian plants in existence anywhere on earth.
In its mission to preserve rare, native plants for research, conservation and education purposes, the garden weaves a story of ancient Hawaiian life as well as the modern influences of humans on the island landscape. The hands of a robust volunteer network aid the effort to keep up these gardens and their 16,000-square-foot, state-of-the-art horticulture facility.
"What we normally do is partner volunteers with one of our gardeners, so they can work side by side, pulling weeds and trimming things that don't involve power tools," says Tanya Ramseth, membership manager for the National Tropical Botanical Garden (NTBG). Volunteers also help move plants, pot plants and take plants from the nursery and put them into the soil. "If they can dig a hole, they can do it," Ramseth says, but adds that there is a minimum age restriction of 10 years old.
The McBryde Garden is part of the NTBG, a network of gardens that includes three properties on Kauai. On the island's more verdant North Shore, Limahuli Garden and Preserve displays a collection of plants significant to the island's early inhabitants, as well as a forest where conservationists are working to replace alien plants with natives.
Measuring nearly 2,000 acres, the NTBG's living collection includes thousands of tropical floras, including many threatened and endangered species. Other properties are on Maui and in Florida.
For more information, call (808) 332-7324 ext. 232 or visit ntbg.org.
3. Join a beach cleanup
If you're looking for a quick and easy way to give back to the Islands, there's no better way than volunteering to cleanup one of its biggest tourism draws: its beaches.
Across Hawaii, non-profits organize monthly events (sometimes more often than that). Sustainable Coastlines Hawaii coordinates frequent beach cleanups throughout the state. The Waikiki Ohana Workforce holds three to four Waikiki beach cleanups per year in April, June and October; On The Valley Isle, Malama Maui Nui organizes cleanups throughout the year and also encourages others to create their own.