39th Annual Queen Liliuokalani Keiki Hula Competition happens on Oahu this week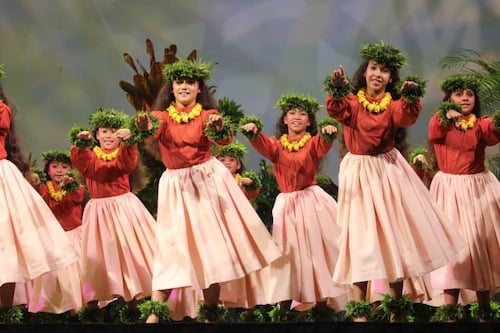 Haunting chants that evoke images of Hawaii. The rhythmic strumming of an ukulele leading the instrumentation of a contemporary Hawaiian tune. And the practiced motion of tiny hands and feet dancing along.
This weekend, watch 400 keiki (kids) showcase their hula skills in the 39th Annual Queen Liliuokalani Keiki Hula Competition at the Neal Blaisdell Arena on Oahu. The competition will feature talented keiki from 22 hula halau (hula troupes) on Hawaii Island, Maui, Kauai, Oahu and Japan.
The competition spans three days and three contests, each encompassing a different style of hula. The solo hula competition on July 17th will feature individual girl and boy dancers vying for the titles of Miss Keiki Hula and Master Keiki Hula, respectively. On July 18, halau compete for top honors in hula kahiko — traditional hula usually accompanied by chanting and traditional instruments such as the ipu (a hollow gourd used to create rhythm). Finally, on July 19th, halau compete in hula auana — modern hula accompanied by songs utilizing Western instruments, such as the guitar and ukulele.
Founded by the Kalihi-Palama Culture and Arts Society, the annual Keiki Hula Competition serves to showcase achievements of the next generation of hula dancers and kumu (teachers) while honoring Hawaii's last reigning monarch, Queen Liliuokalani.
Photo: Queen Liliuokalani Keiki Hula Competition
Here's a schedule of this week's events, all taking place at the Blaisdell Arena:
Thursday July 17 at 6 p.m.
Solo Competition – Miss Keiki Hula & Master Keiki Hula
Friday July 18 at 6 p.m.
Group Kahiko Competition
Saturday July 19 at 1 p.m.
Group Auana Competition
Tickets are available from the Neal Blaisdell box office, all Ticketmaster outlet locations, at Ticketmaster online or over the phone (1-800-745-3000).
On island but unable to attend the competition? Honolulu TV station KITV will broadcast kahiko competition on Friday, Aug. 1 from 7-10 p.m., and auana competition on Saturday, Aug. 2 from 6:30-10 p.m. Highlights from the solo competition will also air during Saturday's broadcast.
Unfortunately, competition will not be streamed online for viewers outside Hawaii.