4 Family-Friendly Hawaii Farms to Check Out on Your Next Vacation
Fun and unique ways that families can get their hands (and feet) dirty exploring a different side of Hawaii.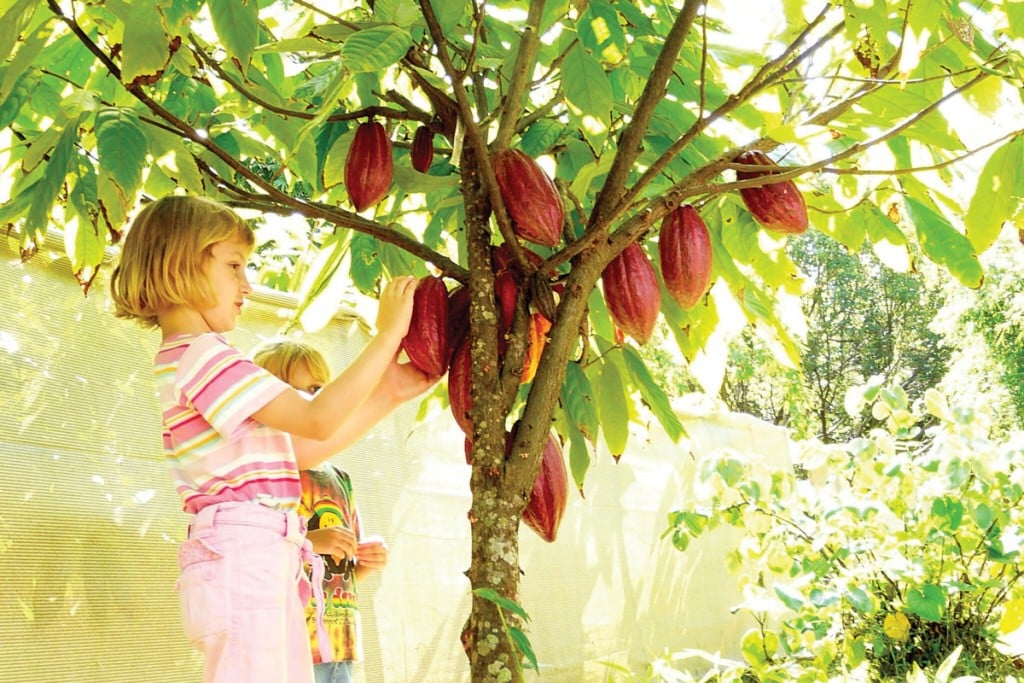 A messy-haired boy in a superhero-red T-shirt and Crocs lowers himself to the level of two baby goats. One nudges his hand with its bony head, and the kid laughs hysterically. "Mom, mom, the goat head-butted me," he calls out, smiling.
Getting up close and personal with farm animals is part of the experience at Keiki & Plow, a family-run organic farm in Hawaii Kai on Oahu. The farm specializes in family tours, where kids can pick veggies, feed chickens and, yes, pet baby goats.
"We just really want to create a space where kids can be kids and families can come together," says Heather Mohr, who runs the farm with her husband and their three children.
Farm tours like this one are a fun and unique way families can experience a different side of Hawaii—and get their hands (and probably feet) dirty in the process.
Keiki & Plow, Oahu
On this 4-acre farm hidden in a quiet residential neighborhood in Hawaii Kai, about 10 miles east of Waikiki, the Mohr family grows a wide variety of veggies and herbs—arugula, Swiss chard, carrots, beets, sweet corn, kalo (taro), uala (sweet potato), dill, thyme, beets—you can harvest yourself and take home in a basket ($10 to $40). You can even buy organic eggs in a spectrum of colors from the farm's veggie-fed resident hens. But the real draw for families is the play area created with kids in mind. You can climb into a pirate ship, complete with oars and a treasure chest. Or zoom down a giant slide into another space with bales of hay and picnic tables. Or play in a dirt pit outfitted with tractor toys, jugs and shovels. Or swing on a rope swing. Or pet chickens and baby goats. There's so much to do! "It's a fun experience to be on a local Hawaiian farm," Mohr says. "It's something different from going to the beach or visiting the zoo."
$5 for families, open from 9 to 11 a.m. on Tuesdays and Fridays, 587 Pakala St., (808) 208-2740, keikiandplow.com.
Tour Length: No time limit
Best for: All ages
Lydgate Farms' Chocolate Farm Tour, Kauai
Hawaii is the only state where cacao trees grow, which makes this chocolate tour at the 46-acre Lydgate Farms in the foothills above Kapaa so unique. And this tour packs in a lot in three hours. You stroll through the gardens, stopping to taste whatever fruits are in season—lilikoi, rambutan, lychee, mountain apple—and sample the farm's award-winning palm blossom honey. Then you walk through the chocolate orchard, where your guide will cut open a ripe chocolate pod and pass it around for everyone to taste.
The final stop is the chocolate tent where you can feast on various artisan chocolates from around the world, including from this farm. It's an intensive tour, very educational and leisurely long. Younger kids can play in a tent set up specifically for them, with toys and activities.
$95 general admission, free for kids under 12; tours run at 9 a.m. Monday through Friday; 5730 Olohena Road, Kapaa; (808) 821-1857; lydgatefarms.com.
Tour Length: 3 hours
Best for: 8 and older
Ocean Rider Seahorse Farm, Hawaii Island
Ask a kid if she wants to pet a seahorse and chances are the response will be, "Duh." Well, that's exactly what you can do at Ocean Rider Seahorse Farm in Kailua-Kona. It's the only seahorse farm of its kind in the U.S., dedicated to preserving the endangered sea critters, whose population has declined globally due to overfishing and pollution.
This farm raises seahorses and sea dragons in an organic, pathogen-free space, eliminating the need for people to fish them out of the wild for aquarium sales. Since 2005 it has offered a tour of its 3-acre oceanfront park, which is home to more than 20,000 seahorses. The highlight is getting to hold a seahorse on your finger. Make sure your smartphone is charged.
$45 for teens and adults, $35 for kids 4 to 12, free for toddlers (discounted if booked online); multiple tours run Monday through Friday, closed on weekends; reservations recommended; 73-4388 Ilikai Place, Kailua-Kona, (808) 329-6840, seahorse.com.
Tour Length: 1½ hours
Best for: 12 and older
Surfing Goat Dairy, Maui
If petting goats isn't interactive enough for your kids, maybe milking them will be. On the Surfing Goat Dairy's Evening Chores & Milking Tour, you can feed goats out in the farm's lush pasture on the slopes of Haleakala, learn how to hand-milk them and watch how this family-run operation churns out its award-winning cheeses, which you can sample at the end of the hourlong tour. It's the caprine farm's most popular tour, especially for families. (There's a more casual 30-minute tour of the farm—one of only two in the state where you can feed the goats and taste cheeses.)
There's also a rustic shop where you can buy products made on the farm, including gourmet goat cheese truffles and goat milk soaps. Everybody wins.
$20 for adults, $15 for kids; tours run at 3:30 p.m. Monday through Saturday; reservations recommended; 3651 Omaopio Road, Kula, (808) 878-2870, surfinggoatdairy.com.
Tour Length: 1 hour
Best for: 8 and older