4 Great Hikes on Kauai
Hawaii is hikers' nirvana, with trails on every island for every level of hiking experience.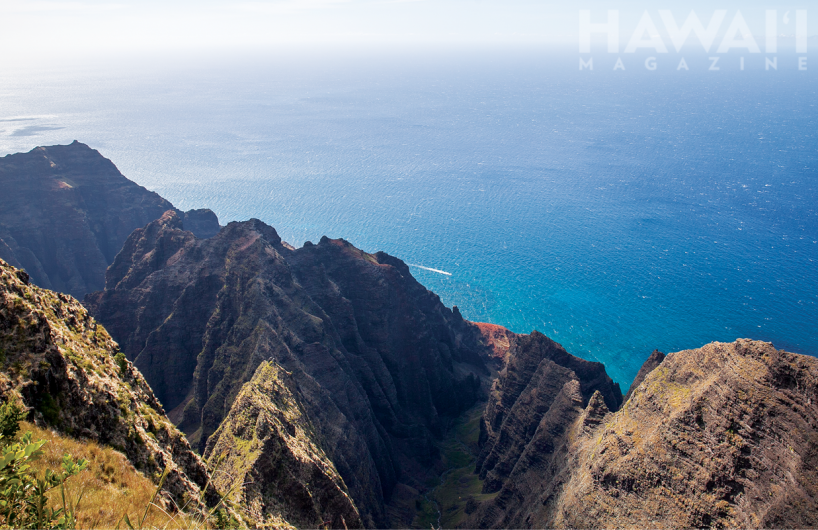 Hawaii is hikers' nirvana, with trails on every island for every level of hiking experience, over multiple varieties of terra firma (and not-so-firma), showcasing every measure of our Islands' world-renowned diversity of landscapes, climate zones and unsurpassed natural wonder.
Below you'll find four great Kauai hikes, grouped by proficiency level, straight from the pages of HAWAII Magazine's May/June 2014 Outdoors Issue feature "15 Great Hiking Trails." We've already shared 6 Great Oahu Hikes and we'll be sharing more on Maui and Hawaii Island in the coming days. Have fun out there and bring lots of water along!
EVERYBODY! EVERYBODY!

Kuilau Ridge Trail
Wailua, Kauai
Distance: 4.5 miles, round-trip
Time: 2.5 hours
Terrain: Mountain ridge
↑ Many of Hawaii's best hiking trails require far more mileage, difficulty and time to achieve the kind of scenic payoff the Kuilau Ridge Trail delivers on a relatively short, gentle trek even novice hikers can handle. Gradually ascending the east side of the Makaleha Mountains on the tracks of an old forest road, the trail opens up to views of perennially rain-soaked Mount Waialeale on clear days and, on all days, Mount Nounou—more famously known as "Sleeping Giant" for its ridgeline's resemblance to a human figure in repose. The trail's end is a wind-cooled ironwood grove with an awesome view of the Makaleha range's highest peak, Kapehuaala, perfect for a picnic lunch before turning back. If time permits upon your return to the trailhead, wander the native and introduced flora of Keahua Arboretum or take a dip in the cool mountain-fed waters of Keahua Stream.
TRAILHEAD: End of Kuamoo Road at Keahua Arboretum
Hanakapiai Falls Trail
Napali Coast, Kauai
Distance: 8 miles, round-trip
Time: Up to 12 hours
Terrain: Coastal; forest canopy
→ The best thing about this hike is the opportunity to squeeze a Napali Coast hike into a single day while still getting a taste of the scenic grandeur of the multi-day Kalalau Trail (see "Experts Only!"). Just make sure you start early. The first two miles of the trail actually is the Kalalau Trail, before taking a turn inland at Hanakapiai Beach. The hike is best in the summer when the beach's beautiful white sand is intact (it disappears during winter wave season leaving a rocky shoreline) and Hanakapiai Stream is less swollen with water and easier to ford. (Do not try to cross the stream if the water level is high and the current is swift.) The hike into the valley forest is a muddy one but the payoff is a sight to behold: verdant cliff faces soaring more than 2,000 feet and 300-foot Hanakapiai Falls.
TRAILHEAD: End of Kuhio Highway (Route 560) at Kee Beach
MEDIUM COOL!

Awaawapuhi Trail
Kokee State Park, Kauai
Distance: 6.5 miles, round-trip
Time: 3 to 5 hours
Terrain: Forest canopy
↑ The payoff at the end of this descending trail meandering through a wind- and mist-chilled forest canopy at the top of a Napali coast cliff face is a view, from 2,500 feet above sea level, straight down into depths of narrow Awaawapuhi and Nualolo Valleys and the blue Pacific Ocean beyond. The elevation gain of 1,600 feet on the return trip gives the trail its "Medium Cool!" difficulty rating. But take some time on the way back to spot the dozens of species of endemic Hawaii rainforest and dry-land flora (identified in a trail guide available at the Kokee State Park visitor center). Though tempting, do not attempt to traverse the sheer ridge beyond the safety railing at the end of the trail to get a better view. The drop from the ridge's end to the valley floor? More than 2,000-feet straight down.
TRAILHEAD: Off Kokee Road (Route 55) in Kokee State Park, just after mile marker 17
EXPERTS ONLY!

Kalalau Trail
Napali Coast, Kauai
Distance: 22 miles, round-trip
Time: Overnight; at least two days
Terrain: Coastal
→ The most popular back-packing trail in Hawaii, Kalalau also offers the only way to explore the breathtaking Napali Coast by land. Snaking high on the coast's sea cliffs, back down to sea level as it crosses Hanakapiai Beach and passing five valleys on its run from end-of-highway Kee Beach to end-of-trail Kalalau Beach and Valley, the trail demands much of those who trek it. Required: at least two days—one to hike in, one to hike out; a tent, sleeping bag and enough food and freshwater for your stay; and a camping permit from the Division of State Parks (hawaiistateparks.org). Oh, and wicked stamina. Stay a couple of nights and you'll have a day to explore Kalalau Valley, surrounded by lush, fluted cliffs more than 2,000 feet high.
TRAILHEAD: End of Kuhio Highway (Route 560) at Kee Beach