43rd annual Kona Coffee Cultural Festival gets its buzz on this week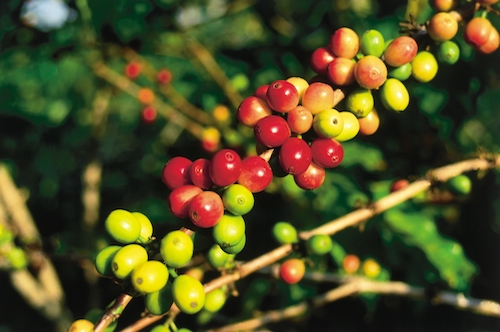 The long-established, world-renowned coffee-growing region of Kona is home to dozens of coffee farms, many of them family-owned and –operated. For more than 185 years, this area, rooted on the slopes of the Big Island's Hualalai and Mauna Loa volcanoes, has served up some of the best specialty coffee in the world.
And for the past 42 years, it has celebrated that heritage and tradition with an annual tribute to its much beloved caffeinated beans, the Kona Coffee Cultural Festival. The 43rd annual fest, which begins this Fri., Nov. 1, will again play host to the celebration's usual multitude of java-related activities and events—from farm and mill tours, art shows and a cupping competition to a multicultural hoolaulea (celebration), talent show, coffee recipe contest and a Miss Kona Coffee scholarship pageant. If you get a buzz just thinking about a downing a warm cup of Kona-grown coffee, the fest is definitely for you.
The festival happens from Nov. 1 to 10 at various locations throughout Kona. It all kicks off this Friday at 6:30 p.m. with the Sugai Kona Coffee Talent Night at Konawaena Elementary School, followed by the Holualoa Village Coffee & Art Stroll, from 9 a.m. to 3 p.m. on Sat., Nov. 2. On Sun., Nov. 3, the UCC Ueshima Coffee Co. Coffee-Picking Contest, in the upslope coffee town of Holualoa,kicks off the morning, followed by the KTA Super Stores Kona Coffee Recipe Contest from 12:30 to 3:30 p.m. at the Sheraton Kona Resort & Spa.
The festival's signature event—at least the one area coffee farmers get most excited about—the Kona Coffee Cupping Competition, kicks off first-round judging at 9 a.m. Wed, Nov. 6 at the Sheraton Kona Resort & Spa. An international panel of professional cupping judges will conduct side-by-side tastings from more than 50 area farms to appraise the differences of each Kona coffee entry. Among the coffee characteristics judged will be fragrance, aroma, taste, aftertaste and body. A lot of slurping and spitting is involved. Everyone is welcome to watch.
A final round of judging, slated for 9 a.m., Thurs., Nov. 7, also at the Sheraton Kona Resort, decides the farm with the fest's best roast. Winners will be announced later that evening at the Kona Coffee Council Dinner & Benefit Auction, which starts at 7 p.m. at the hotel. The dinner is open to the public. You just have to buy a ticket.
One of the favorite fest events of residents and visitors, the Kamehameha Schools Kona Coffee Cultural Festival Hoolaulea, happens from 10 am. to 8 p.m., Sat., Nov. 9. The celebration will take over the Keauhou Shopping Center parking lot, with hands-on cultural workshops, an ethnic food market, live entertainment, kid activities, an interactive global village and a very-late-in-the-season, but still very festive, bon dance.
Click here for a full schedule of Kona Coffee Cultural Festival events.