44th Annual Ukulele Festival brings local, international players to Waikiki this Sunday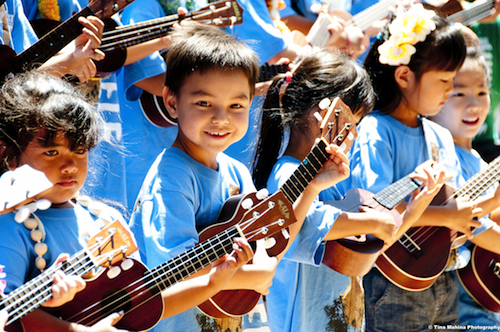 If you've been bitten by the ukulele bug (it could happen–"ukulele" is Hawaiian for "jumping flea") and are itching for some live ukulele music, you won't want to miss the 44th Annual Ukulele Festival, happening this Sunday (July 20) on Oahu.
Thousands of ukulele fans (and players) flock to Honolulu every July for Ukulele Festival, held annually in Kapiolani Park in Waikiki. Fest visitors can expect to celebrate Hawaii's beloved four-stringed instrument with food booths, activities and lots of great music. Each year, attendees are treated to live performances by local, visiting and celebrity players, plus an ukulele orchestra made up of more than 800 students, led by Ukulele Festival founder and noted instructor Roy Sakuma.
Some of this year's notable Ukulele Fest performers include Herb Ohta, Jake Shimabukuro, Danny Kaleikini, Willie K, and Raiatea Helm. The 44th annual Ukulele Festival happens from 11 a.m. to 5 p.m., July 20, at Kapiolani Park on Oahu.
Sakuma founded Ukulele Festival in 1971 to showcase the instrument's versatility, and to help spread appreciation for it. Now that the ukulele has reached international acclaim, the fest celebrates worldwide enthusiasm for the Hawaii-created instrument. Visiting ukulele performers include musicians from Australia, France, New Zealand and Japan, among others. Sakuma's 800-member ukulele orchestra will demonstrate the instrument's versatility, performing songs from a range of genres, such as pop, jazz, country, rock, reggae, classical and Hawaiian music.
Roy Sakuma, with lei. Photo: Ukulele Festival Hawaii
The fest also boasts a variety of other uke-related booths and activities. You'll be able to check out ukulele displays from companies like Kamaka Ukulele, purchase festival souvenirs, and even enter a drawing for a chance to win a free ukulele! Keiki (kids) can have fun in inflatable bounce houses, and fest-goers of all ages can take an ukulele lesson. If you hunger for something other than the sweet sound of strumming, food will be available for purchase from a variety of vendors.
The largest ukulele event in the world, attracting visitors from around the globe, the Ukulele Festival has undoubtedly achieved Sakuma's goal of spreading enthusiasm for the versatile instrument. However, his love for the ukulele and generosity towards the community remains strong. In 2004, Roy and Kathy Sakuma established Ukulele Festival Hawaii, a non-profit charity that aims to give free concerts, ukulele lessons, college scholarships, and much more to further promote Hawaii's arts and culture. The non-profit produces, promotes and arranges annual Ukulele Festivals on Oahu, Hawaii Island, and Maui.