4th annual Waipa Kalo Festival celebrates taro and land that nurtures it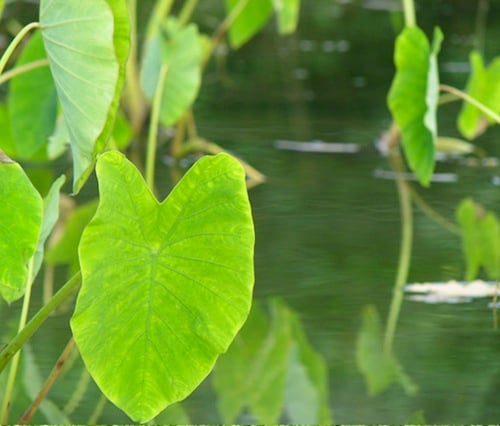 Supporting local farms and food producers has been a mission of the Waipa Foundation since it was founded in the 1980s to manage one of the largest intact and undeveloped land divisions in Hawaii.
The community-based nonprofit oversees the 1,600-acre ahupuaa of Waipa on the north shore of Kauai. Their boundaries determined by Hawaiian alii (royalty), ahupuaa were multiple mountain-to-seashore land divisions established on each island to protect, maintain and distribute land and ocean resources for residents living within them. The Waipa Foundation is steward of the expansive land area, working on projects and programs aimed at restoring the health of the natural environment and native ecosystems of its ahupuaa. It hosts a popular weekly's farmers' market each Tuesday at 2 p.m., a poi-making day each Thursday and offers various cultural and educational programs and tours.
And every year it hosts the Waipa Kalo Festival, a celebration of taro, one of the most important and culturally significant food staples of the Hawaiian culture.
The fourth annual Waipa Kalo Festival is set for this Sat., Dec. 7 at the Waipa ahupuaa's Halulu Fishpond, an area where taro is still widely cultivated, near Hanalei Bay. There will be activities, educational displays, demonstrations, craft booths, live entertainment and, of course, food vendors showcasing taro and lots of it.
The festival is a fundraiser for Waipa Foundation, which is raising money to begin construction of a certified kitchen and poi mill, a hale imu (shelter for a ground oven), and an administrative building. One of the foundation's goals is supporting locally produced foods and goods by providing farmers, ranchers and food producers access to a certified kitchen and other facilities.
The nonprofit has already raised $1.6 million for this project and needs about $100,000 more.
You can read more about Waipa — the foundation, its ahupuaa and its weekly volunteer poi-making day—in the January-February 2014 issue of HAWAII Magazine, available on newsstands (or if you're a subscriber, in your mailbox or on your iPad), later this month.