5 Essential Tips for Diving Iconic Molokini, an Ancient Crescent Cinder Cone
If the allure of snorkeling or diving inside a sunken volcanic crater is too much to resist, follow these tips.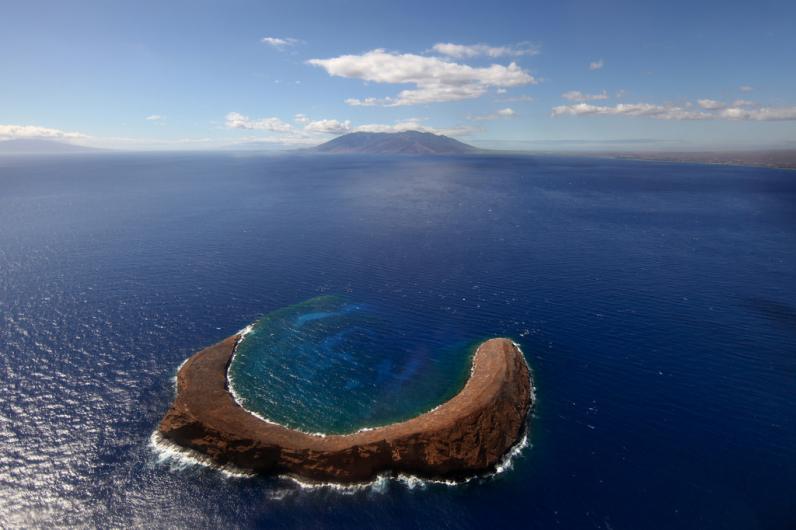 The last thing I wanted to do on my second day of vacation to Maui was get up at 4:45 a.m., but that's what I did. Groggy but excited, my husband and I drove the short distance from our hotel to the Kihei Boat Ramp, and met the shiny, silver B&B Scuba boat already bustling with activity for our first foray out to the storied Molokini crater.
Just 2.5 miles offshore of Makena State Park, Molokini's iconic crescent sliver is all that remains of a cinder cone that last erupted some 230,000 years ago. The lure of snorkeling or diving along coral outcroppings inside a remote uninhabited island atoll that also happens to be a sunken volcanic crater has been too much to resist for many. On any given day the islet is crawling with dozens of boats and hundreds of visitors clambering to say they've done it.
I had heard Molokini was overcrowded and not worth it. I'd heard gallons of sunscreen washed from the bodies of tourists onto the reef daily over decades had taken a toll on the once spectacular coral formations. And, after all that, if I still wasn't dissuaded, I had a decision to make: How best to take it all in? Snorkeling proponents said the higher vantage gave a better lay of the land – the clear waters didn't require the extra effort and cost of a dive charter to see coral and tropical fish. Diving proponents waxed poetic of drop-offs and "this close" encounters with pelagic monsters and that crystal clear waters only enhanced the dive.
I wasn't entirely sure what to expect. But, when on vacation, go big or go home, right? So, with only minimal trepidation, I forked over the extra cash for what would be my 100th logged dive. And, I brought along my snorkel for good measure. Here's what I learned:
1. Molokini is still worth it!
Though not as vibrant as coral reef in other parts of the world, Molokini's coral formations are still Hawaii showstoppers. Densely-packed reef ledges offer layer upon layer of viewing opportunities for tiny fish, nudibranchs (soft, seagoing slugs) and colorful schooling swimmers like the cloud of orange and white pyramid butterflyfish I spotted beyond the drop-off. If you're snorkeling, head to a space with few other visitors—you never know what you might find.
2. It pays to get there early.
Though protected by its shape, waves and currents do pick up as the day wears on, eroding visibility and boating conditions. And, regardless of whether you're diving or snorkeling, it's always great to be among the first on the reef – other visitors haven't yet scared away larger creatures and you can have the whole place to yourself when conditions are calmest. We dove with B&B Scuba, whose daily dive departures leave the dock at 5:45 a.m. When we went, pink clouds and crisp morning air made the journey extra enjoyable and we were one of two boats inside Molokini crater. We saw three white tip reef sharks cruising the ledge—majestic creatures I've never seen on any other dive. By the time we packed up and left for our second dive closer inshore around 8:30 a.m., more than a dozen boats had already taken up residence in the crater.
3. If you are diving, be selective.
There is some truth to snorkeling proponents' claims that you can see just as much snorkeling as diving … in some places. The calm protected locales inside the crater can be just as fun for all visitors, especially if ocean conditions are rough. To get your money's worth as a diver, look for companies that regularly dive at sites where topography could make it challenging to see everything as a snorkeler (when conditions are calm). These sites include Reef's End (where we dove), a 600-foot underwater ledge that completes the crater rim some 75 feet under the waves; and Flying Sea Cliffs, the Back Side and Edge of the World, on the ocean-facing side of Molokini. There, a series of hanging shelves and sheer wall faces that drop in places to 250 feet, beyond the reach of recreational diving. You'll still see some of the reef fish and corals of the shallower sites, but you'll also have a better chance of seeing open-ocean fish, sharks and rays.
4. Do your part to leave it intact for the next group.
Though coral in Molokini were spectacular, some did show signs of bleaching. In order to ensure the experience stays a great one for years to come, there are a few things you can do. Look for sunscreens that are physical blockers instead of chemical ones (milky white). And, if possible, wear reef-safe sunscreen free of ingredients harmful to corals like parabens, cinnamates, benzophenones and camphor derivatives. Tropical Seas makes a popular one. If you only have what you brought along, remember to apply your sunscreen at least 30 minutes prior to entering the water so that more of it soaks into your skin and its less likely to wash off and impact the reef. And, as with any tropical underwater experience, don't stand on corals or feed or harass the marine life.
5. Have fun and soak it all in.
This is a once-in-a-lifetime opportunity!