5 facts about the Ironman World Championship in Kona on Hawaii Island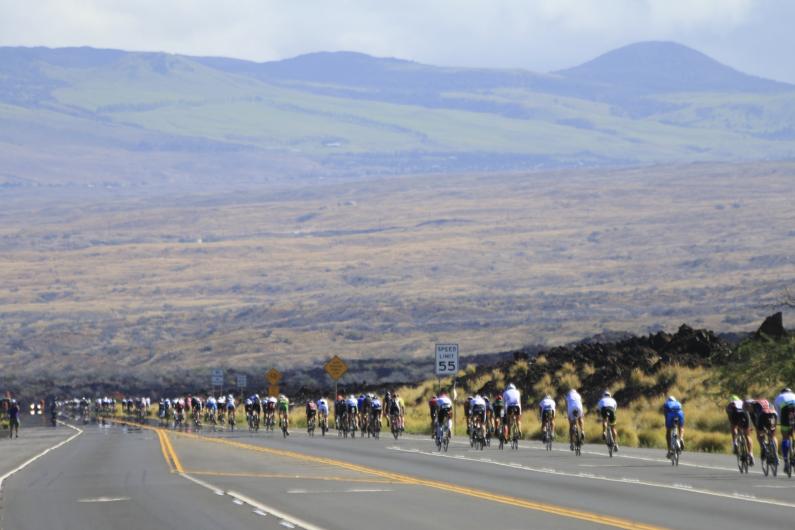 Over 2,000 athletes will converge in Kona for the 35th annual Ironman World Triathlon Championship tomorrow, Saturday, October 10. Triathletes from all over the world qualified for this iconic race and will run, bike and swim a total of 140.6-miles.
You can follow individual racers through the live stream here.
If you find yourself in a conversation about the Ironman in Kona or Twitter here are some cool facts about the triathlon that you should know so you can drop some heavyweight knowledge.
1. Australian Craig Alexander has the best time (8:03:56) for men at the Ironman World Championship. He was also the oldest winner in the triathlon's history and was 38 when he set the record.
2. England's Chrissie Wellington holds the womens' record. She compelted the course in just 8 hours, 54 minutes and 2 seconds.
3. The Ironman was started in Waikiki by Naval Officer John Collins and his wife, Judy. As members of the Waikiki Swim Club, John and Judy issued a challenge to see if the who was the "toughest athletes" were. Swimmers? Bikers? Or, runners? On Feb. 18, 1975 the first Ironman challenge was held in Waikiki.
4. In 1980, Judy Moss collapsed yards away from the Ironman World Championships finish line. This event was telecast on ABC's "Wide World of Sports" and although Moss was passed by other racers for the title she crawled across the finish line. She is forever remembered as an icon of the Ironman for demonstrating perseverance in the face of adversity on national television.
5. In 1997, John MacLean becomes the first handi-capable athlete to finish the Ironman World Championships. The Australian was the first triathlete to utilize a hand-powered cycle bike in the race, and has completed three Ironman races in his career.