5 Hawaii craft breweries to visit
Find local suds at one of these brewpubs, where the beer is made in Hawaii from start to finish.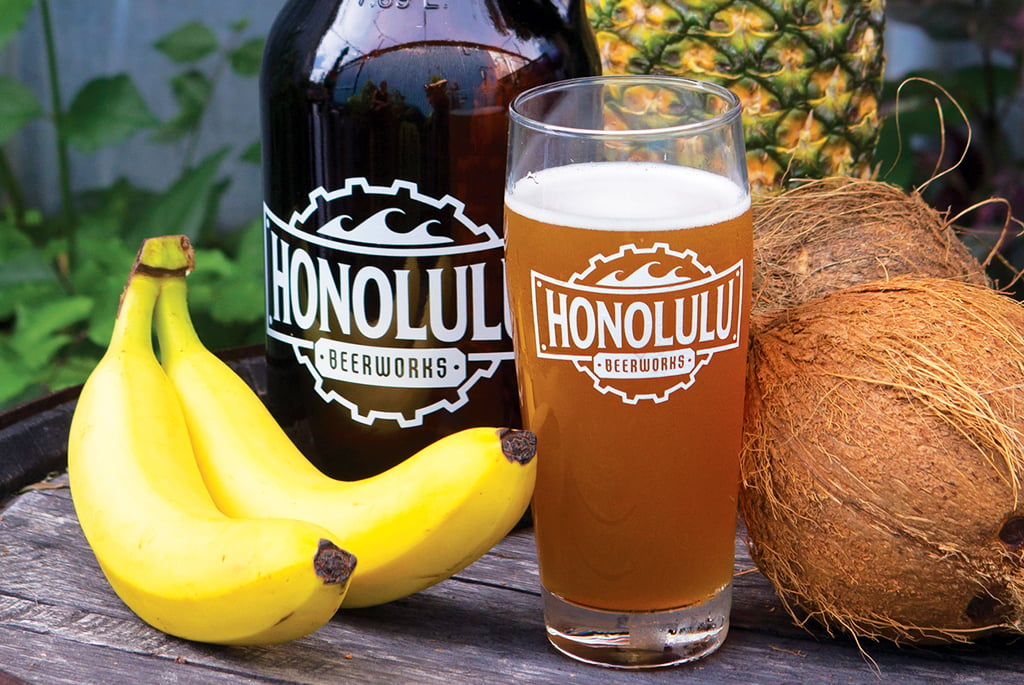 On all four major islands, you'll find homegrown breweries creating quality craft beer with ingredients unique to Hawaii. Sure, it's more expensive to run a brewery here. But that's just another testament to the passion that drives these brewers to set up shop in the Islands and keep their entire brewing process local.
Here's a selection of smaller breweries across the Islands that you might not have known about.
OAHU
Honolulu BeerWorks
Since the 2014 opening of this rustic, open-air Kakaako restaurant, microbrewery and tasting room, Honolulu BeerWorks, run by Geoff Seideman and his wife, Charmayne, has maintained its reputation for great beer, food and a casual atmosphere. The pub boasts a custom-built seven-barrel system that delivers 10 to 12 house beers on tap, from the classic styles to seasonal fresh hop beers to more unusual tropical fusion brews like Cocoweizen, a traditional Bavarian hefeweizen brewed with coconut and banana flavors. For a satisfying accompaniment, order the German-style pretzels, pork sliders or the beer-made mac 'n' cheese. Fun fact: The Honolulu BeerWorks name and "gears and rivits" logo is a nod to the history of the industrial Kakaako district, once dominated by the old Honolulu Ironworks metal foundry and machine shop.
Featured brews: Sheltered Bay IPA, Cocoweizen, Pia Mahiai Honey Citrus Saison and South Shore Stout, available only on tap here.
Open Mon.-Thurs. 11 a.m. to 10 p.m., Fri. and Sat. 11 a.m. to midnight. 328 Cooke St., Honolulu, (808) 589-BEER, honolulubeerworks.com.

Waikiki Brewing Co.
One of Oahu's newest breweries, and a first for Waikiki, Waikiki Brewing Co. got its start when Cheeseburger Waikiki restaurant manager, Joe Lorenzen, suggested transforming an unused banquet room at the restaurant into a brewery. With eight handcrafted house beers on tap, from pale ales to porters, this bustling hangout is one of the few places you can watch the seven-barrel brewing operation on-site, in full view of the bar. Stop in on Monday nights for Mr. Lanakala Monday, and get a chance to try one of the house signature brews poured through a crazy infusion system, filled with local fruits, herbs and who knows what else, for a glass of pure deliciousness.
Featured brews: Jalapeno Mouth, Hana Hou Hefe and beer cocktails. Hana Hou Hefe is available in stores on Oahu; the rest are available only at the brewpub.
Open Mon., Wed., Thurs. and Sun. 11 a.m. to 11 p.m.; Tue., Fri. and Sat. 11 a.m. to midnight. 1945 Kalakaua Ave., Honolulu, (808) 946-6590, waikikibrewing.com.
HAWAII ISLAND
Big Island Brewhaus
Hawaii's highest elevation brewery, Big Island Brewhaus, run by Thomas and Jayne Kerns, began winning national awards within six months of the launch of its brewery in 2011. The Kerns started bottling their locally made beers for distribution in 2013 and, while you can find their bottles year-round in Hawaii grocery stores, nothing beats a visit to the brewpub and restaurant. More than 15 beers, including ales, lagers and Belgian-style brews, pair perfectly with its restaurant selections, such as local fresh-caught poke in won-ton tacos and grilled Big Island flat iron steak, all wrapped up in the casual, laid-back vibe of a brewpub that truly embodies the heart of a community.
Featured brews: Overboard IPA, Golden Sabbath Belgian-Style Strong Golden Ale and White Mountain Porter, available in grocery stores and on tap at select bars in Hawaii.
Open Mon.-Sat. 11 a.m. to 8:30 p.m., Sunday noon to 8 p.m. 64-1066 Mamalahoa Hwy., Waimea, (808) 887-1717, bigislandbrewhaus.com.
MAUI
Kohola Brewery
Opened in December 2015, Kohola Brewery, tucked away in historic Lahaina town, prides itself on using the best traditional hops and malts combined with locally grown fruits, such as guava, pineapple and passion fruit. The airy, industrial-style tasting room, with corrugated aluminum walls and a big seating area, features a happy hour from 5 to 7 p.m. daily and tours every Friday. Try a flight to taste as many styles as possible.
Featured brews: Lokahi Pilsner (Great American Beer Fest 2016 Bronze winner), Pineapple Lokahi (bestseller in the tasting room), Lilikoi Saisan/Kai Ala Farmhouse Ale and Mean Bean Coffee Stout, available in the tasting room and on draft in resorts and restaurants on Maui only.
Open daily 11 a.m. to 9 p.m. 910 Honoapiilani Hwy., Lahaina, (808) 868-3198, koholabrewery.com.
KAUAI
Kauai Island Brewing Co.
If you're heading south toward Hanapepe, make it a point to stop at this casual, retro-industrial brewpub with a picture-perfect view of Hanapepe Bay. Kauai Island Brewery, the westernmost brewery in the United States, is run by former Waimea Brewing Co. owners Bret and Janice Larson, along with their brewmaster, Dave Curry. It has 10 or more house brews on tap, plus rotating guest beers that go perfectly with the restaurant's pub fare, such as its parmesan-crusted calamari, ale-battered fish with chips and kalua pork. Brewery tours are also available on request.
Featured brews: Lilikoi Ale, Eleele Brown Ale (awarded Second Place at the West Coast Brewers Festival and a Silver certificate at the California State Fair) and The Fonz IPAaaaa, available only in the brewpub and at The Dolphin Restaurant on Kauai.
Open daily 11 a.m. to 9 p.m. 4350 Waialo Rd., Port Allen Marina Center, Port Allen, (808) 335-0006, kauaiislandbrewing.com.

A guide to tasting locally brewed beer
If you like….
Pale ales
Try: Lilikoi Ale from Kauai Island Brewing; 808 Pale Ale from Waikiki Brewing Co.; Talk Story Pale Ale from Kohola Brewery.
Brown ales
Try: Paniolo Brown Ale from Kauai Island Brewing Co.; Makakilo Brown Ale from Honolulu BeerWorks; Brouhard's Brown from Kohola Brewery.
IPAs
Try: Overboard IPA from Big Island Brewhaus; Sheltered Bay IPA from Honolulu BeerWorks; The Fonz IPAaaaa from Kauai Island Brewing Co.
Porters and stouts
Try: Dark Sabbath Belgian Style Strong Dark Abbey Ale or Irie Irish Breakfast Stout from Big Island Brewhaus; Black Strap Molasses Porter from Waikiki Brewing Co., South Shore Stout from Honolulu BeerWorks.
Belgian brews
Try: Cocoweizen from Honolulu BeerWorks; Sweet Home Lahaina 2016 Anniversary Ale (Belgian Tripel) from Kohola Brewery; Golden Sabbath Belgian-Style Strong Golden Ale from Big Island Brewhaus.
Something different
Try: Coconut Crème Ale or Ulu Pia (breadfruit beer) from Big Island Brewhaus; Jalapeno Mouth from Waikiki Brewing Co.