5 romantic prix fixe dinners in Hawaii for Valentine's Day
Impress your sweetheart at one of these special culinary experiences.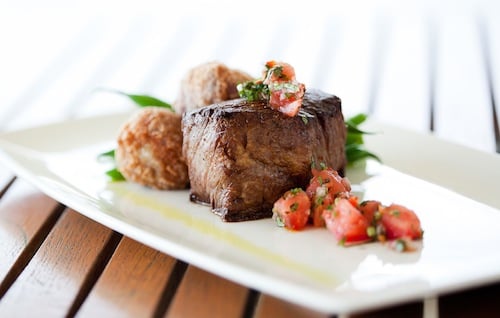 Valentine's Day is only a week away, so here are a few suggestions for restaurants with a romantic atmosphere and special prix fixe menus. Reservations are recommended though—and soon—if you want to snag a table for two at any of these places.
Merriman's Kapalua (Maui)
Culinary pioneer Peter Merriman's restaurant has a stunning view overlooking Kapalua Bay and is known for its exquisite Hawaii Regional Cuisine.
This year's four-course meal includes:
Tomato curry soup
Your choice of starters like crispy Hawaii Island goat cheese chevre, hot seared Kona kampachi and jalepeno corn cakes, tempura oysters or pork belly (raw seafood bar for $50 extra)
Your choice of a main course like opakapaka and Kauai shrimp, herb-scented lamb chops, butter poached Keahole lobster ($25 extra), prime beef filet, macadamia nut crusted mahimahi or Maui Lehua taro cake (vegan)
Dessert: buttermilk panna cotta parfait, flourless Waialua chocolate cake, Kula strawberry ice cream or Maui gold pineapple and toasted macadamia-nut bread pudding.
Prix fixe menu: $85 per person, $35 for children 12 and under. (808) 669-6400, merrimanshawaii.com/kapalua/valentines-menu

Brown's Beach House at the Fairmont Orchid (Hawaii Island)
This award-winning restaurant is just steps away from the ocean, and renowned among visitors and residents for its fresh local cuisine and romantic atmosphere.
The exotic three-course Valentine's Day menu includes:
Hawaii Island beets or char siu octopus
Your choice of crab-crusted Kona Kampachi, filet mignon, roasted Red Ranger chicken (with kabocha pumpkin risotto) or vegetable laulau.
For dessert, a Valrhona Manjari chocolate heart with macadamia nut mousse and passion fruit gel or compressed Hilo vanilla bean fruits.
Prix fixe menu: $75 per person, add $25 for wine pairings. (808) 885-2000, fairmont.com/orchid-hawaii/pdf/orc-browns-valentines-menu-feb-2017
Alan Wong's Restaurant (Oahu)
This award-winning restaurant offers classic Hawaii Regional Cuisine in a fine dining setting and is a solid option for Valentine's Day.
This year's prix fixe menu:
Amuse bouche Hudson Valley foie gras mousse
An appetizer trio that includes a Kualoa oyster with Waialua sweet potato ponzu granite, hamachi carpaccio and house-made duck prosciutto
Seafood gratin
Seared onaga (long tail red snapper) and mungo bean farro salad
Surf & Turf lobster and shortrib
Flourless chocolate cake for dessert
Prix fixe menu, $100 per person, $150 with wine pairings. The a la carte menu will not be available February 14. (808) 949-1939, alanwongs.com/events/happy-valentines-day-2
Beachhouse at the Moana Surfrider (Oahu)
If you're looking for a special dinner in Waikiki, the Beachhouse in the Moana Surfrider is a classically romantic option. The oceanfront restaurant features two Valentine's Day menus on the 14th, a four-course and a six-course.
The four-course prix fixe menu:
Duck confit
Ahi au poivre
Braised shortribs
Passionfruit orange trifle for dessert
Four-course seating is from 5:30 to 6:45 p.m. From 7 to 9:30 p.m., there will be six courses. In addition to the four-course offerings, there will be an additional seafood course and foie gras.
First seating four-course dinner, $90 per person. Six-course dinner $120 per person. (808) 922-3111, beachhousewaikiki.com
The Pig & The Lady (Oahu)
It may only be February, but this fun, unexpected and exclusive prix fixe menu at Vietnamese fusion concept restaurant The Pig & The Lady might be the culinary experience of the year.
Oysters a la aphrodesiac
Red velvet: strawberry, beet, radish, cherry tomato, goat cheese, heart of palm and mascarpone
Kampachi Sex-c viche: Kona kampachi with smoked trout roe, yuzu, pomegranate, grapefruit
Your choice of bone marrow bucatini, grilled duck breast, or lobster bun rieu
Leather & Lace: Godiva chocolate cake, strawberry flambé, bon bon
There is also an alternative vegetarian menu for the evening.
Prix fixe menu, $69 per person, an extra $31 with wine pairings. (808) 585-8255, thepigandthelady.com/valentines