5 tips for watching the Hawaiian Pro at Haleiwa on Oahu's North Shore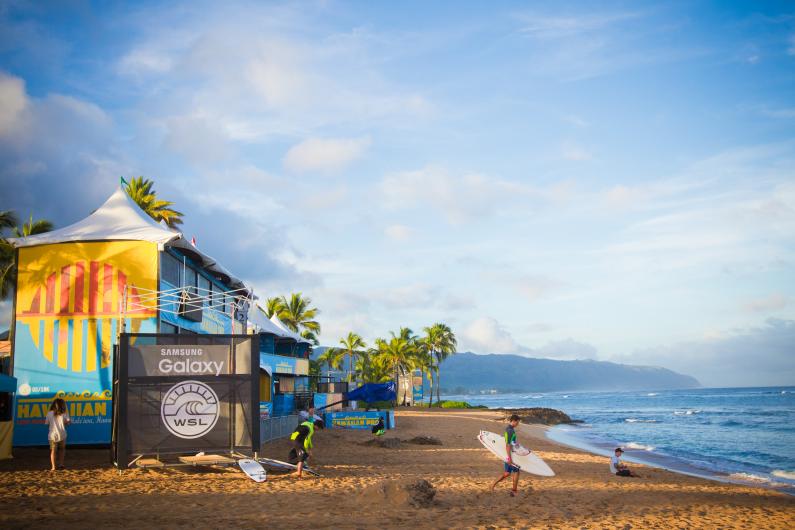 The first gem of the Vans Triple Crown of Surfing, the Hawaiian Pro, will start when a northwest swell brings contestable conditions to the surf break, Haleiwa.
Although this contest's 12-day holding period started on Nov. 12 the waves on the North Shore of Oahu have been too small to run the World Surf League (WSL) Qualifying Series (QS) event. The forecast is not looking promising for the next six days so the Hawaiian Pro is looking to run all three days of competition consecutively with the final day on Friday says Marty Thomas, surfing director of the the Triple Crown.
"The forecast is for the swell to come in (Tuesday night), peaking (Wednesday), holding into Thursday and then fade rather quickly through Friday," said Thomas. "Make no mistake it's going to be challenging at Haleiwa this year. The short-range forecast predicts small surf, but that will lend itself to exciting aerial maneuvers. You can be sure that this year's Vans Triple Crown champion will most certainly be a master of every type of ocean condition the North Shore famously dishes up."
With all of the Hawaiian Pro action slated for the next three days we wanted to give you a guide on how to maximize your experience and time. Here are five critical tips for watching the first event of the Vans Triple Crown of Surfing.
1. Haleiwa Alii Beach Park vs. Haleiwa Beach Park
The Hawaiian Pro is held at the surf break, Haleiwa, which is located at Haleiwa Alii Beach Park. Don't get the contest site mixed up with Haleiwa Beach Park, located near Pueana Point. If you don't see hundreds of people, contest scaffoldings and tents with logos on it when you get to the beach then you're in the wrong place. Remember that you want to head to Haleiwa Alii Beach Park to watch the Hawaiian Pro.
2. Vans Triple Crown shuttle from Turtle Bay Resort
If you're looking to fully enjoy spectating at the Hawaiian Pro then we suggest forgoing the hassle of finding parking near Alii Beach Park and the traffic jams that ensue. Instead, head to the Turtle Bay Resort, park there and jump on one of their shuttles that depart at 8:30 and 9:30 a.m. to the contest site for $25 per person. Book your seat on the shuttle here.
3. Park near Haleiwa Boat Harbor or in Haleiwa Town
So if you don't want to drop $25 for the shuttle then your best bet is to park at Haleiwa Harbor. There is a dirt lot located next door to Alii Beach Park and marked parking spaces below Haleiwa Joe's restaurant. If all of those spaces are filled, and they will probably be packed by 11 a.m., then we suggest parking in Haleiwa Town and walking to the contest site. You'll be able to window shop on the way to the beach, and will find something 'ono to eat on the way to Alii Beach Park. We suggest grabbing an acai bowl or smoothie from Haleiwa Bowls.
4. Root for the home team
Since it's called the Hawaiian Pro then why not cheer on the young local surfers? You'll want to watch the heats of guys like 2014 Hawaiian Pro Champion Dusty Payne, John John Florence, Ezekeil Lau, Mason Ho, Keanu Asing and the Moniz brothers because they all have the ability and hunger to win this event.
5. Bring baby wipes
These are not just good for wiping infants' bottoms, but are a necessity for the surf contest spectator. They can be used to disinfect hands, toilet seats and are an upgrade from toilet paper in public restrooms. While there are public restrooms and porta-potties at Alii Beach Park we highly suggest not banking on the presence of toilet paper, and instead suggest you bring baby wipes.