5 unique Hawaii vacation homes and Airbnbs on Kauai
There's plenty of personality in these vacation homes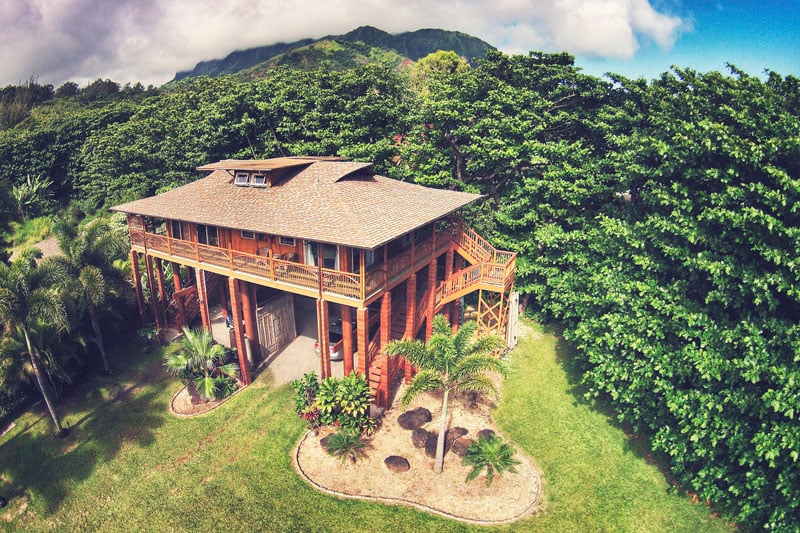 A big part of what makes traveling so fun is staying in a new living space. There's always the resort option, but sometimes you're looking for a place that doesn't feel so cookie cutter. Yes, resort stays remove much of the stress of vacation planning, and it's easy to see why that's appealing. But staying at any one of these Kauai properties will make you think twice about booking that cramped resort room, no matter how convenient it is.
Waimea Plantation Cottages
This cluster of beautiful Waimea Plantation Cottages on Kauai's remote west coast is a nod to the relaxed, culturally rich plantation era of the 1800s. Set along a grassy coconut grove where roosters crow, each one- to five-bedroom bedroom cottage is fit with a spacious lanai (patio) overlooking the sea. The weather here is typically sunny and dry, and life moves slowly. The beachfront bungalows are a place for quiet walks and contemplative afternoons spent cozied up with a good book. 9400 Kaumualii Hwy., Waimea (808) 338-1625, waimeaplantation.com.
Gillin Beach House
Originally built in 1946 by Koloa Sugar Plantation civil engineer Elbert Gillin, who fell in love with the secluded Mahaulepu Valley, the Gillin Beach House offers guests a remote hideaway on the sunny, south shoreline of Kauai. After hurricane Iniki claimed the original cottage in 1992, the Gillins rebuilt their humble abode into a more modern living space, which still stands as the only vacation rental on the entire Mahaulepu Beach expanse. The house features three bedrooms, two bathrooms, a den and lanai where guests can enjoy the simple pleasure of being entirely alone. Koloa, (808) 742-7561, gillinbeachhouse.com.
Tropical Bamboo Hideaway
Sitting on an acre of land in Haena, this high, stilted house makes for an exotic and comfy stay while on Kauai. The home is a Vietnamese import made entirely of bamboo and has a wrap-around porch offering stunning views of both the rain forest and the ocean. The two bedroom, two bath interior is designed with a modern sensibility and furnished with luxurious amenities, such as granite kitchen counters, a flat-screen TV, high-speed internet, stainless steel appliances and a private elevator. If you tire of sitting out on the porch and letting the day pass by, the home is near a number of great outdoor destinations, such as Tunnels Beach and the start of the Napali Trail. 5-7107 Kuhio Hwy, Haena, (808) 325-5701, tropicalbamboohideaway.com.
Cabins at Kokee Park
Some people are more mountain than ocean when choosing an escape destination. Luckily for them, vacationing on Kauai doesn't have to be at sea level; in fact, staying at the Cabins at Kokee Park will have you sleeping at 3,000 feet above sea level, with easy access to Kokee State Park and Waimea Canyon. Keep in mind, the location makes for cooler, crisper temperatures and more moisture. However, the five rustic cabins available to rent are fitted with fireplaces and are quite cozy. The Lehua Cabin, in particular, with its cedar build and in-house appliances and amenities, is the kind of place you won't want to leave. 808-652-6852, westkauailodging.com
Bird of Paradise Beach Home
This two-story, four bedroom, 3.5-bath home in Poipu features a pair of master suites, a heated saltwater pool and panoramic porch views of Puu Wanawana crater, the Haupu mountain range and the ocean. Poipu and Shipwreck Beach are also in the neighborhood. But there's no getting around its size. At 4,000-square-feet, the space might be the real luxury the Bird of Paradise has to offer, especially if you're traveling with another family, or your extended family—the home sleeps eight to 10 people comfortably, with air-conditioning and a TV in every room. 1522 Pee Road, Poipu Beach, Koloa (734) 223-2209, luxurykauaihome.com.
(Updated 10/12/17)