6 Colorful North Shore Towns You Won't Want to Miss
Everyone will tell you Oahu's North Shore community has its own vibe.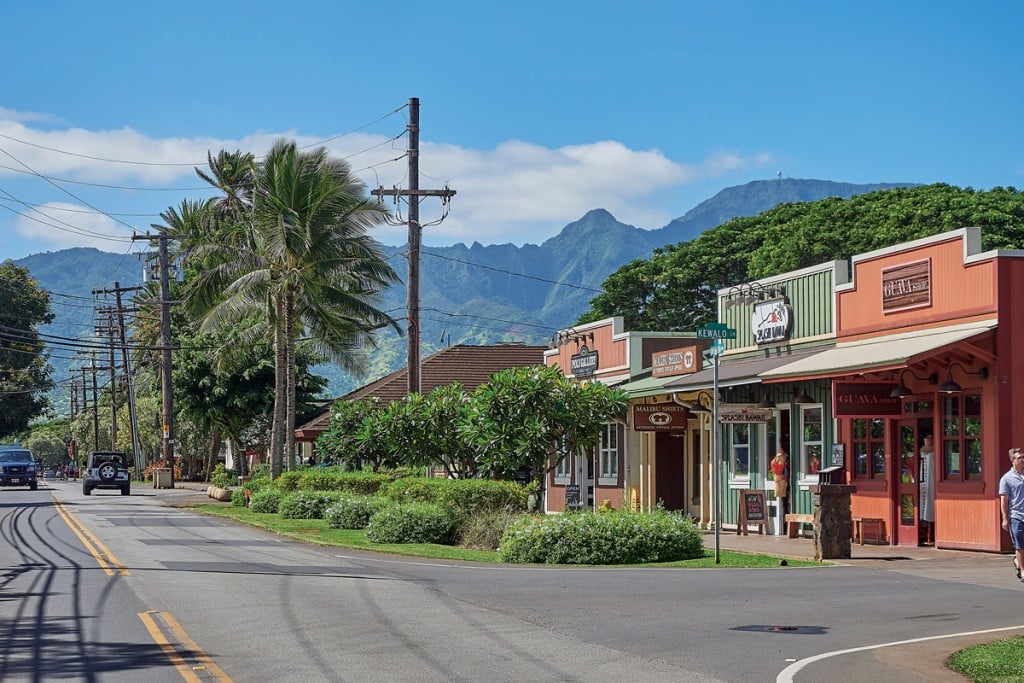 Dotted along the North Shore's lengthy coastline are colorful communities and towns, each with their own sights and personalities.
Pupukea
The stretch of land that spans from Waimea Bay to Sunset Beach, Pupukea is home to many of Oahu's best surf spots and beaches. You'll want to find a parking spot and get out to watch surfers ride the massive barrels at Ehukai Beach Park, which houses the famous surf breaks Pipeline and Backdoor. (What some visitors don't realize about these North Shore beaches is that they also double as family-friendly playgrounds during the summer, when the surf is small to flat.) Visitors, locals and surfers right out of the water converge at Pupukea Foodland to fill up on poke bowls and other grab-and-go snacks before continuing their perfect North Shore beach day.
Haleiwa
The iconic Haleiwa signs welcome you to this town, often regarded as the epicenter of the North Shore. Its busy streets are lined with a mix of local mom-and-pop shops, swim and surf shops, restaurants, rows of food trucks, boutiques and shopping centers. This is where you'll also find the world famous Matsumoto Shave Ice. Tip: Haleiwa Harbor and Alii Beach Park are two of the best places to watch the sunset.
Kahuku
Oahu's northernmost town, Kahuku serves as a refreshingly authentic contrast to the nearby resort area of Turtle Bay. Brimming with schools, residential neighborhoods and churches, Kahuku has an undeniable local feel, filled with some hidden gems. Giovanni's Aloha Shrimp truck, or the Kahuku Superette for its poke, are absolute necessities. Kahuku Golf Course, a nine-hole course facing the ocean, is also popular with travelers on a budget.
Mokuleia
Isolated on the far west side of the North Shore, Mokuleia is a quiet seaside district with a beach park that probably has more turtles relaxing on the sand than people. Continue your drive west and you might see skydivers descending near Dillingham Ranch, where Hawaii Polo Club's seasonal matches are held. Want to go on a hike? Leave your car at the Kaena Point trailhead and wander past remote beaches to Oahu's westernmost point.
Waialua
Not nearly as busy as Haleiwa, its bustling neighbor, Waialua is a vestige of Hawaii's sugar plantation era that has seen a new wave of chic cafés and eclectic boutiques opening on its country streets. We recommend the hip coffee shop, Brew + Foam, which serves delicious frappés and lattes in its small, stylishly designed space, and making a stop at the old Waialua Sugar Mill. The mill is home to some of the world's best surfboard shapers, but if you're not looking for a surfboard, don't fret—there's also a soap factory, general store and farmers market to check out.
Laie
There's a lot packed into the small, laid-back coastal community of Laie. It's a country town with two-lane roads and side streets leading to some of the island's best beaches, however, you'll also find the only movie theater on the North Shore, Laie Palms Cinema, as well as the Polynesian Cultural Center. Because it is a Mormon-dominated community, many of the stores and restaurants may be closed on Sundays—and liquor here is nowhere to be found.