6 Great Oahu Hiking Trails
Our recommendations, grouped by proficiency level.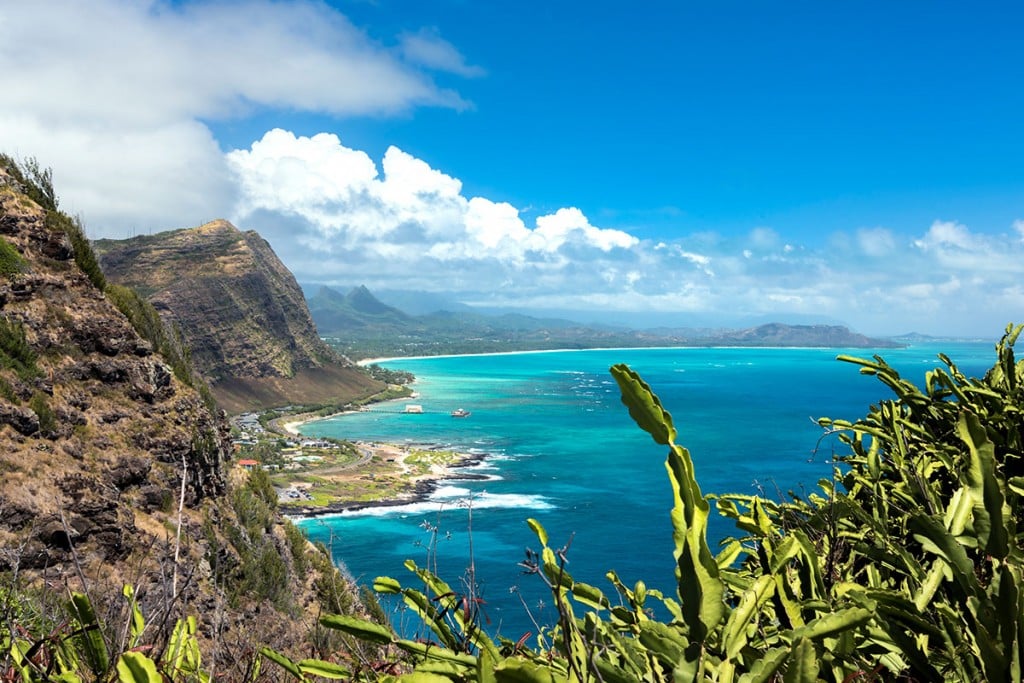 Hawaii is hikers' nirvana, with trails on every island for every level of hiking experience, over multiple varieties of terra firma (and not-so-firma), showcasing every measure of our Islands' world-renowned diversity of landscapes, climate zones and unsurpassed natural wonder.
Below you'll find six great Oahu hikes grouped by proficiency level. Have fun out there and bring lots of water along!

EVERYBODY! EVERYBODY!

Lulumahu Falls Trail
Nuuanu Valley, O'ahu
Distance: 2.5 miles, round-trip
Time: 1.5 to 2 hours
Terrain: Forest canopy; stream crossing
→ Pleasant enough for beginners, yet filled with the cool rewards typically reserved for more skilled hikers (a waterfall, secret ruins, an often-hidden path), the Lulumahu Falls trail offers a classic Hawaii rainforest hike. Moving through dense tree canopy and a bamboo forest, the trail eventually straddles and crosses a forest stream ending at the 50-foot waterfall. Lose your way on the journey? Stick close to the gurgling brook and follow it upstream to Lulumahu. Near the falls, check out the ruins of Kaniakapupu, the summer palace of King Kamehemeha III and Queen Kalama, constructed in 1845. (Note: Follow posted No Trespassing signage. Kaniakapupu is kapu and access is restricted to maintain this landmark, the only site left associated with Kamehameha III.) Surrounded by thick forest seemingly threatening to engulf it whole, the moss-covered walls of the palace still retain an air of regal solemnity.
TRAILHEAD: Easternmost junction of Pali Highway (Route 61) and Nu'uanu Pali Road, off dirt parking lot
Makapuu Point Trail
Makapuu, Oahu
Distance: 2 miles
Time: 1.5 to 2 hours
Terrain: Asphalt; coastal
→ With hundreds of residents and visitors trekking this relatively short, easy and paved coastal ridge trail every day for its scenic beauty, cardio benefits, or to catch its stunning sunrise vista, we almost decided to leave it off our great trails list. Ultimately, we just couldn't. Straddling Oahu's breezy easternmost sea cliff faces, the Makapuu Point Trail is, in spite of its popularity, just too fantastic a hike. In addition to sweeping views of both Oahu's southeastern shoreline and windward coast (including seabird sanctuaries, Manana and Kaohikaipu islets), are vantage points of century-old, closed-to-the-public Makapuu Lighthouse and World War II-era pillbox fortifications. During winter whale season, the trail is also one of the best Oahu shoreline spots for catching humpbacks breeching offshore. More experienced hikers can skip a repeat trip back to the trailhead on the paved road and head down a steep, but negotiable, path along the point's northern cliff face instead.
TRAILHEAD: Parking lot at end of Makapuu Lighthouse Road, off Kalanianaole Highway (Route 72)
Lanipo Trail
Maunalani Heights, Oahu
Distance: 7 miles, round-trip
Time: Up to 10 hours
Terrain: Mountain ridge
↓ Surprisingly, for a small island populated by almost a million residents, Oahu boasts some of the best get-away-to-nature trails in the state. Among the best of the best are treks on the valley ridges behind metro Honolulu, which ascend all the way up to the summits of the Koolau mountain range, offering easily attainable, sweeping views of Oahu's windward coast and windswept encounters with native plants and birds for moderately-skilled hikers. Lanipo is our favorite of these ridge trails, combining all of the above with stunning views of long-extinct Kaau volcanic crater—greenery enshrouded and only visible by air and this ridge trail—and its terraced waterfall. At the trail's end at Kainawaanui summit are vistas of the three peaks of Olomana (see "Experts Only!") in the distance, sister Koolau summits Awawaloa and Konahuanui along the ridgeline, and towns of Waimanalo, Kailua and Kaneohe from 2,000-feet up.
TRAILHEAD: Off mauka side of Maunalani Circle
Waianae Kaala Trail
Waianae Kai Forest Reserve, Mt. Kaala Natural Area Reserve, Oahu
Distance: 8 miles, round-trip
Time: Up to 10 hours
Terrain: Mountain ridge
→ The only public hike to the summit of Oahu's highest peak—plateau-topped 4,025-foot Mount Kaala—straddles the divide between expert- and moderate-hiking trail classification. Near the misty Kaala summit are craggy sections of steep and often slippery trail belying the hot and dry conditions at the trek's start on the floor of Waianae Valley. Be alert through the section and the trail will be worth the trouble, winding through thick native flora, past lovely views of leeward Oahu valleys Waianae and Lualualei and over a boardwalk on the wild summit bog of the Mt. Kaala Natural Area Reserve filled with unusual endemic plants found nowhere else. Do not attempt to enter the summit's off-limits, fenced-in Federal Aviation Administration radar installation even if its gate is open. But do take in the fence perimeter's views of the North Shore, Central Oahu agricultural fields, Wahiawa town and, in the distance, the Koolau and Pearl Harbor.
TRAILHEAD: End of Waianae Valley Road
EXPERTS ONLY!

Puu Manamana Trail
Kaaawa, Oahu
Distance: 2 miles, round-trip (mini hike)/4 miles, round-trip (full hike)
Time: 2.5 hours, round-trip (mini hike)/5 hours, round-trip (full hike)
Terrain: Very sheer mountain ridge
→ Often called "Oahu's most dangerous hike" even by seasoned hikers, the full trek to the 1,900-foot lookout at the end of this trail is the textbook definition of an "Experts Only!" hike. The final mile-long ascent to the lookout, along a narrow windy ridge with plunging drops on either side, involves rock climbing sans ropes and outcrop maneuvering. The panoramic lookout views—from Laie and Kahana Valley to the north to Kaaawa Valley and Kaneohe Bay to the south—are truly stunning. Be warned, however, that the full hike has claimed lives. A mini hike to the trail's halfway point at Puu Manamana (also known as "Crouching Lion" after its visage from the highway below) takes half the time, is still über-challenging and offers stunning views of Kahana Bay and the coast below with much less risk of life and limb.
TRAILHEAD: Mauka side of Kamehameha Highway (Route 83), across Huilua Fishpond
Olomana Trail
Maunawili, O'ahu
Distance: 6 miles, round-trip
Time: 2.5 to 3 hours
Terrain: Sheer mountain ridge
↓ Though a designated state trail and favorite of seasoned hikers, this trek traversing the three peaks of the Koolau volcano erosional remnant Olomana is also one of Hawaii's most treacherous. It has claimed lives, many of these during the ascents and descents of the second and third peaks along razor-sheer ridges, which plunge straight down on either side. Dirt and rocks are often loose whether the trail is wet or dry, making footing a constant challenge. Ropes are required for climbing in multiple spots—use them, though test each first. The lure here are 360-degree views from each of the summits—the verdant cliff faces and peaks of the Koolau range and the façade of Nuuanu Pali looking mauka (inland) and the windward coast of Oahu from Kaneohe Bay, past Kailua and on to Makapuu looking makai (seaward). It should go without saying, but when we say "Experts Only!" here we really do mean expert hikers only.
TRAILHEAD: Off Luana Hills Road, .5 miles from Kamehameha Highway (Route 61)