6 lesser-known Waikiki activities that will beat the crowds
Watch paddlers go, check out a secluded beach and hit the zoo, all in Waikiki.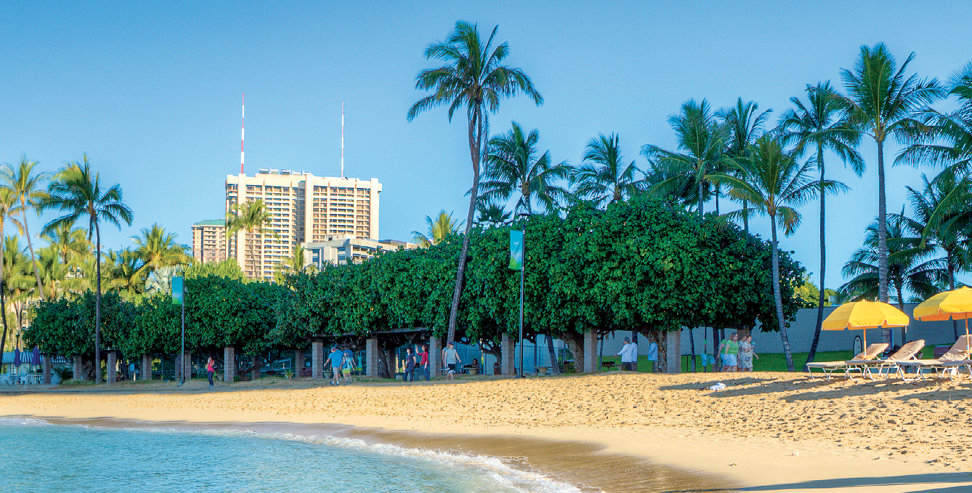 Sometimes, you could use a little space and fresh air. And in Waikiki, that can be a hard commodity to find. Fortunately, we've found six different activities that you can do that will get you the alone time you need while enjoying the great outdoors.
FORT DERUSSY BEACH PARK
If Waikiki has any beach one might consider calling "secret," this one is it. Situated west of the resort area's main beaches on parkland managed by the Fort DeRussy Military Reservation, the compact beach—a favorite of locals—isn't so much devoid of beachgoers as it is just a bit less crowded.
SUNSET HULA AT HOUSE WITHOUT A KEY
You'll find evening hula shows throughout Waikiki, including a wonderful free performance right on Kuhio Beach. Our favorite, however, happens at the Halekulani hotel's outdoor, oceanfront House Without a Key lounge, with live Hawaiian music and the graceful hula of a different former Miss Hawai'i title winner every week. Order up Waikiki's best mai tai and just relax. Halekulani Hotel, 2199 Kalia Road, (808) 923-2311.
CONCERT CHILLING OUTSIDE THE WAIKIKI SHELL
You see them gather by the dozens in Kapiolani Park, just outside the fenced-in perimeter of the Waikiki Shell every time the outdoor performance venue hosts a concert. Goza mats and blankets spread out. Potluck dishes in Tupperware or plate lunch boxes, or hibachis blazing. Folding chairs unfolded. Listening to the tradewind carried tunes of Jack Johnson, Jimmy Buffett or whatever music act is playing the Shell as the moon rises over Diamond Head crater. They're the music fans who can't get in to sold out Shell shows or simply don't want to pay to get in. Gate crashing? That's for amateurs. 2805 Monsarrat Ave.
AFTERNOON TEA AT THE VERANDA
The history of afternoon tea service on the banyan tree-shaded, wood-floored veranda of the Moana Surfrider can be traced back to 113-year-old hotel's earliest years, when the then-named Moana Hotel was one of the largest hotels on Waikiki Beach. The tradition continues from 11:30 a.m. to 2:30 p.m. daily with dainty sandwiches, fresh scones and sweets and specialty blends from Honolulu's Tea Chest. Moana Surfrider: A Westin Resort & Spa, 2365 Kalakaua Ave., (808) 921-4600, moana-surfrider.com
ALA WAI CANAL AFTERNOON PADDLERS
Each day near sunset, the much-derided 1.5-mile canal straddling Waikiki's mauka (inland) boundary is taken over by local canoe paddling clubs plying its tranquil (if less-than-sanitary) waters for exercise or in preparation for competition. A walk along Ala Wai Boulevard, from the Waikiki Public Library to the Ala Wai Yacht Harbor offers a continuous view of it all. Just avoid any temptation to dip you toes in and watch.
AT THE ZOO
The Honolulu Zoo packs a lot of cool stuff into its compact 42 acres bordering Kapiolani Park and the high rises of Waikiki, including an African savannah and the only live snakes you'll find in snake-free Hawaii. Skip it and you'll also skip some of our favorite hidden animal species, such as the Hawaiian nene goose, Komodo dragon and Sumatran tiger. 151 Kapahulu Ave., (808) 971-7171, honoluluzoo.org.