6 reasons Oahu's leeward side is Hawaii's next best thing
New food, new shops and the same ruggedly handsome beaches and trails on Oahu's west side.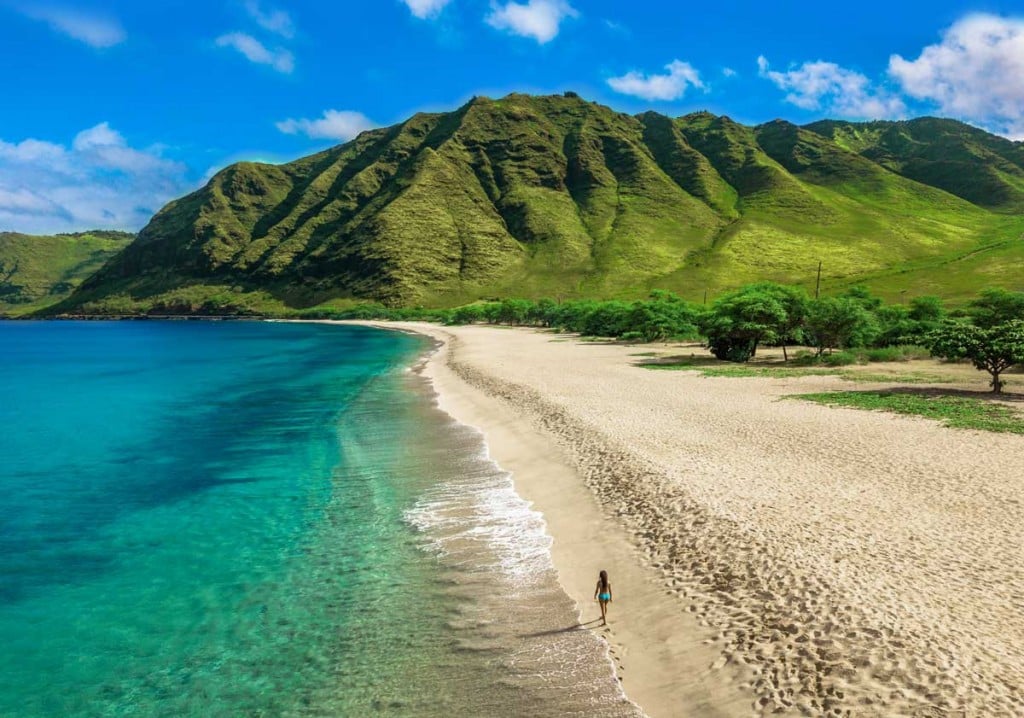 Twenty miles outside of Waikiki, Oahu's west side has always held scenic wonders of rugged trails and alluring beaches, but lately it's been attracting attention for a different reason. New restaurants, hotels and a mall have opened, bringing people out west to explore everything it has to offer. Here are a few spots you'll want to get to before everyone realizes that the Leeward Side is Oahu's next best thing.
Far and Away
Right before Yokohama Bay lies Makua Beach, where the sand stretches far down a secluded coast. Spelunkers can scout the small sea cave tucked away in limestone rock on the eastern end of the beach, or choose to take a dip in the cerulean tide pools when the surf is calm. Past Makaha Beach, look for a sign for Kaena Point; the entrance will be a dirt road directly past it.
Aloha Wares
Nestled in the 1-year-old Ka Makana Alii shopping center, Noeau Designers makes its roots clear. Opened by Corrina Travis and Vaalele Malaki, the storefront provides a home for products created by over 50 Hawaiian artisans. Buy a graphic tee by Strongarm Hawaiians, bedding from kapa artist Dalani Tanahy or more traditional items, such as a poi pounder or a malo (men's loincloth). 91-5431 Kapolei Pkwy., Kapolei, noeaudesigners.com.
Morning Meal
Nobody does a breakfast burrito better than Kalapawai Café & Deli. Somehow its chef fits hash browns, an over-easy egg, pepper jack cheese, kalua pork and black beans into one tortilla. That, plus a coffee for the road and a blueberry muffin to snack on later, and your tab will still be less than $13. 711 Kamokila Blvd., Kapolei, kalapawaimarket.com.
Nah-Ma-Stay
Kahumana Organic Farm & Café does a little bit of everything. Want to fold into a downward facing dog? The Morning Mauka Yoga class overlooks acres of farmland and the colossal Waianae Mountains. Hungry? Its café has a lunch and dinner menu, using produce grown on the farm itself. Need a place to stay? Rent a room, or even a house, on the farm at competitive rates. 86-660 Lualualei Homestead Rd., Waiʻanae, kahumana.org.
Pretty and Pink
Less than 2 miles in length, the hike to Waianae's Pink Pillbox offers a bird's-eye view of Oahu's leeward coastline and mountain ranges. There are two different trails to choose from: the family-friendly zigzagging trail up the ridge, or a steeper but faster hike that requires some light rock climbing. However you choose to ascend, be sure to bring lots of sunscreen and water. Start on Kaumaka St., after the ninth light pole on the right-hand side of the road.
The Suite Life
The Embassy Suites Hotel by Hilton in Kapolei exudes a sort of youthful exuberance. The newest addition to Kapolei's budding hotel industry, the lobby features a vibrant moss wall and Clark Little stills strewn across the room. If you don't want to spend time in its pool and hot tub, Hilton also provides a shuttle service to White Plains Beach, which has waves gentle enough for beginner surfers. 725 Manawai St., Kapolei, embassysuites.com.