6 Summer Things to Do in Hawaiʻi
From horseback riding to going on a Nāpali boat tour, thereʻs so much to do and see during the summer in Hawaiʻi.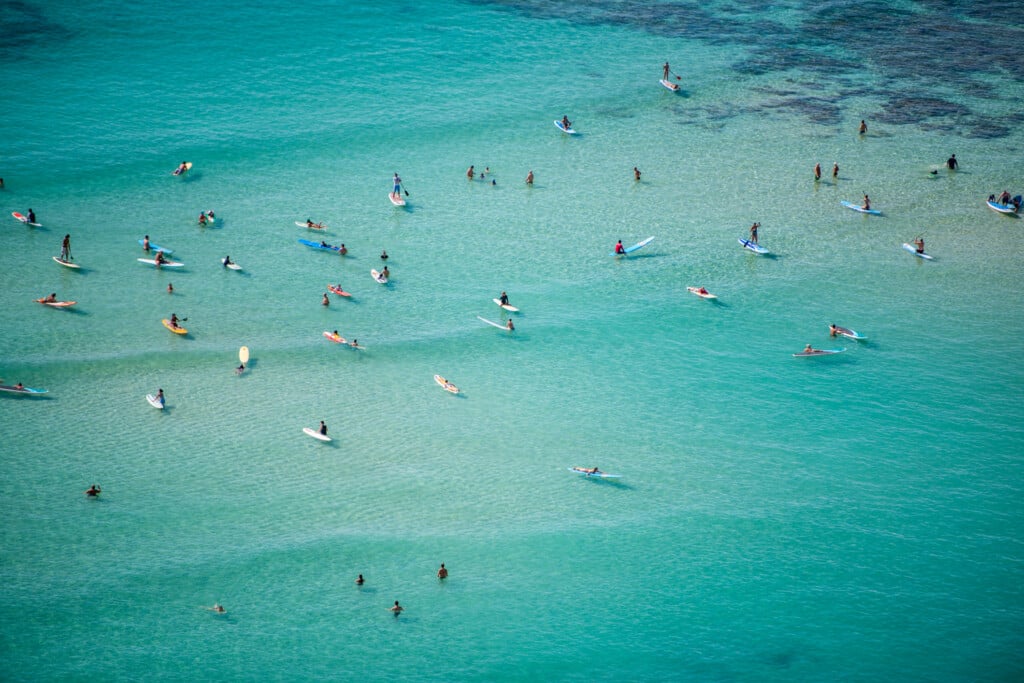 One of Hawaiʻi's best seasons—summer—is here.
While the Islands sport summery vibes all year round, there's nothing like spending the actual summer months in Hawaiʻi. The sun shines just a bit brighter, the daily weather is just a bit warmer and the days are just a bit longer. And some visitor-favorite activities are just best done in the summer, even if you can do them at any time. As an ode to summer, one of our favorite seasons here in Hawaiʻi, here are six things to do in June, July or August.
Horseback Riding at Gunstock Ranch
If you're looking to spend time outdoors, what better way to do just that than on a horse? At Gunstock Ranch, an actual working ranch on Oʻahu's North Shore, visitors can enjoy a 60 or 90-minute scenic horseback tour through pastures and mountain trails. A friendly guide will be with you the entire time, telling moʻolelo (stories) of the area and making sure you see the best sights and vistas you can on the North Shore.
Attend a Bon Dance
When summer starts, so does the obon festival season in Hawaiʻi. A tradition brought over to Hawaiʻi by Japanese immigrants, obon festivals (casually referred to as bon dances) occur on every island and bring local communities together to welcome the spirits of ancestors as well as celebrate the lives they have lived. Of course, outsiders are welcome as well, and it's a great experience for those looking to learn more about the Japanese and local culture. With festivals across the Islands almost every weekend through June, July and August, it shouldn't be hard for visitors to find a bon dance to attend near them in summer.
READ MORE: Your Guide to Hawaiʻi's 2023 Bon Dance Season
Check Out Duke's Oceanfest
One of Waikīkī's biggest events, Duke's Oceanfest celebrates everything ocean-related in a weeks-long marathon of beach and surf-based competitions. Held annually in August, Duke's Oceanfest is one of Hawaiʻi's premier ocean sport festivals, and has athletes competing in a variety of events—such as surfboard water polo, foilboarding, dog's surfing and more. Honoring the legacy of Duke Kahanamoku, a virtuoso in everything related to the ocean, this festival truly epitomizes the best aspects of enjoying the beach on a beautiful summer day in Hawaiʻi.
For more information about Duke's Oceanfest, visit its website here.
UTV Tours at Kualoa Ranch
If you're searching for sun and fun, look no further than Kualoa Ranch's two hour UTV (utility task vehicle) tour, which will have you and your family rambling through dirt roads, dusty trails and shallow streams all in the ranch's scenic property. Guides will lead guests, who drive the UTV Raptors—an open-air, ATV-type vehicle that can hold two to six passengers—to some of the most scenic spots in Kualoa Ranch. The tour will also take you to some of the famous sections in Kualoa Ranch that have been used to film scenes in some of Hollywood's biggest blockbusters, like Jurassic Park, Fifty First Dates and more.
Sail the Napali Coast with Capt. Andy's
Truly a jewel of a coastline, the Napali Coast is a must-see on Kauaʻi. With its jagged coastline, adorned with remote beaches and flourishing flora, you can see the Napali Coast any time of the year by foot—via the Kalalau Trail—, by air with a helicopter tour or by boat. But summer, when the waves are flat on Kauaʻi's northern coastline—where the Napali Coast is located—is by far the most idyllic time to visit the natural spectacle. And Capt. Andy's is one of the best Napali Coast tour companies to choose from. Operating since 1980, Captain Andy and his experienced crew have guided visitors through the beauty of the area thousands of times, and know everything there is to know about showing off the best of the Napali Coast.
Experience a Symphony Under the Stars
If you've ever sat on the grass of the Waikīkī Shell, listening to the performers onstage while taking in the night sky, you'll know just how unforgettable that experience is. It's a magical time, and the Hawaiʻi Symphony Orchestra (HSO) is well aware of this spectacle. This summer-time concert series is perfect for any visitors or locals looking for something to do in July or August—especially if they're music lovers. "The Sheraton Starlight Festival has been one of our most popular concert series for local families," said Dave Moss, president and CEO of HSO. "It's a great opportunity to hear symphonic music outdoors in Waikīkī and features some of our most unique collaborations." And the music on display truly can be considered a "unique collaboration," with four distinct shows spread through the summer months.
For more information about the Hawaiʻi Symphony Orchestra and the Sheraton Starlight Festival, visit its website here.
Every experience is independently chosen by our editors. Bookings through our links may earn us a commission.