6 things to know about hurricane season in Hawaii
If you're in the islands during a hurricane or tropical storm watch or warning, here are some helpful traveler tips from the Central Pacific Hurricane Center.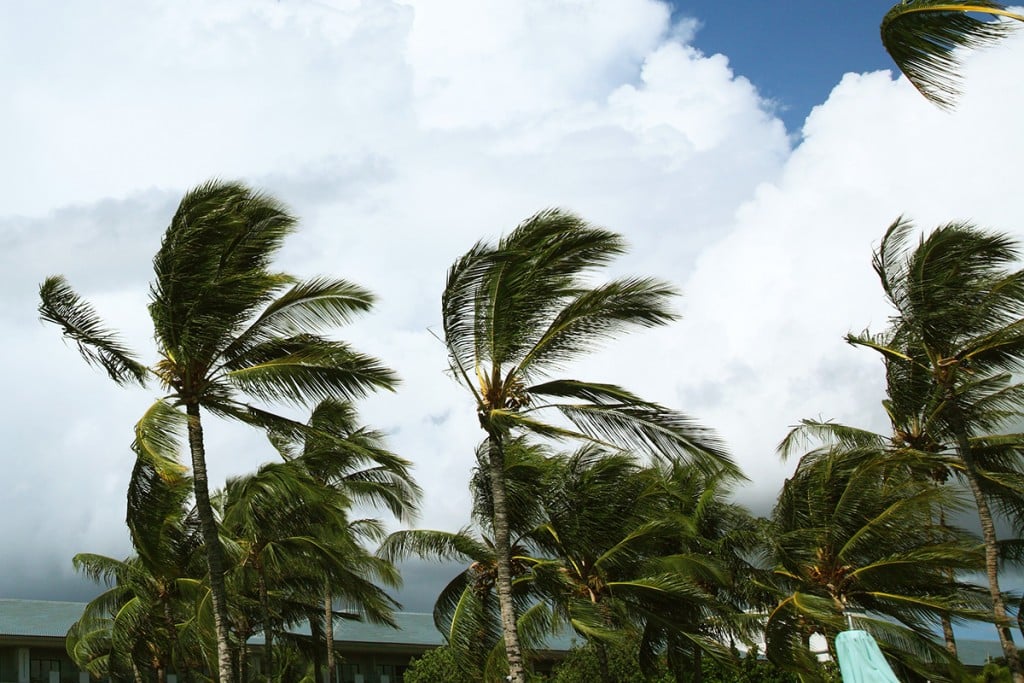 Hurricane season in Hawaii runs from about the beginning of June till early November. Fortunately, hurricanes are rare—the last major hurricane to hit Hawaii was Hurricane Iniki, which severely damaged Kauai in September 1992.
Below are some helpful traveler tips we received from the Central Pacific Hurricane Center of things you should know if you are in the Islands during a watch or warning for a tropical storm or hurricane:
1. Stay out of the water.
It is best not to underestimate how the water appears, even if it looks OK to swim or surf. The ocean can be dangerous whenever there's a watch or warning for a tropical storm or hurricane. Don't risk trying to experience that big surf or get that impressive picture.
2. Watches vs. warnings.
Whenever the Central Pacific Hurricane Center issues any kind of watch, you have up to 48 hours to prepare. A warning means that there are about 36 hours before storm conditions are expected.
3. Be prepared.
Familiarize yourself with the procedures of the hotel you're staying at, should weather conditions worsen. Fill up your gas tank and make sure you have food, water and medication that last up to a week. Since Hawaii is isolated from the mainland, restocking supplies could take a while. And, stay off the road as much as possible to help traffic flow for those who are also preparing themselves. It's important that you follow the advice of local civil defense authorities, should an alert go out. Know what to do if you're outside and can't find shelter (seek higher ground). If you're indoors, try to stay in centrally located areas away from windows.
4. Check your flight schedule.
If you're scheduled to travel during a watch or warning, don't forget to monitor how the airports are responding. Unexpected and worsening weather conditions can create delays or cause flight cancellations. Call your airline before arriving at the airport to get the latest information and make necessary adjustments. If you're concerned about hurricanes while you are planning your Hawaii vacation, you may want to consider buying travel insurance just in case your reservations are cancelled.
5. Tell someone your plan.
Whether you're staying at a hotel or with relatives on the island, let someone know what your emergency preparedness and evacuation plans are and check in with them after the storm so that they know you're safe.
6. Stay up-to-date.
There are a variety of different sources for up-to-date information including radio, news, apps, and other outlets. In case the power goes out, have extra batteries on hand and a battery-powered radio to get the latest information and updates.
NOAA's Honolulu forecast office is a good place to check for the latest weather status, as is Hawaii New Now's Hurricane Center.