7 of Hawaiʻi's Most Popular Lei and What Makes Them Unique
Whether originating from Hawaiʻi or around the world, these popular flowers and plants are strung into beautiful adornments.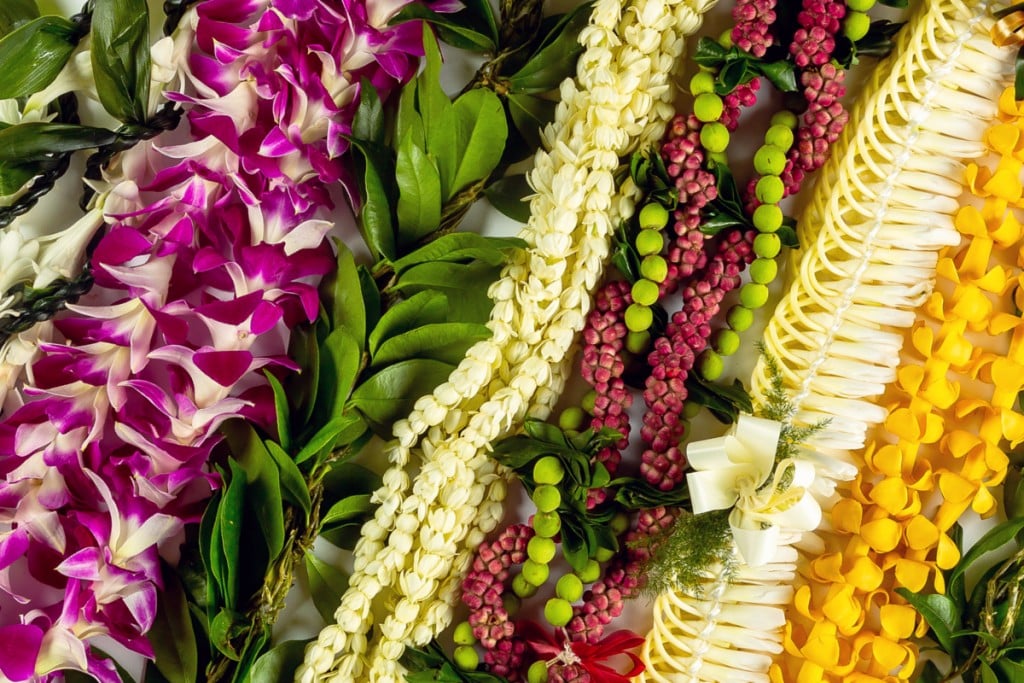 May Day doesn't have to be the only reason to give or receive a lei*—beautiful necklaces of flowers, leaves, feathers or shells that have become synonymous with the Hawaiian Islands. Rooted in deep Polynesian history, the lei were worn by ancient Hawaiians for adornment but also were used for distinguishing themselves apart and for ceremonial purposes. Tourism is what led to its booming popularity, with lei vendors popping up along Aloha Tower during the steamship era and people buying and selling lei to welcome visitors. It's a tradition that can still be seen widely today.
We walked the streets of Chinatown in Honolulu to visit some of its many lei vendors and find these seven beautiful lei. Though only a small selection, they are some of the most sought after heavenly-scented flower lei in town.
1. Pīkake Lei
These pretty, little, delicate flowers pack a big scent—so much so that you'll usually smell them before you see them. Don't let that detour you from buying three, four or five strands of these lei, which beautifully adorns everyone who wears them. Though these flowers are known as the Arabian Jasmine to the rest of the world, it was called pīkake (peacock) by Hawaii's Princess Kaʻiulani, who lovingly named it after her favorite bird.
2. Purple Orchid Lei
Not traditionally Hawaiian, the bright and colorful orchid lei are one of the most popular lei seen at airport and lūʻau greetings. They're sturdier than most other flowers, are long-lasting, can be dyed and have no scent, making it a lei that truly is perfect for every person and occasion.
3. Tuberose and Ti Leaf Lei
Two strands are intertwined to create this open-ended lei that can be worn by men or women. The broad-leafed ti plant was a canoe plant brought to Hawaiʻi with the early Polynesians. It's one of the most versatile plants in Hawaiʻi—used for medicine, shelter, clothing and food—and its leaves are woven together to create the ti leaf lei. Tuberose, on the other hand, is native to Mexico and was introduced to Hawaiʻi in modern times, but has fondly become part of Hawaiʻi's culture ever since. Songs have been written in honor of its lovely fragrance and the lei are popularly given at every occasion.
4. Pua Kenikeni Lei
The trumpet-shaped flower of the pua kenikeni tree is one of the most fragrant of flowers. Introduced to Hawaiʻi in modern times, it's widely spread throughout the Pacific and was known simply as pua (flower) elsewhere. It received its name pua kenikeni ("10-cent flower") in Hawaii, because each flower was once sold for 10 cents each in the early days when it was first used to make lei.
5. Maile Lei
The only Hawaii native on this list, the vines of the scented maile plant are used to create this leafy lei. It's most often worn open-ended and given on very important occasions, such as weddings or graduations.
6. White Ginger Lei
Originating in India and brought to the Hawaiian Islands with the early Polynesians on canoes, the awapuhi keʻokeʻo (white ginger) lei is an exquisite adornment that lies flat with its petals facing outwards, emanating a beautifully sweet scent.
7. Heʻe Berry and Sea Grape
The festive colors of red and green make up this twisted lei of berry and green sea grapes. Named heʻe, after the Hawaiian word for octopus because of the tree's long branches, the heʻe berry is also called the Christmas Berry for its bright red color. Both are abundant, invasive species in Hawaiʻi and shouldn't be eaten, but they will last a very long time for the wearer who also wants a keepsake.
*Editor's Note: HAWAIʻI Magazine uses the spelling of "lei" for both singular and plural uses, following Hawaiian language rules.