7 things to know before you go: Hilton Waikoloa Village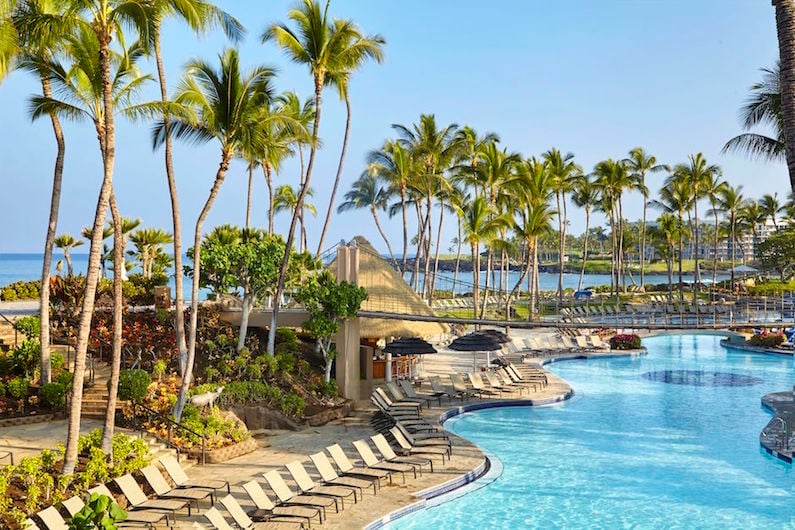 It's not often that I get to stay in hotels on my home Island, but when my husband's work sent him to a conference at the Hilton Waikoloa Village, I jumped at the chance to join. I spent three leisurely days "working" by the pool, wandering the grounds and exploring surrounding Waikoloa.
To call the Hilton Waikoloa Village a "hotel," belies this behemoth oceanfront resort's true nature: It's a sprawling 62-acre village unto itself, a tram and a boat connect the buildings.  With 13 restaurants, 12 shops, three swimming pools, six tennis courts, a massive spa, two golf courses, a putting course, its own museum and lagoon… if it weren't on the Big Island,  which has so many other amazing things to see and do, you'd scarcely need to leave.
Admittedly, I'm more of a B&B than a mega-resort kind of girl, but I genuinely enjoyed the getaway the property afforded. If you're headed to Hawaii Island and have booked into the Hilton Waikoloa Village or are considering it, here are seven things to know before you go:
1. There's no beach.
If your Hawaii getaway prerequisites include ample time lounging on white sand, the Hilton Waikoloa Village might not be the resort for you. The lava rock and coral coastline and blue-green waters of Waiulua Bay beyond, provide a picturesque backdrop for its other amenities.

2. What it lacks in beach, it makes up for in pools.
The impressive Kona Pool, has swim-through waterfalls, an underwater grotto with hidden hot tubs and a sandy kids entrance that mimics the ocean. A 175-foot waterslide empties out near the pool bar. The smaller, but still impressive Kohala River pool can be accessed by waterslide or ladder; waterfalls stream down artificial rock face, a Hawaiian "lazy river." The much smaller Ocean Tower pool provides an adult only respite. If you're headed to the seemingly-abundant lounge chairs that line the Kona Pool, be sure to grab your wrist band from the towel desk and show up before 11 a.m. –  competition, especially for consecutive chairs – can be fierce.

3. You're guaranteed to see turtles and dolphins.
That's because in the center of the property is a four-acre saltwater lagoon with resident honu (green sea turtles). Rent stand-up paddle boards, take lessons or borrow a snorkel to see the fishes. Adjacent to the lagoon and within view of the Lagoon Grill and ice cream stand is Dolphin Quest, an enclosure home to six bottlenose dolphins. Though not uncontroversial, the resort offers the chance to swim with the dolphins and learn from resident trainers. Some of the proceeds support marine mammal conservation efforts. (From $210, ages 10 and up, experiences options range from 30 minute encounters to a full day).

4. Trams and boats don't save that much time and only service the room blocks, not the pools.
If you have lots of bags, your best option is probably the tram, but expect wait times of up to 15 minutes. The reversible tram runs a track from the front desk to the Lagoon Tower in the west and back to the Palace and Ocean Towers in the east. A boat makes the same route in loop inside a barracuda-filled moat. It's often full and more of a novelty than a practical solution. Wait times can be upwards of 20 minutes. They both also keep limited hours –  the tram runs between 6 a.m. and midnight and the boat runs between 2:30 p.m. and 10 p.m. daily.

5. Make the most of your walks around the property.
The corridors connecting hotel buildings are lined with museum-worthy Asian and Polynesian artifacts. Burmese puppets, Indian teak carvings, Hawaiian feather work and giant Thai Buddha sculptures are only some of what's on offer. Occasionally, the property leads guided tours of its treasures.
6. Leave the resort for breakfast and dinner.
Though the restaurants here are undeniably convenient, I experienced average food served at well above average prices. Fortunately, surrounding Waikoloa and Waikoloa Village offer great alternatives including the nearby and newly-opened branch of the Daylight Mind coffee shop for breakfast, chef Ippy Aiona's Three Fat Pigs indulgent pub fare and the cozy Pueo's Osteria Italian eatery an eight-mile drive into Waikoloa proper.

7. For the newest rooms, ask for the Palace Tower.
Between August and December of last year, all 369 rooms and 26 suites of the Palace Tower received a revamp. Under their new Hale 'ike (house, greeting) concept, those rooms also have access to the digital concierge –  a service that allows guests to communicate by text message with the front desk – as well as updated bath amenities that utilize the same "coco mango" fragrance of the spa. My only complaints: Set back from the sea you won't get the same expansive ocean views as Lagoon or Ocean Tower rooms, and its interior fountain with Roman-esque figurines feels out of sync with the otherwise clearly Asian-influenced décor of the hotel.