9 Must-do Bucket-list Items for Your Next Hawai'i Vacation
Discover once-in-a-lifetime experiences across the Islands.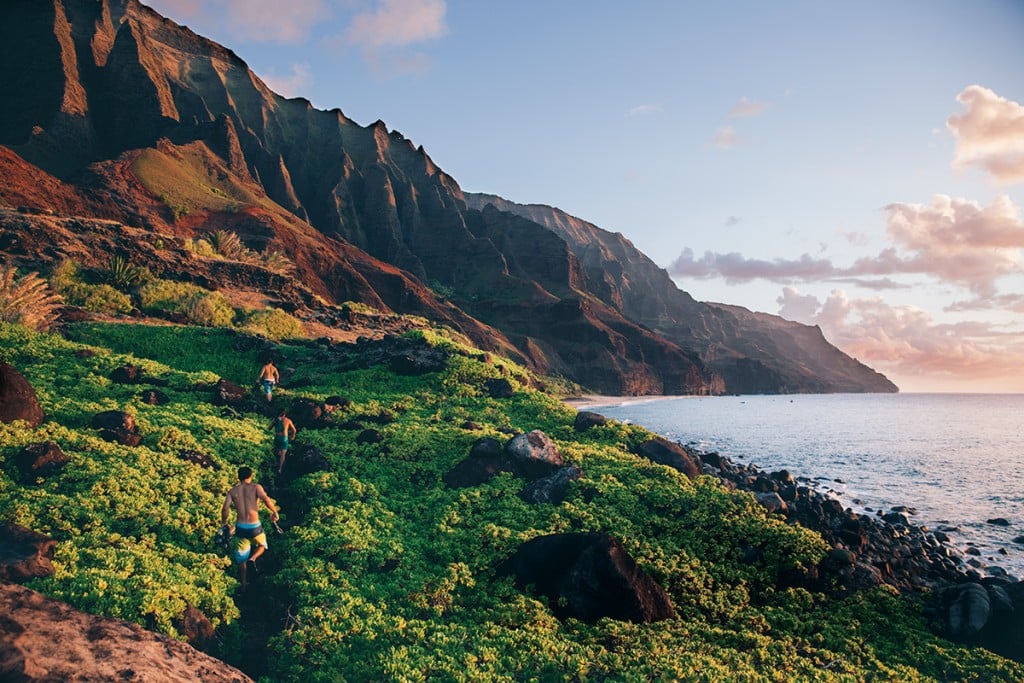 Travel is back—and in a big way.
The World Travel & Tourism Council projects travel in the U.S. will reach pre-pandemic levels in 2022. And market researchers at Destination Analysts found that 81.5% of American travelers surveyed are in a ready-to-travel state of mind.
But people don't just want to go anywhere. They want experiences. They want memories. They want to make up for lost time—those two years of staying at home, working from home. Not very exciting.
And Hawai'i offers exactly those once-in-a-lifetime experiences, from witnessing the birth of an island to gazing at the Milky Way—all within minutes from the nearest sun-kissed beach and an oceanfront bar serving mai tais.
1. Seeing the Nāpali Coast from a Boat
There are only three ways to see the fabled Nāpali Coast on Kaua'i—by foot, by air or by sea.
And only by sea can you also dive into the pristine waters along the coastline and see exactly why a boat charter to this secluded part of the island is so special.
With the sun yawning in the morning sky, you board the 'Anini I, a state-of-the-art 32-foot catamaran, one of the largest and most stable commercial vessels on the island's north shore. It's also nimble enough to get into the sea caves that dot the coastline.
As you make your way past Princeville and Hanalei, you approach the towering green bluffs of the Nāpali. In the distance you'll spot hikers making the arduous 11-mile journey from Kē'ē Beach to secluded Kalalau Beach. You'll stop, jump in the water with snorkels and enjoy lunch on the catamaran, no doubt the envy of every hiker you see.
North Shore Charters, $250 per person, kauainorthshorecharters.com.
2. Hiking Waimea Canyon
You'll never forget the first time you see Waimea Canyon on Kaua'i. Its sharp cliffs and rugged crags; the swaths of red, brown and green; the way the sunlight hits a distant waterfall—it's simply breathtaking. And that's just from the lookout. Head to Kōke'e State Park, which boasts more than 50 miles of hiking trails, including some in and around the canyon itself. One of these hikes—the 3-mile round-trip Canyon Trail—takes you to the top of that distant waterfall, Waipo'o Falls, with stunning views of the 3,600-foot-deep, 10-mile-long canyon, aptly nicknamed the Grand Canyon of the Pacific.
To get to the trailhead, drive on Kōke'e Road/Highway 550 until you get to Halemanu Road, a dirt road between Mile Marker 13 and 14. Park in the unpaved parking area.
3. Riding a Helicopter to 'Ulupalakua
Beyond roads and footpaths, Maui has marvels visible only from a birds-eye view. Helicopter passengers enjoy Maui's unforgettable, brilliant topography as they soar over dense rainforests, cascading waterfalls and rugged coastline.
Going where few people have set foot, Blue Hawaiian Helicopters' Maui Spectacular is not just an aerial tour. Landing at a remote location at 'Ulupalakua Ranch, passengers can take in sweeping vistas of the Valley Isle while sipping on cold hard seltzers from Maui Brewing Co. Here, in the pastoral hills of Haleakalā, passengers experience a rare sense of peace before returning to the sky.
Blue Hawaiian Helicopters' Maui Spectacular Tour starts at $509 per person, bluehawaiian.com.
4. Snorkeling at Molokini
As dawn breaks at Mā'alaea Harbor, the sea is already stirring in one of the windiest harbors in the country. Looking past ripples of waves, the tiny islet known as Molokini beckons.
Coasting over the sea on Trilogy's sailing catamaran, ocean spray breezes over passengers as they look out to Molokini and the aquatic oasis that awaits; a glance back at Mā'alaea, brings a sweeping panorama of the Valley Isle. As the distance between the vessel and Maui grows, passengers gain a more expansive perspective of the Valley Isle, from the windmills neatly lining Mauna Kahālāwai (West Maui Mountains) to the crisp summit of Haleakalā.
But at Molokini, the best views are just under the surface. The crescent-shaped island was an active volcanic cone roughly 230,000 years ago. Now, partially submerged, Molokini is home to a web of vibrant underwater ecosystems that make for unparalleled snorkeling conditions.
Just a glimpse over the boat's deck reveals schools of fish inches below the water's surface. And once you jump in, an entire ocean world is revealed. While snorkelers can see as far as 150 feet in the pristine water, they only need to look inches away to see schools of tiny glimmering silverfish darting around—which is what helps make Molokini exceptional. Snorkelers floating at the surface can watch as cornet fish, yellow tangs and the famed humuhumunukunukuāpua'a go swimming by. More curious snorkelers can also dive deeper in search of eels and he'e (octopus) among the cauliflower coral and spiky red urchins.
Finally, after a morning of underwater exploration, recount all that you saw back on the boat with fellow passengers and refreshing mai tais.
For Trilogy tours to Molokini, $169 for adults, $154 for ages 13-17, $114 for ages 3-12, and free for under 2, sailtrilogy.com.
5. Witnessing Sunset atop Haleakalā
From the highest point on the Valley Isle, just over 10,000 feet up, watch as wispy white clouds blaze orange and red and the sun descends on the horizon. Glance down and you'll see night silently falling on the island of Maui.
Once the sun disappears, stick around. After twilight, the sky turns indigo. Jupiter and Venus first appear, then other planets, stars and the Milky Way blanket the sky. From here, you can't help but imagine what stories the early Hawaiians told while gazing up at the same sky centuries ago.
Haleakalā National Park, nps.gov/hale.
6. Catching Sunrise Above Lanikai
There may be no better place to see the sunrise than at Lanikai Beach on O'ahu. Unless you're perched above the beach.
The old military pillboxes on Ka'iwa Ridge, about 600 feet above Lanikai Beach, offer unobstructed views of Nā Mokulua, the twin islets off the coastline. It's a short trek to the top—it's steep in parts, so expect it to take about half an hour—and the panoramic views of the sun peeking over the horizon are unparalleled. Get there before sunrise (obviously) with flashlights or headlamps—and maybe a thermos of coffee, too. You'd be hard-pressed to find a better way to start your day.
The trailhead starts off Ka'elepulu Drive next to the Mid-Pacific Country Club in Kailua.
7. Surfing in Waikīkī
Surfing with Kai Sallas in Waikīkī is like golfing with Tiger Woods or singing karaoke with Adele. It's just the coolest thing ever. Though you can sign up for group lessons at his Pro Surf School Hawai'i, you can also book private one-on-one surf sessions with the champion longboarder who grew up surfing the waves off Waikīkī with his father, one of the legendary beach boys. Paddle out with Sallas at one of his favorite spots and he'll give you pro tips and techniques to up your surfing game, from learning how to pull off a floater to mastering the hang 10.
Cost is $400 for two hours, prosurfschoolhawaii.com.
8. Swimming with Manta Rays
The waters are dark, almost black, as you help paddle a traditional double-hulled Hawaiian canoe to a spot off the Outrigger Kona Resort and Spa at Keauhou. Here, in the ocean after sunset, giant manta rays come to feed on phytoplankton, attracted to the area by ultraviolet lights. These otherworldly sea creatures grow up to 15 feet across and weigh as much as 3,000 pounds. Outfitted with snorkel gear, you can slip into the water to watch them feed, flip, twirl and glide effortlessly and gracefully in the water. It's a sight you won't soon forget.
Cost is $130 per person, ages 4 and up, anelakaiadventures.com.
9. Watching a Volcanic Eruption
You're standing at the end of a closed road, damaged by a destructive earthquake that triggered rock slides, caused a coastal cliff to collapse into the ocean and forced the permanent closure of the Jaggar Museum at Hawai'i Volcanoes National Park. It's so dark, you can barely make out the trees that line the road. Above, the sky is a blanket of twinkling lights. Beyond, there's an eerie red glow. Exactly what you came to see.
Lava.
Kīlauea volcano began erupting again on Sept. 29, 2021, spewing around 18 billion gallons of molten lava so far. This latest eruption—the first since the previous eruption stopped four months prior—produced a lava lake inside Halema'uma'u crater, with lava fountains reaching up to nearly 50 feet. Today, that lava lake covers 240 acres—that's 24 times bigger than the previous summit lava lake that drained away during the 2018 eruption.
The active volcano is the main attraction at this 335,259-acre national park on Hawai'i Island, though there are plenty of other things to see and do. Like searching for such endangered native birds as the 'i'iwi (scarlet honeycreeper) and 'amakihi (Hawaiian honeycreeper) or walking along the Pu'uloa Petroglyphs, a sacred site with more than 23,000 engravings pecked into hardened lava.
But you can do those tomorrow. Tonight, it's the volcano.
Hawai'i Volcanoes National Park, nps.gov/havo.
This story was originally published in our 2022 Summer issue. Buy a copy here.