A couture fashion scene is blooming on the Garden Isle of Kauai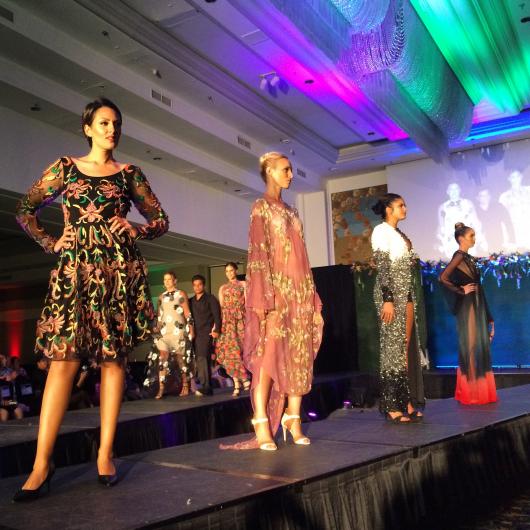 Best known for its dazzling waterfalls and white sand beaches, Kauai is also home to a little-known but burgeoning fashion industry.
It's true: On the fourth-largest Hawaiian island where board shorts double for everyday wear and footwear is largely optional, a tiny couture scene is blooming. And word is getting out.
Kauai's Kaikini Bikinis, for example, is now the largest swimwear manufacturer in the state. While many U.S.-based swim lines are made in low-wage zones, such as Indonesia, Kaikini's suits are hand-sewn in downtown Kapaa on Kauai's Coconut Coast.
At the Radio Disney Music Awards in Los Angeles last month, country songstress Kelsea Ballerini strut down the stage in a one-of-a-kind sequin dress embellished with playful cutouts and geometric shapes by Sha Ali Ahmad, the internationally known designer of Ahmad Couture. Ahmad, whose signature designs have also been worn by Jennifer Aniston and Courtney Cox is not from Kauai. But he does have a close connection. In addition to considering the Garden Isle his second home, Ahmad is a co-founder of Kauai Fashion Weekend.
The India-born Ahmad said he chose Kauai as one of three locales to launch his latest line due to his love for the island and his desire to inspire more Kauai-based fashion entrepreneurs.
Drawing an international crowd of designers, models, photographers and lovers of style, Kauai Fashion Weekend showcases wares by local designers and encourages more Kauai-based creatives to get involved in the scene. This annual salute to the island's fledgling fashion industry celebrated its fourth annual go-around on May 6 and 7 at the Kauai Marriott Resort and Beach Club. It was a beautiful weekend, full of local and global talent. A runway show, shopping, live music, dance performances and a bonafide red carpet were all part of this year's experience.
Of course, the star of the two-day event was the Saturday night catwalk. Featured on the runway were designs by local brands Kaikini Bikinis, Chez Chanterelle, Karlota's Tropical Clothing and Wilma's Top Secret, as well as Ahmad Couture's new 2016 collection of evening gowns and cocktail dresses.