A day in the life on Lanai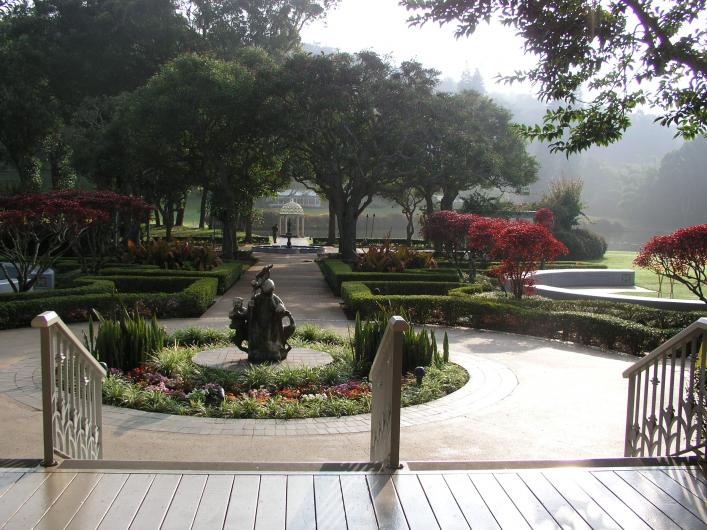 One of the cooler things about my job is escaping the office on Oahu every couple of months, flying to one of the neighbor islands and getting to call what I do there work.
I'm on the island of Lanai this weekend, taking in some scenery, activities and food. You'll see everything I collect while I'm here in future HawaiiMagazine.com Web posts and HAWAII Magazine articles.
For now, though, some photographic evidence of what I was up to on Friday.

Vog from Kilauea enveloped most of Hawaii on Friday, obscuring views of Oahu and Molokai on the morning flight to Lanai. The effect it had on the view of the manicured gardens at the Four Seasons Lodge at Koele when I checked in, however, was wonderfully dramatic.
A view of the island's only town, Lanai City, from a bluff above the Lodge at Koele. With just over 3,000 residents, a handful of businesses and comprised mainly of homes, it's not your classic definition of a "city." But you'll meet some of the friendliest people in Hawaii here.
I rented a Jeep 4×4 to explore the island's beaches for a future HAWAII Magazine feature. With only 30 miles of paved road on the island, Jeeps are pretty much the only rental available. Fortunately, they're the best way to see Lanai (other than on horseback, which I'm also doing a bit of this weekend for a HAWAII feature). This is a beach road on the island's north shore.
Polihua Beach, on Lanai's north side, is your reward after a lengthy and extremely bumpy drive down a single-lane Jeep trail. Stretching more than two miles, it's Lanai's longest white sand beach. It's also one of the island's most remote. On a typical late afternoon visit, you'll find about as many people exploring its breathtaking grandeur as you do in this photo.
My dinner after a long day of "work"—a meat lover's pizza at Pele's Other Garden in Lanai City. It's always a joy visiting owners Mark and Barbara Zigmond, and sampling their terrific homemade Italian entrees, pizzas, deli sandwiches and desserts. Great people. Must-have-food on Lanai. Check out Mark's must-read "My Corner of Paradise" feature in our Jan./Feb. 2008 issue.