A Heavenly Day in Hanalei
From its crescent-shaped beach to palm tree-clad streets, make time to escape to these local favorites.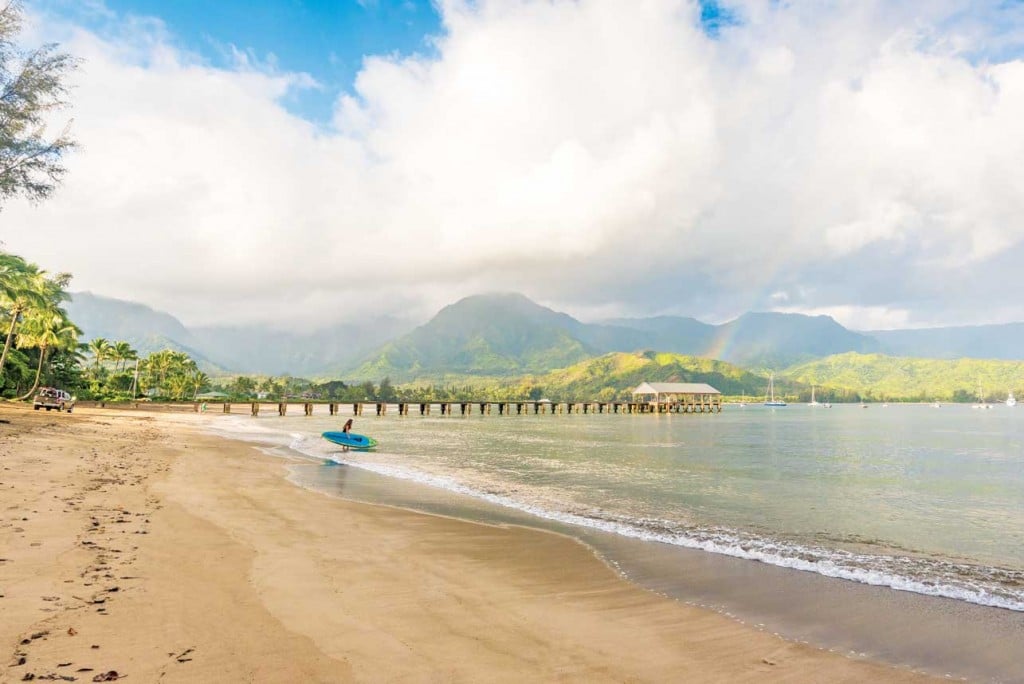 There are few towns as stunning as Hanalei. It's a place everyone wishes they lived, and where some make that dream come true after just one visit.
This slice of heaven brings people from all over the world time and again without hesitation due to this love affair, attracted by its extraordinary beauty and addicted to its small, beach town. Here's how to make the most of your next 24-hour window here.
Start with a tropical treat
A day in Hanalei doesn't officially begin until you get an organic shave ice or acai bowl from Wishing Well Shave Ice. Its white food truck decorated with colorful signs and tables, fronted by plenty of parking, sits under a shady tree on the side of the road. The majority of the orders before and after me are cherry, watermelon and mango shave ice, but, having just rolled out of bed, I order the more filling acai bowl, the Hanalei Signature, with acai, granola, bananas, coconut flakes, honey and papaya. It's a refreshing snack before my next stop—the beach.
Get carried away at Hanalei Bay
Not visible from the main road, I have to trust that it's there. Turning off Kuhio Highway onto Aku Road, then right onto the sand-swept Weke Road, I find a parking lot by the pier. Crescent-shaped Hanalei Bay is a sparkling jewel on the north shore, bedazzling anyone who sets eyes on its nearly 2 miles of white-sand beach and turquoise-blue waters. Taking a walk down the pier, the views only get better, as the beautiful, green mountains steal my attention from the beach upwards to the waterfalls plummeting at least 1,000 feet from Mount Namolokama's majestic heights. My eyes break away from its hypnotic beauty, then pan to the bay's most famed peak, Makana, best known in the 1958 film "South Pacific" as Bali Hai. At this moment, any plans I had for the rest of the day are at risk of going out the window, because what I've laid eyes on is too incredible to leave and I want to immerse myself into the scene for at least a couple of hours. Luckily, I've packed a towel.
Shop the blocks
Hanalei Town is small, but it's filled with shops and restaurants that add to its charm. From the Old Hanalei School building turned shopping center to the Ching Young Village and its surrounding buildings, you'll find treasures to buy and commemorate your time here.
Like a trail of breadcrumbs, the large Polynesian art scattered in a courtyard leads me to Havaiki Oceanic and Tribal Art without even knowing where I'm going. When I arrive at the door of a plantation-style building, its doors are wide open and I see what looks more like a museum than an art gallery. Wooden tikis of all different sizes, walls of rooms displaying spears, Polynesian and lua (Hawaiian hand-to-hand fighting) weapons, intricately carved Marquesan paddles, and, catching my attention in the center of a room, a makakii (Hawaiian mask) gourd helmet by local artist Willie Jerves. Some pieces are historic, one-of-a-kind originals, collected by the owners during their travels, and others are by artisans, like the makakii, who are creating these fascinating pieces of living history using traditional techniques.
Supporting local is a common mantra at many places in the Islands, where national brands compete with Hawaii's mom-and-pops and budding entrepreneurs. In Hanalei, it's a welcome sight to find Ohana Shop, hidden behind Kalypso Bar & Grill. One of its co-owners, Moku Puulei-Chandler, greets me wearing Molokai homegrown clothing brand Kealopiko, and I know I'm in the right place. The small, but bright, boutique is decorated with Tahitian pearls hanging on its walls, cozy scarves, pastel-colored clutches, floral fragrances and tightly woven lau hala (pandanus leaf) hats, looking like pieces of art. The hats are made by a local designer, Puulei-Chandler says, before we start chatting about the Merrie Monarch Festival, where his co-owner and wife, Koral McCarthy, is currently shopping the Islands' renowned craft fairs.
On the lookout for omiyage, Kauai Nut Roasters' cute, rustic exterior calls me inside next. The business has been open on the island since 2004, yet I'm amazed by how its extensive collection of flavors keeps me at the entryway, sampling jars for such a lengthy period of time. Looking for macadamia nuts? They have so many unique and interesting flavors: Coconut Kona coffee, Hawaiian curry, butterscotch, and even a mac and cheese macadamia, which tastes salty and just-a-hint cheesy. I fall in love with the coconut pineapple li hing and the Turtle Turds—salted toffee almonds and macadamias that tastes so much better than its name sounds.
Break for coffee
A food truck turned creperie and coffee shop in the Ching Young Village Shopping Center, Banandi recently opened its doors in Hanalei. It serves sweet Nutella and caramel crepes, and savory ham and cheese or bacon and scrambled egg crepes. If choosing what to eat isn't hard enough, there are also Berry Splash and Nutella waffles, milkshakes and ice cream on the menu. My coffee drink, a café mocha, is served quickly and I like taking a moment to relax in its creatively cool interior of knotted-rope walls adjacent to a vertical wall garden, all underneath strings of lights.
Dine on tapas
A standout in Hanalei's restaurant scene, Bar Acuda could hold its own in any city from San Francisco to New York City, and that's not by accident. Its chef and owner is Jim Moffat, a native Montrealer, who owned and operated two successful restaurants in San Francisco, Slow Club and 42 Degrees, before moving to Kauai.
Reservations are strongly recommended, and that's not an overstatement. Walking in at 7:30 on a Monday night, I find every seat at the tables and bar full, so I waited an hour until someone at the bar decided to leave. It's a tapas menu, so groups are encouraged to share the small plates and, in a way, it turns dinners into lengthy parties.
Menu favorites are the Local North Shore Honeycomb, with Humboldt Fog goat cheese and crisp Fuji apples, Hawaiian mahimahi and slow-braised beef short ribs. I order a few plates, taking my time with each, before moving on to a dessert I'm happy I saved room for: The white chocolate and lilikoi (passion fruit) cheesecake with a macadamia nut crust. It tastes so ono (delicious) alongside my Ohana Pau Hana, a cocktail with vodka, grapefruit juice and elderberry liqueur on the rocks—it's the only way I'd want to end my day in Hanalei.
Hanalei
Banandi, Kauai Nut Roasters and Ohana Shop, Ching Young Village Shopping Center, 5-5190 Kuhio Hwy. Bar Acuda and Havaiki, Hanalei Center, 5-5161 Kuhio Hwy. Wishing Well Shave Ice, 5-5080 Kuhio Hwy.