A historic moment: Hokulea arrives in New York City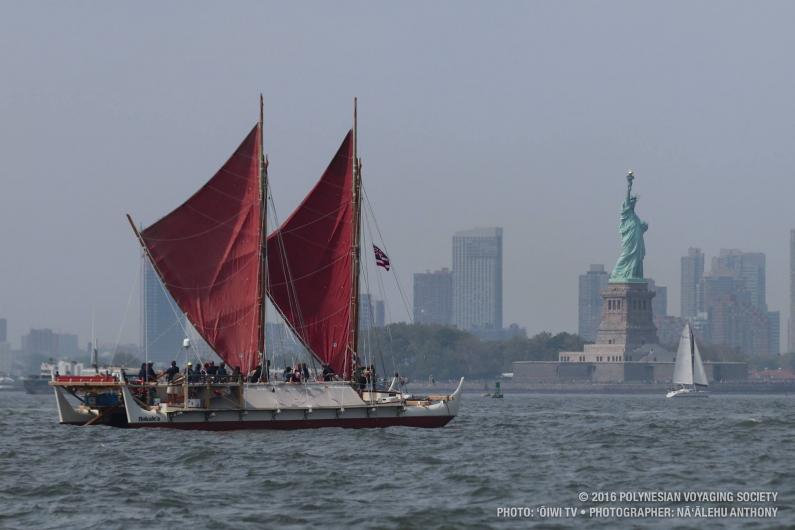 Major chicken skin moment.
The Hokulea arrived in New York City, sailing into North Cove Marina this morning. The majestic ship passed by the famed New York City skyline and the Statue of Liberty making for some of the most historic and iconic images in the ship's history.
Thousands came out to greet the vessel, from New York City residents to delegations and supporters traveling from the Hawaiian Islands, for the welcoming ceremony.
Nearby Native American tribes including the Ramapough Lenape Nation, Moraviantown Delaware Nation, Shinnecock, Unkechaug, Mohegan, and the Haudenosaunee Confederacy to greet the Hokulea. There were also hula halau (hula groups) from both New York and Hawaii present. This arrival marks a ongoing journey that's clocked 26,000 miles and so far has crossed five oceans.
The Hokulea, a traditional double-hulled Polynesian voyaging canoe, is doing something incredible at the moment—circumnavigating the globe without the use of modern wayfaring tools or fossil fuels, relying only on the wind and solar energy and purposefully guided by observing ancient Hawaiian navigation techniques. Crew members on board instead track the moon, stars, cloud formations, wave patterns, wind and ocean currents to reach their destinations.
Since departing its port of origin in Hawaii in 2014, Hokulea has traveled through French Polynesia, Aotearoa, Australia, Indonesia, South Africa, Brazil, Cuba, Florida and Washington D.C.
Alongside its sister vessel Hikianalia, this three-year-and-counting voyage is a campaign called the Malama Honua ("Care For Our Earth") Worldwide Voyage, bringing with it a message and call to action in protecting our oceans and planet, and to shine a light on and give a voice to issues close to the world's indigenous communities.
"There is something special that this canoe carries on behalf of our home that I think this world not only respects, but needs," said Nainoa Thompson, president of the Polynesian Voyaging Society. "This day of celebration is really the step we need to give us strength to go to the United Nations on behalf of all of the people who are doing their part to be responsible for our island home called Earth."
If you're in New York through the end of the week, crew members will be leading outreach and community engagement events (check out the schedule here).
On Wednesday, June 8, a ceremonial presentation of ocean protection declarations by Thompson will be presented to the United Nations Secretary General Ban-ki Moon on behalf of World Oceans Day.